Nearly two dozen people have drowned in Lake Michigan so far this year, including two young boys who drowned at Indiana Dunes State Park over the weekend, according to the Great Lakes Surf Rescue Project, a nonprofit that tracks drowning statistics.
The nonprofit released those troubling statistics just as the National Weather Service issued a warning to beachgoers of life-threatening swimming conditions Tuesday along Northwest Indiana's beaches.
"Life-threatening waves and currents are expected at the beaches. People visiting the beaches should stay out of the water," the NWS warned.
Malik Freeman, 14, of Aurora, Illinois, and Joshua Torres, 10, of Chicago, died after they were pulled from the water Saturday at Indiana Dunes State Park. They were the fifth and sixth people to die this year in Northwest Indiana lakes and ponds. 
Tiara Hardy, 24, of Gary, died July 23 at Marquette Beach in Gary, and a little over a week later, a Cincinnati, Ohio man, Salomon C. Martinez, died after he and a group of friends went swimming at the Portage Lakefront Riverwalk Beach.
Glenn Zeman, 61, drowned May 5 in a privately owned pond, 3 miles east of Westville in LaPorte County when the boat he was in apparently capsized.
Tamira Billingslea, a 3-year-old, drowned July 9 in a pond near her home at the Williamsburg on the Lake apartment complex off Vale Park Road on Valparaiso's north side.
In all, 22 people have died in Lake Michigan this year, according to the nonprofit. 
Shifting winds out of the north and northwest are expected to cause 5- to 9-foot waves and strong rip currents and structural currents Tuesday in the Region.
People should stay out of Lake Michigan when conditions are dangerous.
Rip currents, or powerful channels of water flowing quickly away from shore, occur most often at low spots or breaks in sandbars, according to the NWS. 
Structural currents form along piers and can quickly sweep swimmers into deeper water.
Winds were expected to build throughout Tuesday, reaching up to 25 miles per hour by late afternoon.
A beach hazards statement was set to begin at 1 p.m. Tuesday in Lake, Porter and LaPorte counties and continue through Wednesday night, the weather service said.
The Great Lakes Surf Rescue Project relies on news reports, police and fire rescue groups and social media to track drowning incidents in the Great Lakes.
Surfer Dave Benjamin co-founded the Great Lakes Surf Rescue Project with Bob Pratt, a retired fire marshal from East Lansing, Michigan, with the goal of raising awareness about drowning through training and public education. 
Benjamin said he became passionate about water safety after a near-drowning experience in 2010. He was surfing in December that year at Portage Lakefront Riverwalk beach when he wiped out and separated from his board.
"When I wiped out, I panicked. The panic set in. That's really the first stage of drowning, you're terrified for your life," Benjamin said. He was gasping for air in an attempt to swim to shore.
Then he said he recalled a news article he read titled "Drowning doesn't look like Drowning," that explained the science of drowning and how an individual's initial response of panic could turn deadly. Fighting against the waves is the last thing one should do in the situation, he said.
"I realized the more I struggled, the more I was drowning myself. So I floated for survival," Benjamin said.
'How often do we play in fire?'
The GLSPR has taught hundreds of water safety classes since 2010. The group has also hosts open water surf lifeguard certification training and works with families and friends of drowning victims to advocate water safety.
There's a severe lack of public education about drowning, Benjamin said.
At GLSRP's training seminars this spring, organizers start out by asking participants if they know how to swim. 
"Over 90 percent would raise their hands. Then we would ask if they knew what to do if their clothes caught on fire. 100 percent responded they knew to stop, drop and roll. But less than five percent could tell me they knew a drowning survival technique: flip, float and follow."
"This should be cause for alarm. How often do we play in fire? Never. But we always play in water," Benjamin said. "People on social media, they're calling the 14 and 10 year-old boys who died stupid or blaming the parents. With drowning, there's a stigma, and people blame the individual, bad parents and Darwinism. That gives people a false sense of security, that 'Drowning wouldn't happen to me, or that I wouldn't be that careless parent.'"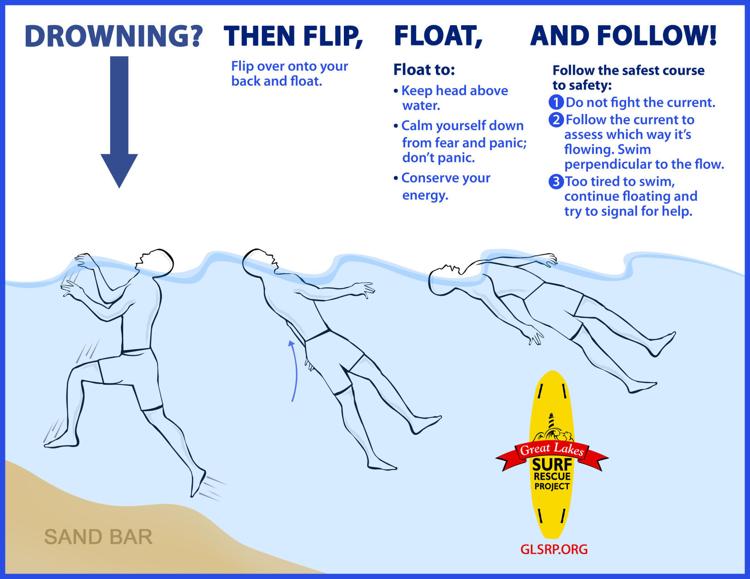 The GLSRP encourages people flip over onto their back, keeping their head above water and remaining calm to conserve energy. Then, the individual should follow the safest course to safety by swimming perpendicular to the flow and not fighting the current.
The GLSRP was awarded a grant through the Indiana Department of Natural Resources this year to conduct 100 water safety presentations in schools near Lake Michigan and a 24-hour open water surf lifeguard training course for lifeguards in Northwest Indiana.
But that's not enough, he said, adding that like with earthquake and fire preparedness training, schools should have set water safety curriculum.