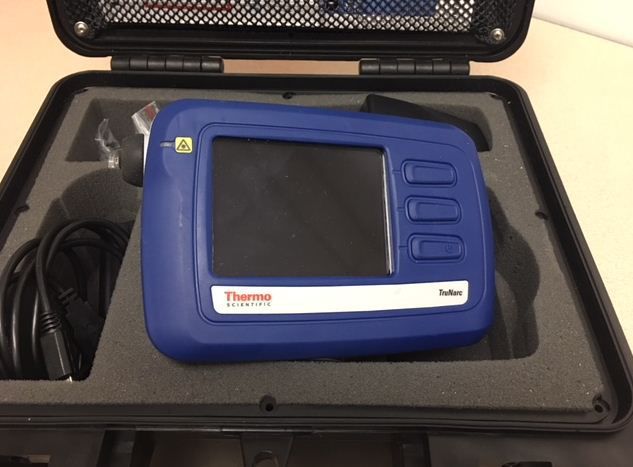 GRIFFITH — A police officer is expected to recover after inadvertently being exposed Wednesday to a white powdery substance during an overdose call, officials said.
Griffith police responded about 9:30 p.m. Wednesday to a home in the 500 block of Glenwood Street and found a 35-year-old man unconscious with a syringe and a cloth tied around his arm, Cmdr. Keith Martin said.
Medics revived the man with naloxone and transported him to Community Hospital in Munster, where he was treated and released, Martin said. The man did not live at the home.
While investigating at the scene, an officer moved an item and inadvertently disturbed a white powdery substance, police said. 
A short time later, the officer began to feel nauseated and light headed and experienced eye irritation and difficulty breathing.
The officer was taken to a local hospital for treatment and was expected to return to work within days, Martin said.
The incident underscores the risks police officers face amid the growing opioid epidemic.
The extremely potent drug fentanyl is increasingly being used to cut heroin, endangering police officers and anyone else in close contact with drug users.
Hammond police began carrying the overdose-reversing drug naloxone in September, after two officers required medical treatment following accidental exposure to heroin containing fentanyl between December 2016 and February 2017, Lt. Steve Kellogg said.
The fentanyl mixed with heroin often is manufactured in China and differs from the drug used in U.S. hospitals, Indiana High Intensity Drug Trafficking Area Executive Director Chuck Porucznik said.
"People are buying small amounts through the 'dark web,'" he said. "They'll get a couple of ounces of this stuff and mix it into heroin to increase the potency of it."
In some instances, heroin is mixed with fentanyl in Mexico and shipped to the U.S., where dealers — who may be unaware the substance already contains fentanyl — mix in more, Porucznik said.
It's not clear yet what substance the Griffith office encountered Wednesday.
In an effort to protect officers from accidental exposure, the Griffith Police Department prohibits presumptive drug testing.
Lake County Sheriff Oscar Martinez Jr. has established a similar policy since taking office, said Cmdr. Alfred Villarreal, who leads the sheriff's drug task force.
Officers used to field test suspected drugs anywhere — on the hoods of their cars, in their cars, on their desks, Villarreal said. 
Now they are required to bring the substance back to the Sheriff's Department for testing in a room Villarreal compared to a mini lab. Though Lake County had not seen any accidental exposures, Martinez prioritizes officer safety, Villarreal said.
One of the tools in the department's mini lab is a TruNarc device, a handheld machine that officer can use to field test suspected drugs without opening the packaging.
Several local agencies have purchased TruNarc devices, including the Porter County Sheriff's Department and the Hobart Police Department. Sheriff's officers have two devices, while the Portage Police Department anticipates delivery of a third device for use in northern parts of the county within days, Portage Police Chief Troy Williams said.
"The more overdose deaths, the more chances for our officers to come into contact with it, and if not handled appropriately, get hurt or sick," Williams said. "So we need to be addressing these issues."
Device offers some protection
The Lake County Sheriff's Department has been using a TruNarc device made available through the Indiana HIDTA initiative. The Lake County prosecutor's office assisted with the purchase of a second device, which is expected to arrive soon, Villarreal said.
Substances have a unique signatures, and a laser on the TruNarc device can recognize a wide range of chemical signatures, said Sgt. Jamie Erow, spokeswoman for the Porter County Sheriff's Department.
Not only do the TruNarc devices help protect officers, test results can lead to charges being filed sooner, police said.
The Griffith Police Department is seeking a grant and other funding sources to purchase a TruNarc device, which costs more than $25,000, Police Chief Greg Mance said.
However, the device would not have been useful in the situation Mance's officer experienced Wednesday, because the substance was not contained within packaging. The officer had been wearing protective gloves throughout the call.
Griffith police carry naloxone and have a policy in place aimed at limiting officers' exposure during presumptive drug testing, Mance said.
"Having said that, the nature of our officers' work is inherently dangerous and there is no foolproof way to prevent accidental exposures when securing crime scenes or coming into contact with these drugs on the street," he said.