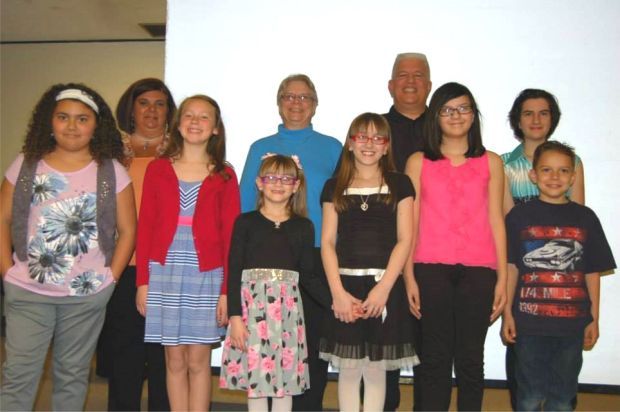 HAMMOND | Hammond Reads, Inc., recognized the winners of its 13th annual Essay Contest with a reception at Morton High School. The 2013-2014 contest theme was, "If You Were Stranded on a Deserted Island, What Book Would You Want With You, and Why?"
There were 632 entries in 10 categories. The winners, and the books they chose, are:
· First grade: Hailey Wojtaszek, St. Casimir School, "There is No Place Like Space," by Tish Rabe
· Second grade: Isiah Dejong, Lafayette School, "Diary of a Wimpy Kid," by Jeff Kinney
· Third grade: Julianne Silva, Harding School, "Hank Zipzer: Day of the Iguana," by Henry Winkler and Lin Oliver
· Fourth grade: Abigail Wojtaszek, St. Casimir School, "A Girl from Schindler's List," by Stella Muller Madej
· Fifth grade: Emily Wienke, Lincoln School, "The Girl Scout Survival Guide"
· Sixth grade: Emily Lugo, Clark Middle School, The Bible
· High School: Rebecca Lugo, Clark High School, "Inkspell," by Cornelia Funke
· Educator: Donna Elliott, "A Wrinkle in Time," by Madeline L'Engle
· Adult: David Paul Innes, "Inside Gilligan's Island: A Three-Hour Tour Through the Making of a Television Classic," by Sherwood Schwartz
· Senior Adult: Pamela Danko, "Ultimate Visual Dictionary," by DK Publishing; Jo Evans
Hammond Reads, Inc., was incorporated in 2002. Its mission is to Build a City of Readers. A volunteer board of directors comprise representatives from businesses, schools, or organizations that serve Hammond.
In addition to the annual Essay Contest, Hammond Reads promotes reading in other ways. It provides a free subscription to the Reader's Digest Large Print Edition to each senior housing complex in Hammond. In partnership with Northwest Indiana Community Action, it distributes free books to Hammond children whose parents are enrolled in the WIC program. It supplied books for Lake Area United Way's pilot program, "1-2-3 Read to Me." Each fall, its members partner with the Rotary Club of Hammond and the Telecomm Pioneers to distribute dictionaries to each third grade student in the City of Hammond. Hammond Reads also distributes books at community events such as the Pampered Women Show and the Downtown Hammond Council's Bizarre Bazaar. It donates books for distribution at the Hammond Hispanic Community Committee's Latino Resource Fair, and at Kindergarten Round-Ups throughout the city. Hammond Reads board members are also involved in area literacy initiatives such as Time Out for Reading, and Books to Bridge the Region.