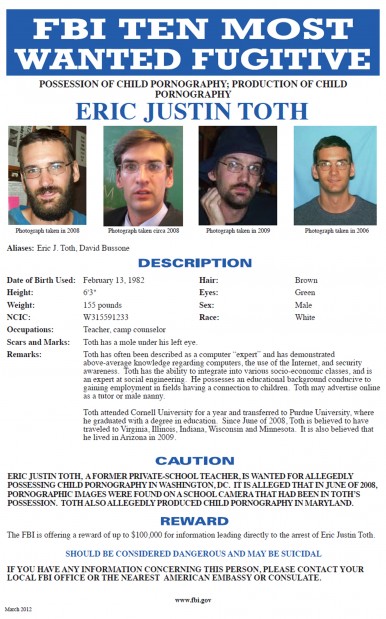 INDIANAPOLIS | The newest member of the FBI's "Ten Most Wanted Fugitives" list is a Hammond native accused of possessing and producing child pornography.
Eric Justin Toth, 30, was added to the list this week, taking the place left by the death of Osama bin Laden. The FBI said Toth is a former teacher at a school in Washington, D.C.
Special Agent Ross Rice said Wednesday that Toth is originally from Hammond and is a graduate of Purdue University. He has family in Northwest Indiana.
Toth was a third-grade teacher at an elementary school on the grounds of the Washington National Cathedral when another teacher found sexually explicit photographs on a school camera in Toth's possession, authorities said. He was escorted off campus in June 2008 and has not been seen since.
"America's Most Wanted," the FOX network television show, featured Toth on a Nov. 22 episode. The episode contained information from authorities that after losing his job in June, Toth drove home to Indianapolis to stay with his parents, but then disappeared again. The show said authorities tracked him to Madison, Wis., where he bought a GPS device, but days later his car was found abandoned at Minneapolis-St. Paul International Airport.
Toth attended Southridge Elementary School in Highland and Highland High School and graduated from the Indiana Academy for Science, Mathematics and Humanities in 2000. The academy is a residential high school for high-achieving juniors and seniors on Ball State University's campus in Muncie.
According to the state's Office of Educational Licensing and Development website, Toth received a bachelor's degree from Purdue University Calumet and was issued a teaching license in May 2005. He was on the dean's list at Purdue in the fall 2002 and 2004 semesters.
It couldn't be confirmed whether Toth taught at a school in Northwest Indiana before moving to Washington.