HAMMOND — It's a Christmas miracle.
A Region holiday tradition for more than three decades is again aglow, delighting visitors from far and wide.
Peteyville, at 3033 Crane Pl. in Hammond's Hessville neighborhood, went dark last year because of concerns over the coronavirus. But the massive display of holiday lights, inflatables and homemade attractions — including a Ferris wheel filled with stuffed animals and a wisecracking Jack Frost telling Crypt Keeper-like Christmas jokes — is back, again lighting kids' faces with wide-eyed wonder.
It's the kind of holiday display Clark Griswold would put out, one NASA could probably see from space.
Homeowner Pete Basala has been putting out the holiday attraction almost every year just a few blocks from where "A Christmas Story" author Jean Shepherd grew up and down the street from the elementary school where Flick infamously got his tongue stuck on a flagpole. A leg lamp burns in his window in tribute.
The unique holiday attraction, often named among the best in Chicagoland, features more than 100 massive inflatables, including Snoopy on his dog house, Darth Vader with a candy cane light saber, Elsa from "Frozen," a doe-eyed doting reindeer couple and a gaggle of shivering snowmen in Victorian top hats. A choir of dogs serenades visitors with Christmas carols. Santa, the Grinch, Mr. Potato Head and saluting Nutcrackers run rampant like more festive Kaiju towering over the countryside.
Peteyville draws visitors from across Chicagoland between Thanksgiving and New Year's Eve. More than 1,000 people often turn out a night on weekends.
Reviving Peteyville
"I kind of liked being off for a year," Basala said. "I could go around and look at other Christmas decorations. My wife's birthday is the 23rd of December, but when you have the display up you really can't leave. Last year we were able to go to Lake Geneva, though everything was shut down. I didn't miss taking it down when everything is frozen on the ground."
But fans of Peteyville did miss it and expressed disappointment when it was closed last year.
"The visitors center asked me to do a drive-thru but I asked, 'You got security?'" he said. "It would have been gone in one night. A councilman asked me if I could put it in Hessville Park, but there's the same issue of no security and nothing to prevent people from stealing it."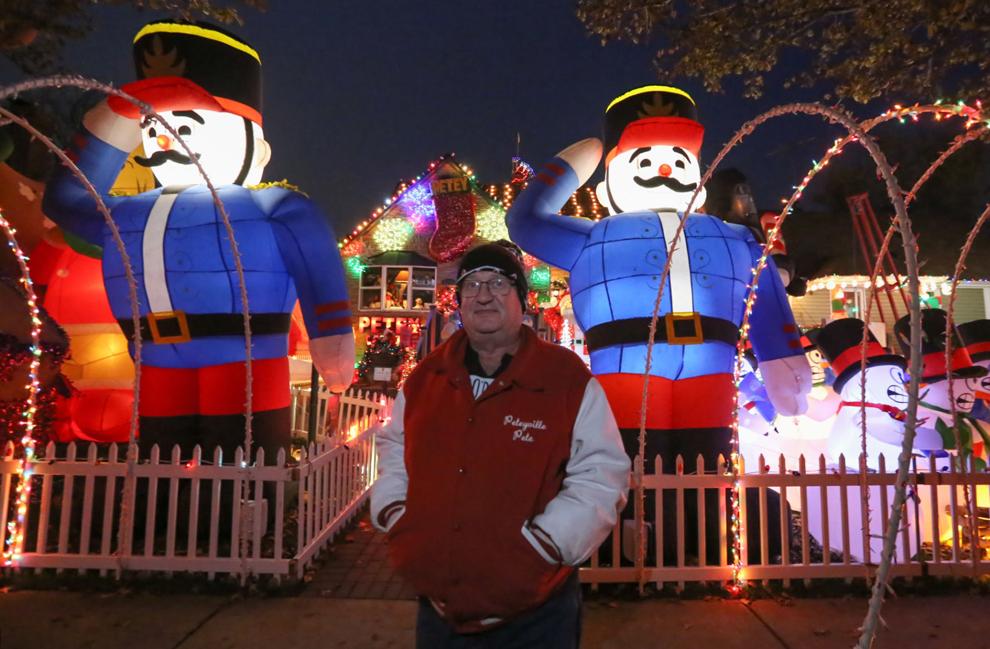 While Peteyville is a long-running Region institution, 2020 wasn't the first time it was called off. Basala, a former baker who now runs a lawn-care business, was too busy to put it out when he ran a gourmet coffee shop on Ridge Road in Munster for a spell in the 1990s.
The display requires extensive preparation every year. Basala's wife estimates he spends at least 200 hours over the course of a month putting all the decorations out.
"It's a lot of time," he said.
It's stored in two storage units in Highland during the offseason.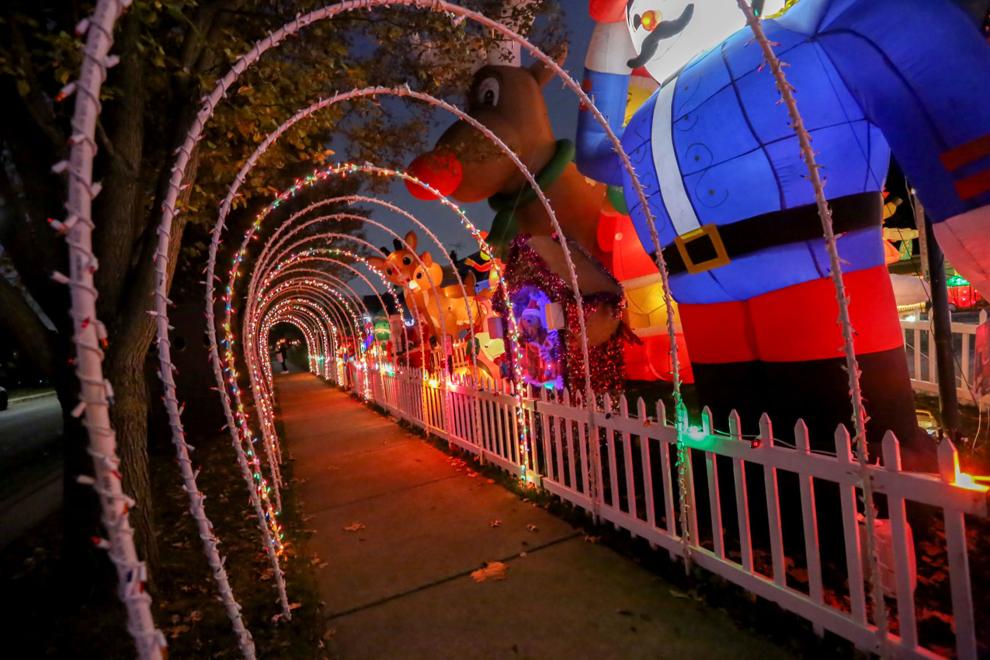 "When I opened the doors, I said, 'Hello everybody, let's get going,'" he said. "I talk to my inflatables."
Every year, Basala fixes what broke and makes new things. This year, he's been affected by the global chip shortage and had to remove the button that made Jack Frost tell jokes, so it instead made quips every few minutes. Peteyville, which has its own theme song that can be heard online, also won't have the radio station broadcasting on its block this year.
"I wasn't able to put out the 8-foot-tall teddy bear," he said. "It moves and talks, but without a chip, you can't make it move and talk. It's just standing there."
Balasa had to deal with a lot more issues than usual after dragging the decorations out of storage after a two-year hiatus.
"There were a lot of problems," he said. "Some of my inflatables were wet. The storage fans wouldn't work. I had to fix a couple of broken, dusty or dirty inflatables."
Helping hands
Neighbor Perry Stabler helps Basala set out the display, helping put up the brightly lit archway that shines with more than 13,000 lights. NIPSCO had to install an additional power line on Barsala's property to handle all the lights.
"Kids will keep those memories of Peteyville when they become 80-year-old grandfathers and tell their grandkids, just like I had kept the memories of downtown Hammond in the 1960s of Goldblatt's and playtime with American Flyer Train set displays," Stabler said.
Unlike many other Christmas displays, Peteyville sprawls across an entire block.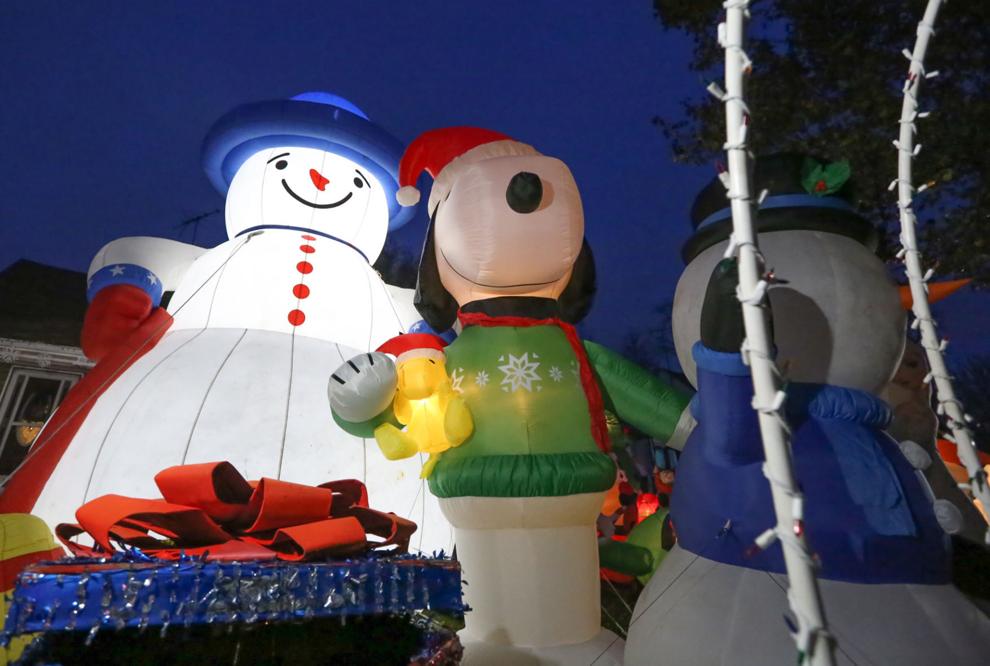 "I have a lawn service, and I mow their grass for free all year," Basala said. "In return, I get to put my decorations out in their yards. In the summertime, their lawns look like golf courses. I fertilize them and everything else. Then I ruin them every winter."
All of the inflatables and decorations are a sight to behold.
People pull up before the lights come on at 5 p.m. every night to see them flicker to life.
"People will park on the block at 4:45 p.m. to wait for the lights to go on," Basala said. "You'll see three, four, five cars out there every day. Just as impressive is if you're there at 10 p.m. when the lights go off. They're shining so brightly and then instantly there's darkness and quietness. It's pretty neat to watch."
Fresh faces
The display typically runs from the day after Thanksgiving to New Year's. Basala tries to keep it fresh every year with new attractions.
"I don't always want to have the same lights that blink with the same sequences every year," he said. "I want to mix it up. I don't want the people who came last year to see the same things. People are always looking for something different."
He special-orders many of his inflatables online, striving to ensure he doesn't have the standard decorations one could grab at any Home Depot, Lowe's or Menards. He's expecting a 16-foot-tall gingerbread man, a 16-foot-tall abominable snowman and a giant SpongeBob SquarePants to arrive eventually.
"I ordered many in May that I haven't gotten yet," he said. "The arrival dates keep getting pushed back and are now Dec. 26 to Dec. 28. They're still floating around somewhere in the Pacific, I think. I'm not going to put them out if they get here this December, I'll wait until next near. I didn't make any room for anything."
He also tries to keep it fresh for a practical reason.
"Inflatables don't last," he said. "They last maybe five years, and then the fabric stretches and gets microscopic holes. The holes get bigger over time to where you can't use them. I still hold onto those, hoping someday they'll invent maybe a spray that would cover all the holes."
Attracting tourists
Peteyville remains an enduring tourist attraction.
"It has a big impact on Hessville," Basala said. "We get a couple of hundred comments on some posts on Facebook and thousands of views. A lot of people come this way. We draw people from all over the world, from Russia, Poland and Greece."
Families marvel at the decorations and pose for pictures. A few people have gotten on one knee and proposed under the twinkling archway.
"I can only see the back of the display from the house," he said. "It's not for me; it's for everybody else. I joke one year I'll turn it all around so I can enjoy it."
Basala rarely ventures outside when the display is up and puts out a collection for donations to help with the NIPSCO bill because so many people were knocking on his door, offering to chip in donations. But he still can't escape adulation.
"One person bought me dinner at the Asada Grill," he said. "I was sitting at the bar eating and he came up to me and they later told me my bill was taken area of."
Building holiday tradition
He's been decorating since 1989 when he was wowed by a Ferris wheel he saw on Chicago's East Side from the Indiana Toll Road while driving around to look at holiday decorations. The hobbyist woodworker built one himself, which now spins around with teddy bear passengers.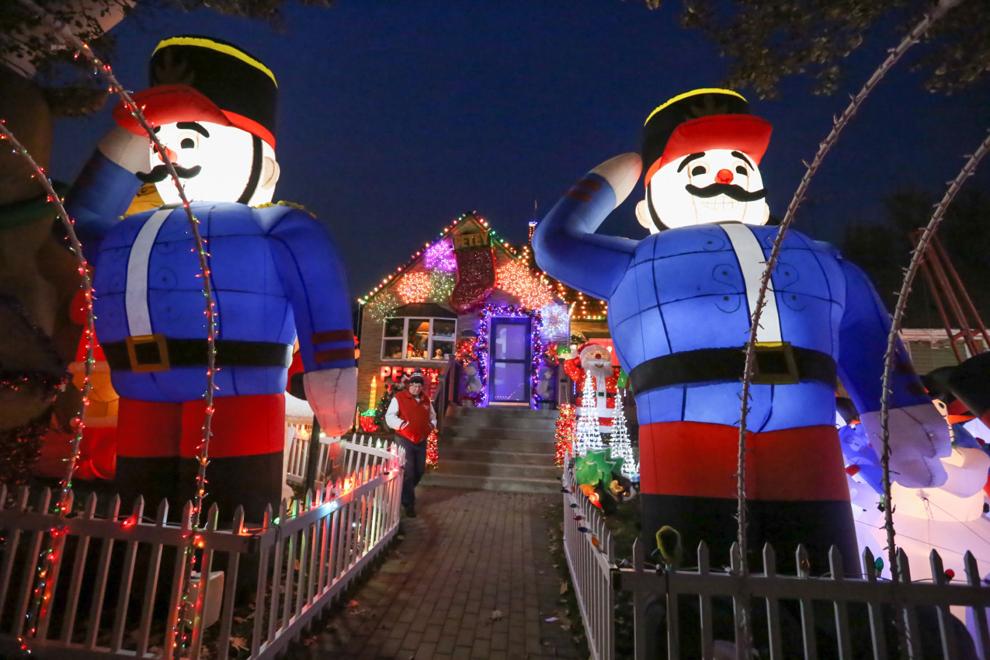 "I just do what comes into my head," he said. "I had the idea of singing dogs for 20 years before I had the technology to do what I wanted to do. I try to figure out things on my own like the Ferris wheel. Sometimes it ends up on the floor of my garage, and I've been running out of room. I wanted to make a small life-sized train a couple of years ago, but it's not a big enough yard for it to go around."
People often ask him how he does it, but he tries not to give out a lot of information. He wants to preserve the magic.
"This means a lot to a lot of people," he said. "One time a special needs kid was jumping up and down he got so excited for the Christmas lights. His mom had to hold him down and said he never got that excited. A lot of people are suicidal during the holiday season or have cancer or have loved ones who are no longer with them and this helps get them through."
Visiting Peteyville has become an annual family tradition for many throughout the Region.
"I know people who come here to take pictures for their Christmas cards," he said. "People who came here when they were kids bring their grandkids. People have shot rap videos here. It puts a lot of smiles on people's faces. It brightens things up for a lot of people."
Basala fires up the attraction between 5 p.m. and 10 p.m. every day until New Year's Eye but only inflates the inflatables if weather permits because they can be damaged by wind, snow and other adverse conditions. Visit the Peteyville Facebook page before visiting to make sure it's all on display that night. The lights are always on.
Gallery: Peteyville returns after pandemic hiatus
Peteyville, Pete Basala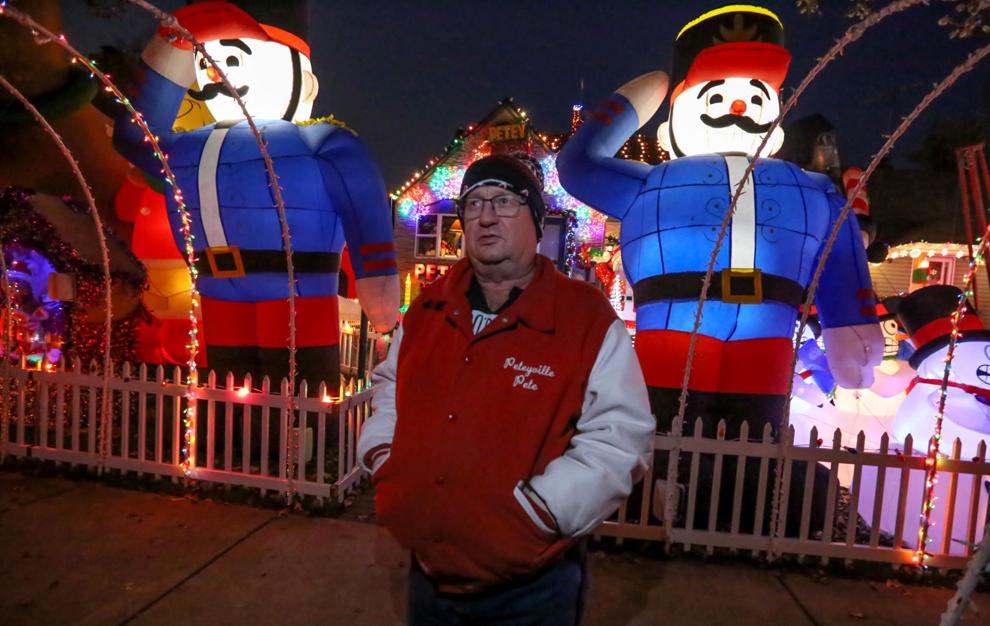 Peteyville, Pete Basala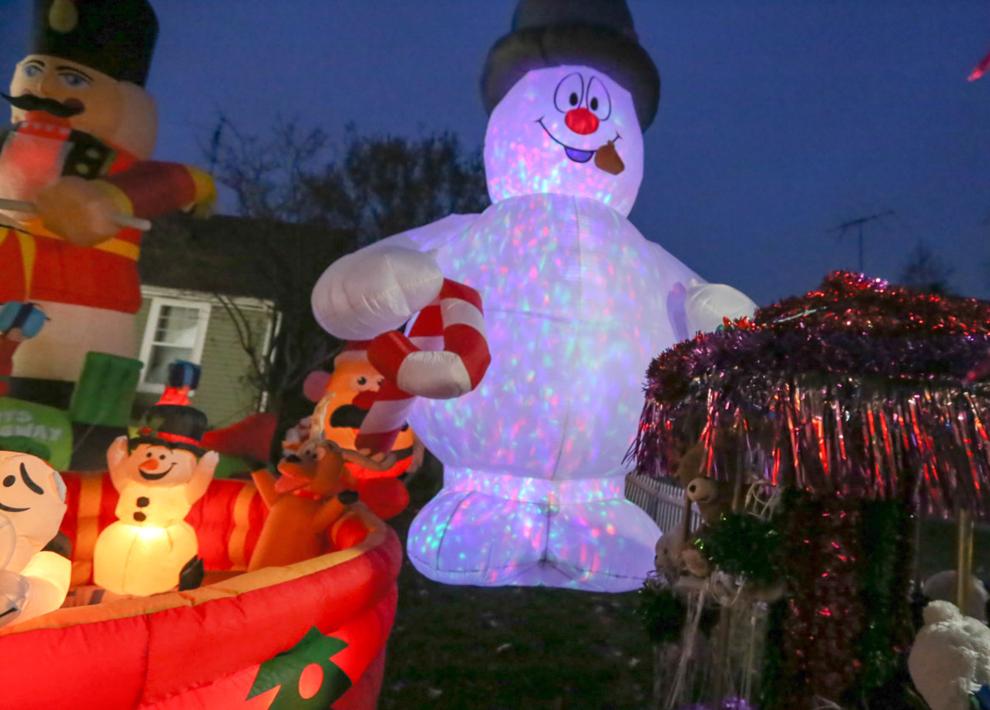 Peteyville, Pete Basala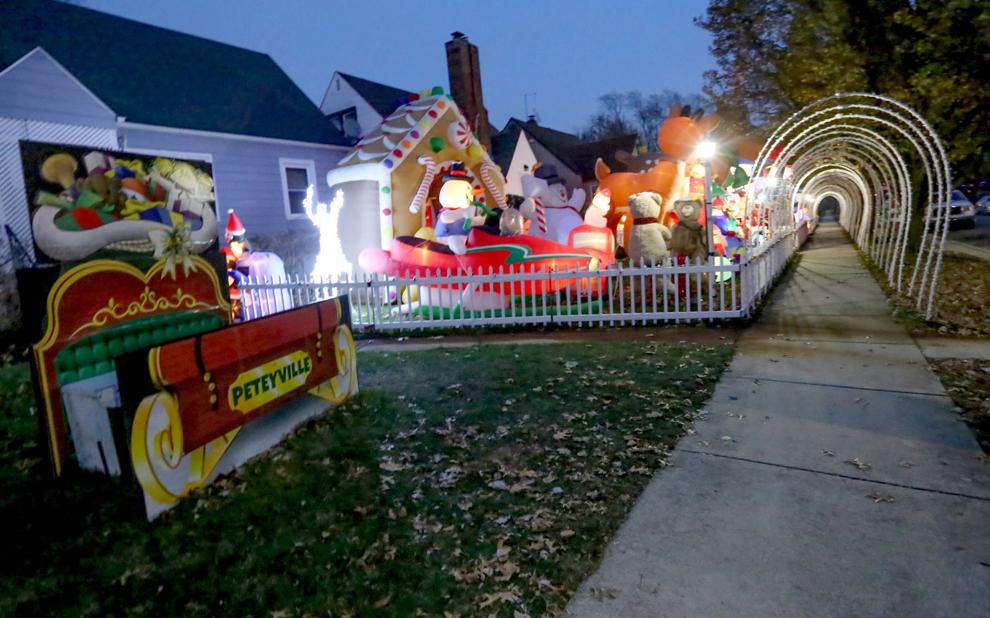 Peteyville, Pete Basala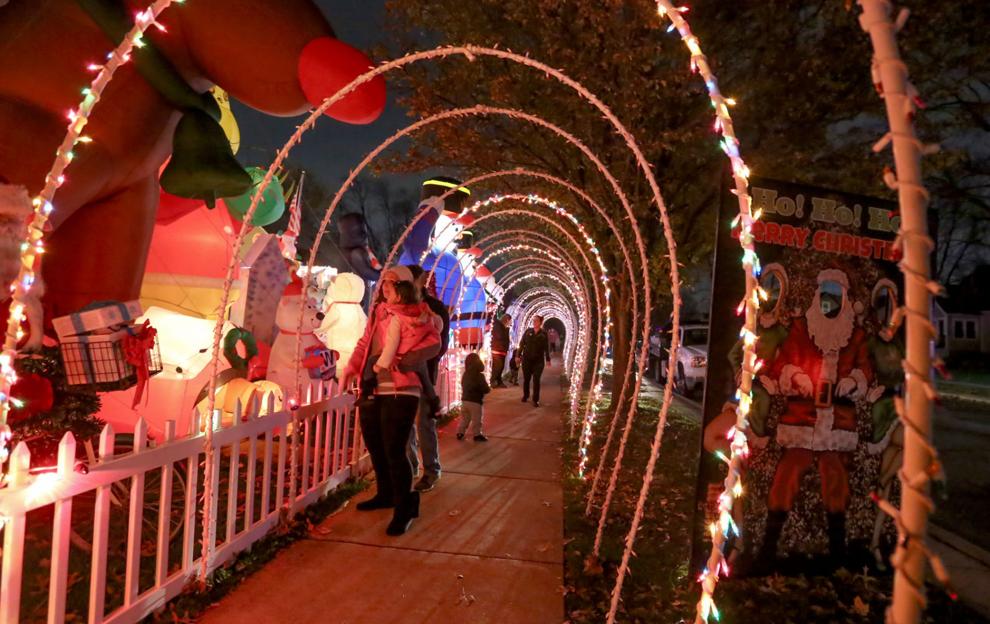 Peteyville, Pete Basala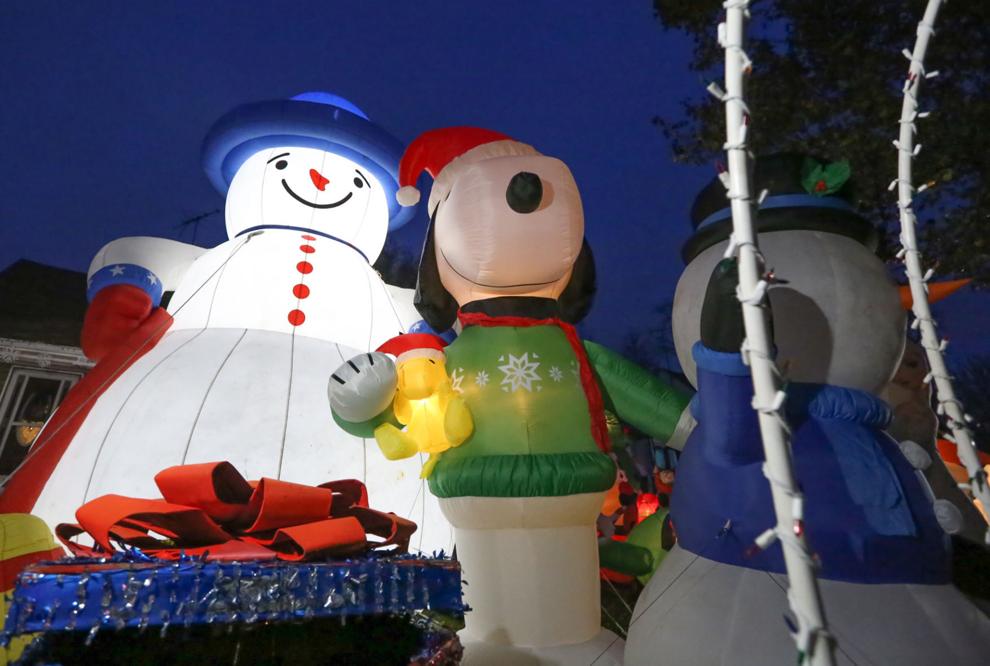 Peteyville, Pete Basala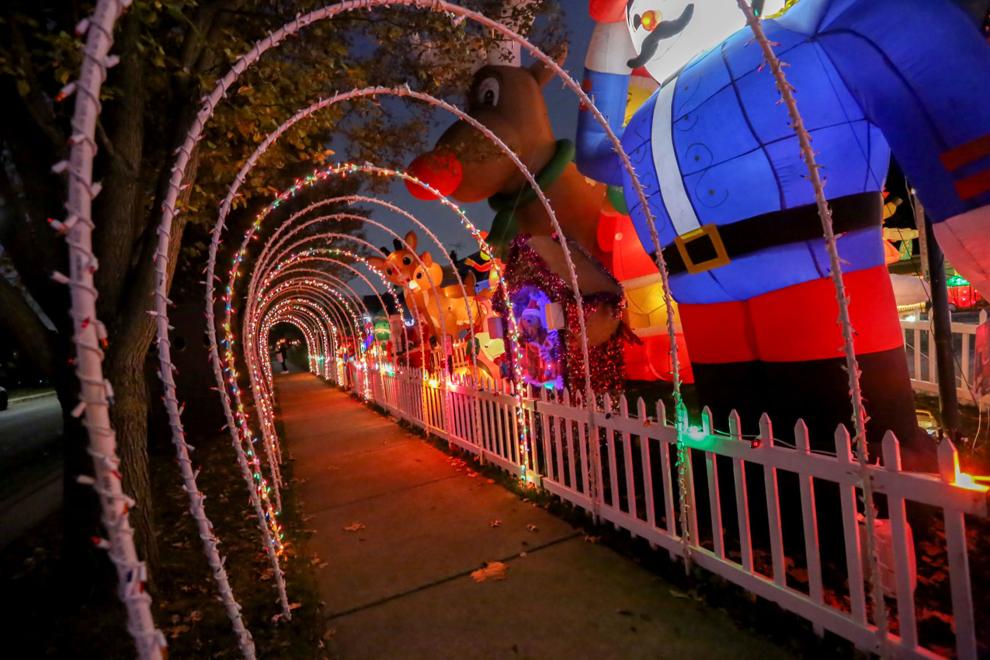 Peteyville, Pete Basala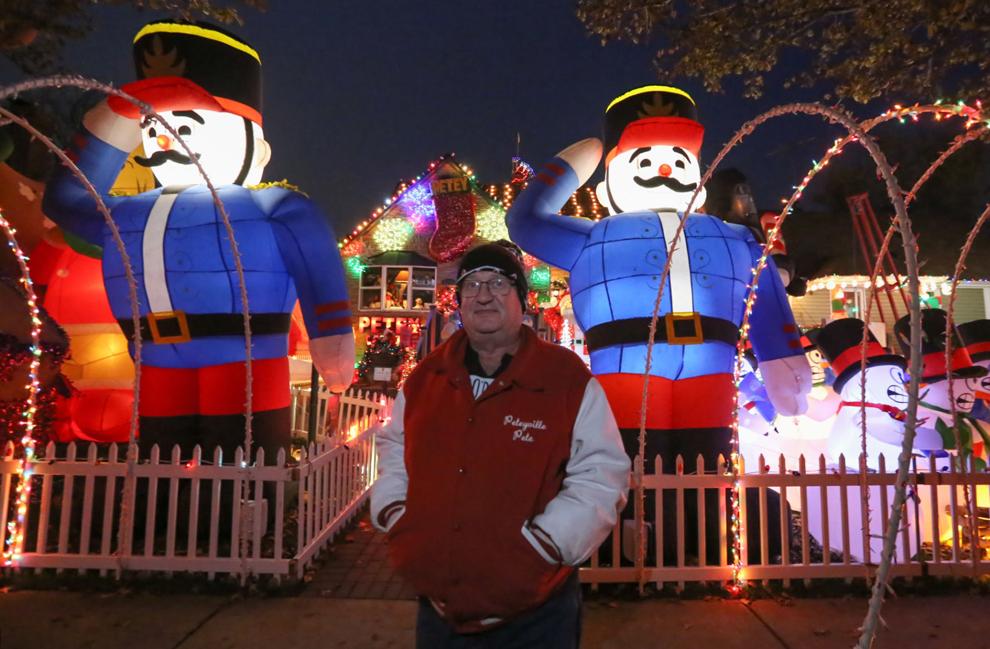 Peteyville, Pete Basala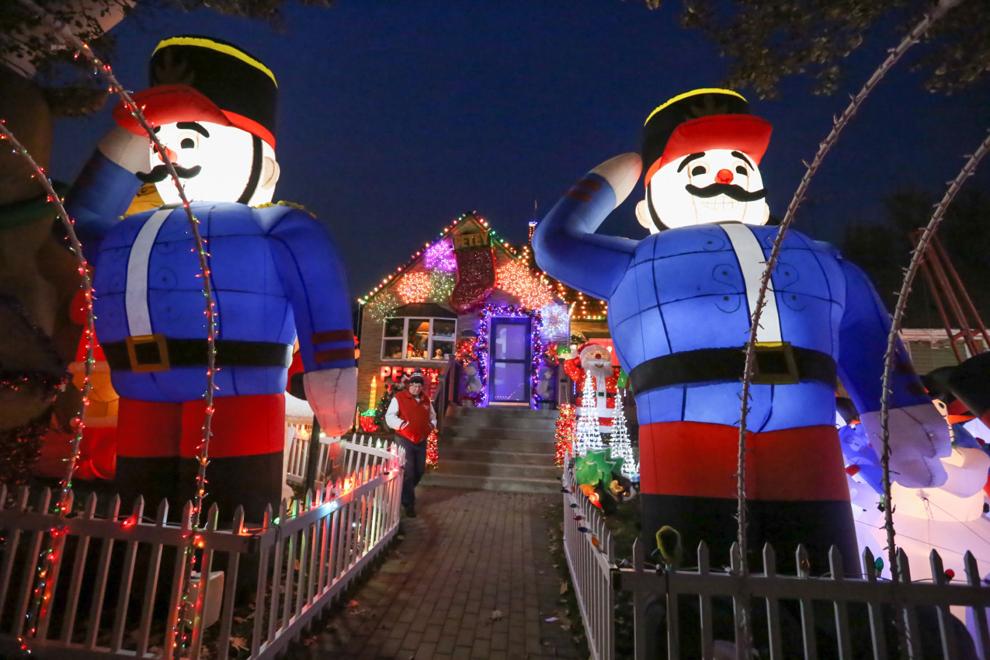 Peteyville, Pete Basala
Peteyville, Pete Basala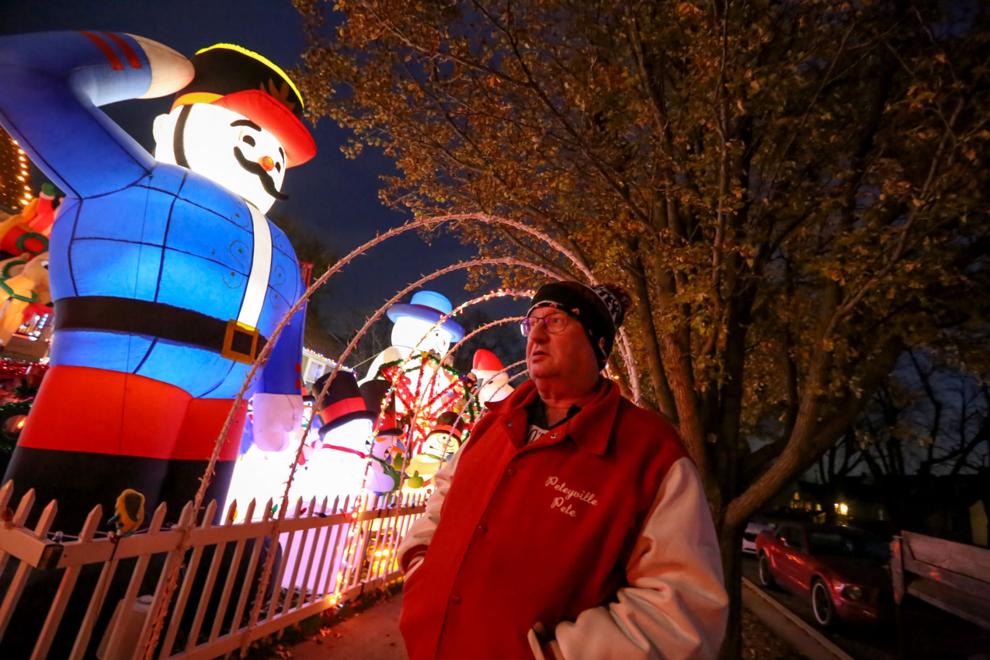 Peteyville, Pete Basala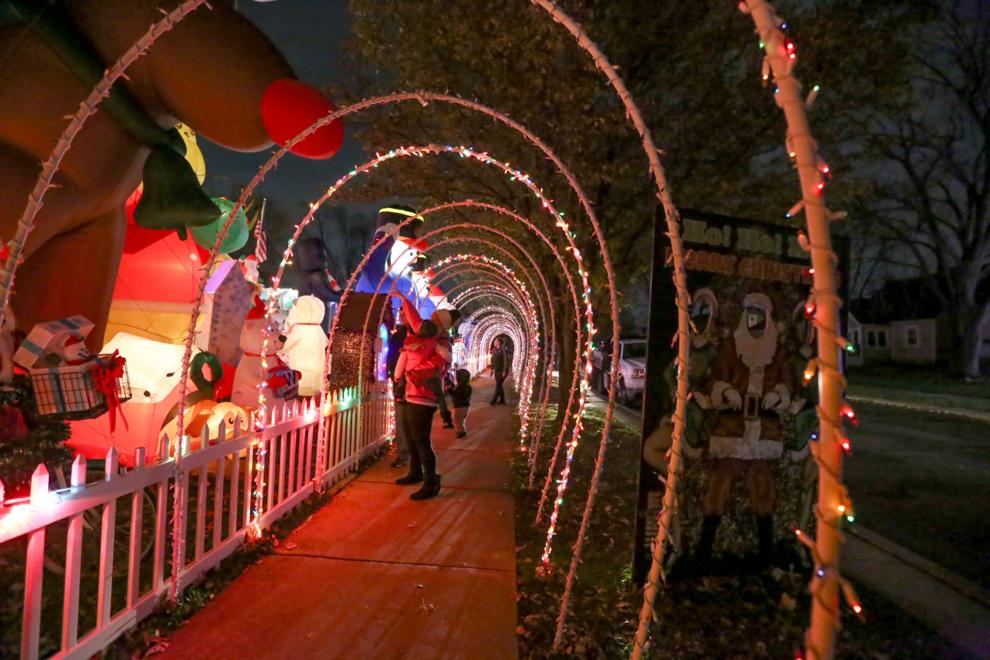 Peteyville, Pete Basala