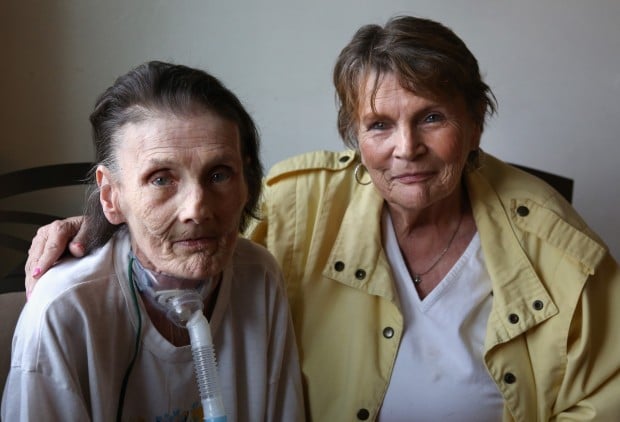 HAMMOND | The family of a Hessville woman featured in a historic local photograph said she died Tuesday at age 67.
Sue Ellen Chalifoux was 2 years old in a 1948 picture that shows her sitting on the steps of a Chicago home, surrounded by three siblings, behind a sign reading "4 Children For Sale Inquire Within."
A June 23 story in The Times chronicled the separated siblings' stories, including the reunion of Chalifoux and her older sister, Rae Ann Mills, who lives in Washington, Ind., outside Vincennes.
Mills said last week that reuniting with her sister in May was the greatest thrill of her life.
"It seems like when I got there, I knew her all my life," Mills said. "We were kind of connected. She sat up half the night with me. She laughed and smiled. I said, 'I love you,' and she mouthed, 'I love you,'" Mills said.
Chalifoux had been battling COPD and was unable to speak.
"I knew when I left there, I wasn't going to see her again," Mills said. "I finally found her. I got her picture on my mantel."
Chalifoux's brother, David McDaniel, who lives in Washington state, never had the chance to reunite in person.
"I just wish I could turn back the hands of time 30 years and get to know my sisters (Chalifoux and another sister, Lana, who died)," McDaniel said.
The siblings were not close and had never met, he said.
"Yes, she was my sister, but there wasn't a bond there," he said.
He has worked to re-establish a bond with Mills and their brother, Milton Chalifoux, who lives in Tucson, Ariz.
Milton Chalifoux wrote an open letter to his sister after she died, mentioning the black and white photo of them on the stoop.
"That was a very sad day in our lives, for on that day, our dad and mom put you and our sisters and I up for sale," he wrote.
He wrote about how he called Sue Ellen Chalifoux on the phone this spring, after being separated 64 years.
"From that day forward, I never left your side," he wrote.
Sue Ellen Chalifoux is survived by two sons, Jeff Charnote and Tim Charnote, and two grandchildren, Amanda and Riley.