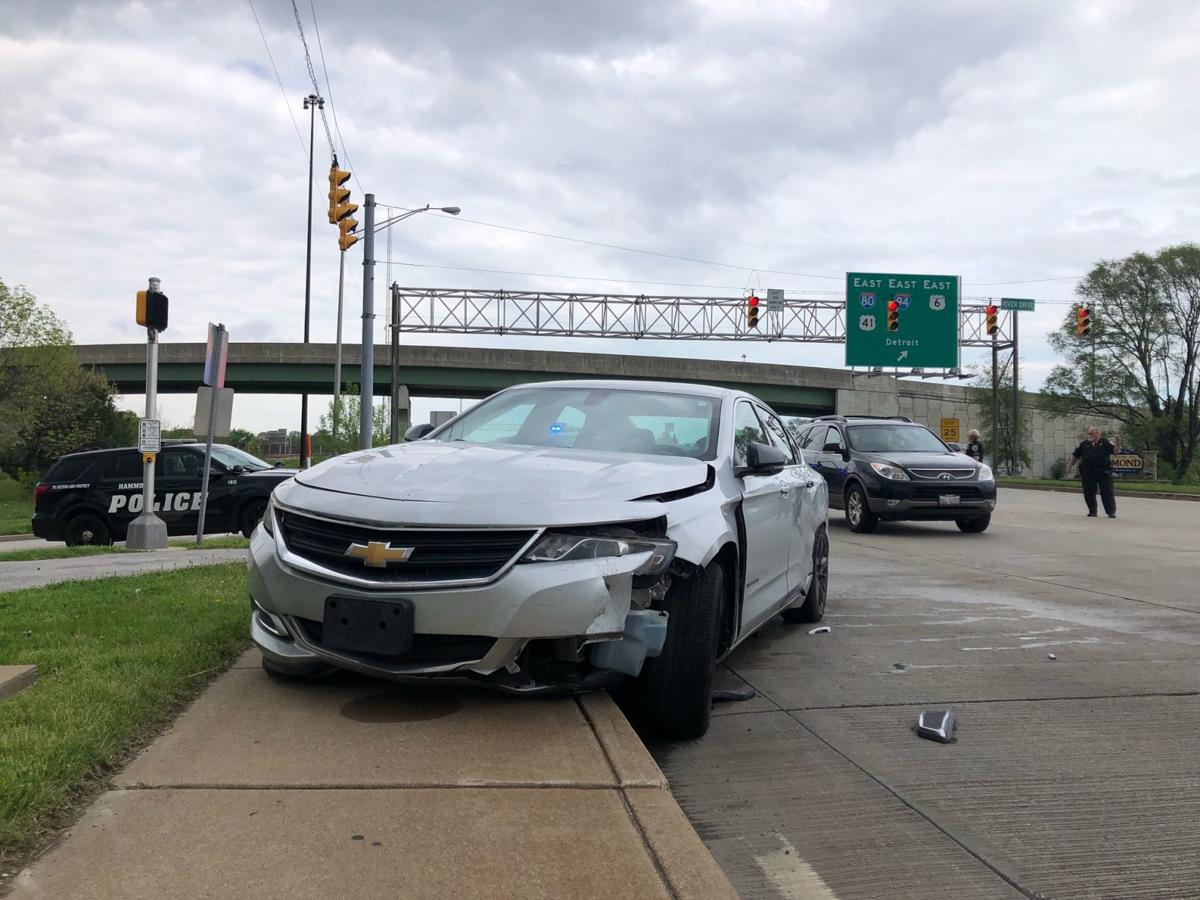 HAMMOND — A high-speed police pursuit on city streets in Gary and Hammond ended around 2 p.m. Monday when the suspects crashed their car and unsuccessfully attempted to flee from the Lake County Sheriff's High Crime Unit.
Traffic was backed up for about an hour on southbound Calumet Avenue at River Drive, just south of the Borman Expressway, as officers and the sheriff's helicopter unit initially chased and caught the two Hammond men who ran from the car, reportedly stolen from Chicago. The smashed vehicle later was unwedged from the sidewalk and towed.
Commander Alfred Villarreal, of the Lake County Drug Task Force, said officers with the High Crime Unit first noticed the gray Chevrolet Impala around 25th Avenue and Burr Street in Gary because it looked like a vehicle that escaped HCU pursuit a few days earlier.
After the Impala driver allegedly committed several traffic infractions Monday, HCU officers attempted to pull him over — only to have the driver flee again, Villarreal said.
Speeds reached between 60 and 80 mph as the pursuit traveled west into Hammond and eventually to Calumet Avenue and River Drive where the Impala struck a blue Dodge Challenger, Villarreal said.
Villarreal thinks the suspects were trying to get on Interstate 80/94 when they crashed into a car driven by Irene Bastardo, of Hammond, who said she was not seriously injured.
"I saw them but it was too late. They rammed right into me," Bastardo said. "They jumped out as soon as they hit my car and started running, and then I saw all the police come in."
Villarreal said the two suspects separated and ran west along the Little Calumet River. But police were able to keep track of both of them using the sheriff's helicopter until officers caught up and arrested them, he said.
"We're routinely out here trying to prevent things like this from happening. He fled from us the other night but he didn't get away today," Villarreal said.
Villarreal said the suspects' names were not immediately available. Both are expected to be booked into the Lake County Jail.
Be the first to know
Get local news delivered to your inbox!