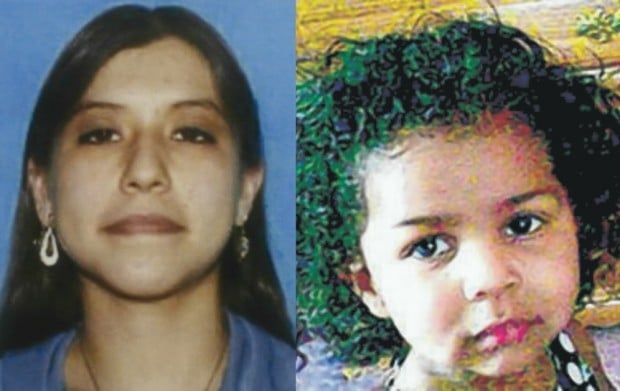 INDIANAPOLIS | Engelica Castillo was ordered to serve 65 years in prison instead of life for murdering her 2-year-old cousin, Jada Justice. The Indiana Supreme Court ruled Tuesday that Castillo's original sentence of life without the possibility of parole was inappropriate.
In a 4-1 decision, written by Chief Justice Brent Dickson, the state's high court said the evidence against Castillo was insufficient for a Lake County jury to find she "knowingly or intentionally" killed Justice, but was sufficient for Castillo to be found guilty of murder as an accomplice.
Over several hours on June 13, 2009, Castillo, then 18, and her boyfriend, Timothy Tkachik, repeatedly abused Justice after the girl spilled fruit drink mix, refused to eat her lunch and shared some of it with a dog.
According to court records, Castillo and Tkachik yelled at the 2-year-old, spanked her several times with a hand and belt, slapped her, poked, shoved and pushed her and yanked her by the hair. Justice's skin above her right eye was cut after she hit her head on a table following a slap by Castillo. The girl also was intermittently belted to a chair and beaten.
Castillo and Tkachik had Justice with them that night as they drove from Hobart to Chicago to buy heroin when they noticed Justice was not breathing and attempted CPR. Later, they claimed Justice was abducted from a Gary gas station. Following a nine-day search, her body was found encased in concrete in a LaPorte County swamp.
While the Supreme Court agreed Castillo's treatment of Justice was "terrible," Dickson said none of her actions "evince a conscious objective to kill the victim nor are any of these actions in isolation associated with a high probability of death."
The court said Tkachik punching Justice in the head was the most likely cause of death, and Castillo should be treated as an accomplice because she did not stop him from punching Justice and continued associating with him after he hit the girl.
Life without parole is an excessive punishment because Castillo "was merely complicit in her boyfriend's conduct" and she "did not actively participate in or plan the killing," the court said. The revised sentence of 65 years is Indiana's maximum prison term for murder.
Castillo, who turns 22 on Monday, could be released from prison in about 33 years with good behavior. Tkachik, 27, who plead guilty to two counts of felony neglect of a dependent and testified against Castillo, is awaiting sentencing.
Justice Mark Massa dissented from the court's ruling. He said regardless of Tkachik's conduct, Castillo -- even at age 18 -- should have known such a brutal attack on a 2-year-old child was likely to result in death.
In a separate case Tuesday, the Indiana Supreme Court ruled 3-2 that life without parole is a constitutional and appropriate punishment for a 17-year-old boy who strangled and beat to death his 10-year-old brother.