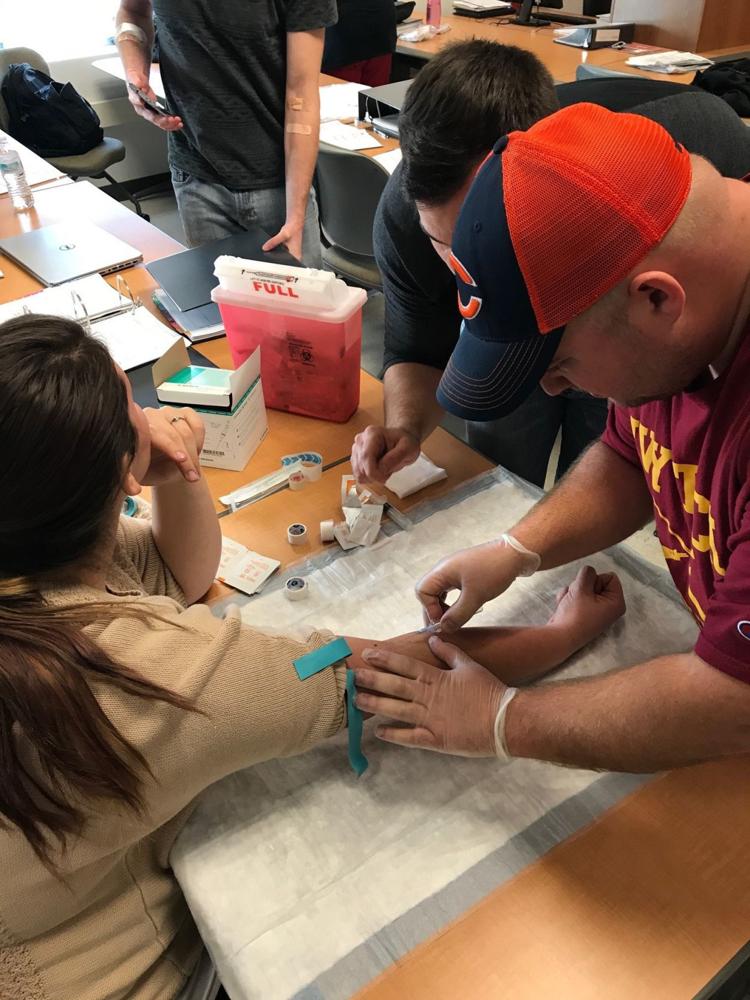 Choosing to serve in the United States military requires dedication and hardship, and men and women transitioning from deployment, active duty or the reserves can find assistance pursuing their educational goals at Ivy Tech Community College through the Veteran Student Services Program.
"Ivy Tech is an affordable college where you can maximize your VA education benefits, prep for transferring to a four-year school and build your network," said Adam Grooms, Ivy Tech associate director of Veteran Services based at the South Bend campus.
Grooms, 38, served nine years in the U.S. Army as a specialist with two years in Korea, one year in Iraq and the remaining time with the U.S. Army reserves in Kingsbury, Indiana.
"Veterans come out of the service expecting to have a job similar to what they had in the military," he said. "However, they find they need a certificate or a degree."
The Veteran Student Services Program helps veterans apply for and manage the benefits they've earned, and provides access to additional resources in the community, Grooms said.
"We currently have roughly 300 students utilizing this program at seven campuses — East Chicago, Gary, Valparaiso, Michigan City, South Bend, Elkhart and Warsaw," Grooms said.
Various programs can help veterans achieve their goal of getting an education. Federal Veteran GI Bill benefits include the following:
Chapter 30 — Montgomery GI Bill for Active Duty provides a monthly stipend based on enrollment.
Chapter 31 — Vocational Rehabilitation and Employment provides payment of tuition and fees, books and supplies and a monthly stipend based on enrollment.
Post 9/11 and Transfer of Entitlement — Based on a percentage of eligibility and enrollment, this can provide help with tuition and fees, a book stipend and basic allowance for housing.
The Indiana Department of Veterans Affairs also offers two veteran education benefits. Tuition and fees are provided for the child of a disabled veteran. Purple Heart recipients also can receive help with tuition and fees.
Military tuition assistance is available to those who serve in the Air Force, Army, National Guard, Navy, Marines and Coast Guard.
Success is in the details
Understanding and applying for these federal and state veteran education benefits often requires guidance, which is provided by Ivy Tech students who are part of the program's work/study system at each campus, Grooms said.
Mitchell Chmielewski, who served four years as a senior airman with the U.S. Air Force, provides that assistance at Ivy Tech's Valparaiso campus.
"I greet all veterans. I go through the finances and benefits and explain what each one means," Chmielewski said.
The 25-year-old LaPorte resident also works with other advisors to set up class schedules for veterans and provide access to other services in the area.
"It's important because a lot of veterans don't understand how the benefits work, how to access them and where to go if they have an issue," Chmielewski said.
Some veterans plan to transfer to four-year institutions after completing their education at Ivy Tech.
Chmielewski is one of them.
He applied for the volunteer work/study position with Grooms to help other veterans while he completes his own associate degree in the business administration program.
When he receives his associate of applied science degree, Chmielewski will transfer to Valparaiso University, where he will pursue a bachelor's degree specializing in finance.
Ivy Tech offers a military tuition rate of $111.15 per credit hour, and many veterans can get academic credit for their experiences while serving in the armed forces, Grooms said.