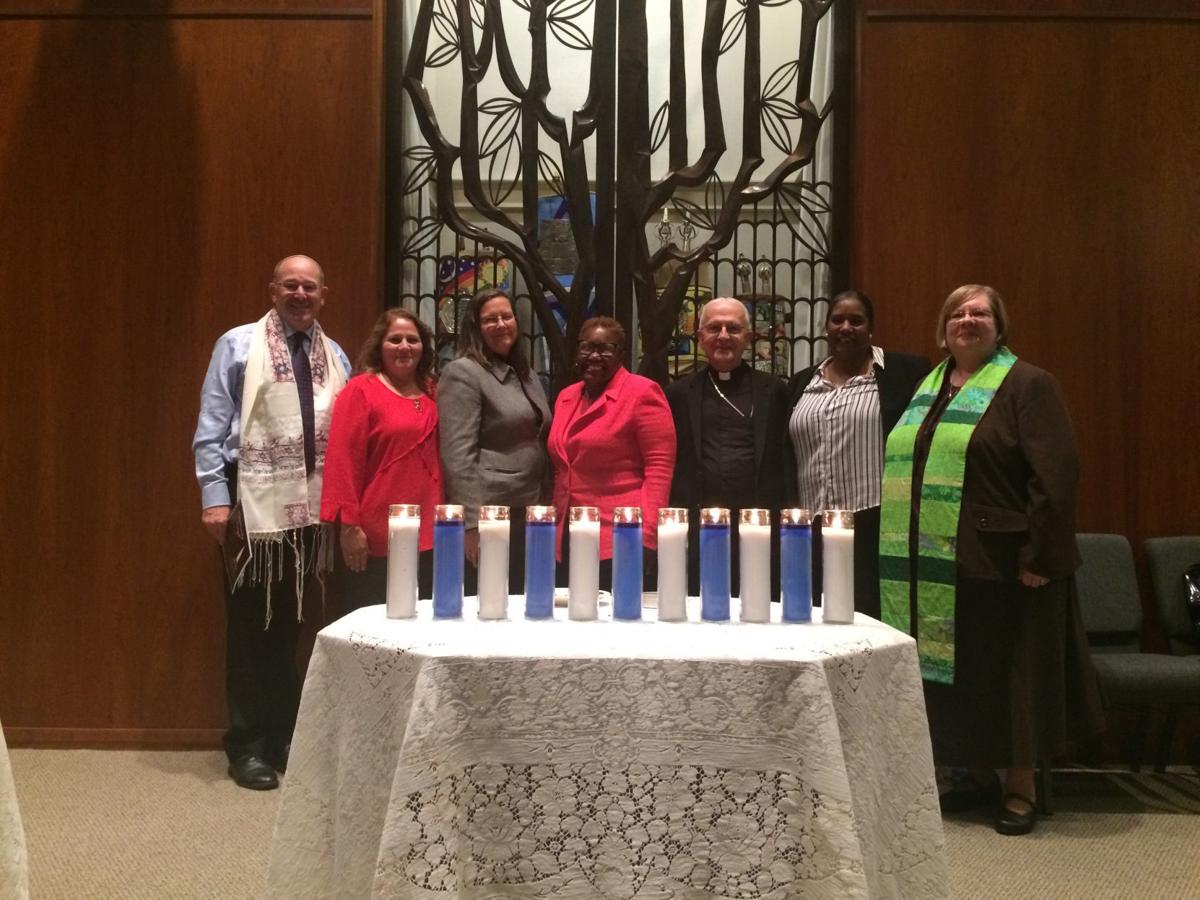 GARY — Mayor Karen Freeman-Wilson, other local dignitaries and clergy of many faiths joined in solidarity, song and worship with members of the Jewish community Friday night at Temple Israel in Miller.
The Shabbat (Sabbath) service and vigil was held after a gunman entered a Pittsburgh synagogue last Oct. 27 and killed people as they prayed and participated in a baby-naming ceremony.
Robert Bowers, 46, is alleged to have entered the Tree of Life Synagogue in the Squirrel Hill area of Pittsburgh, opened fire during the weekly Shabbat service, yelled that "all Jews must die", killed 11 and injured six others including four police officers in a shootout before surrendering.
Friday night's service opened with the Hebrew song "Hinay Ma Tov", which translates to "How good it is to come together with our brothers and sisters in unity". It became evident that this was the theme of the evening, as brothers and sisters of all faiths worshiped together, consoled one another and showed solidarity with the Jewish community.
The Temple Israel vigil received support from congregations throughout Lake and Porter counties. Represented by more than 250 in attendance were Ogden Dunes Presbyterian Community Church, Augustana Lutheran Church in Hobart, Jewish Federation of Northwest Indiana, St. Barnabas Episcopal Church in Miller, Sts. Constantine and Helen Greek Church in Merrillville and Christ Baptist Church of Gary. Members of the Sikh community and a Methodist Hospital chaplain also joined in the observance.
In addition to Gary's mayor, several other local leaders attended, including U.S. Rep. Pete Visclosky, D-Gary; Indiana Rep. Charlie Brown, D-Gary, Gary Councilwoman Rebecca Wyatt, Gary Police Chief Richard Allen and various Gary department heads.
Visclosky said he came in solidarity with everyone in the community. "It is my obligation as a citizen of Gary to attend and be with the community," he said.
Lisa Giglio, a past president of Temple Israel and Miller resident led Friday night's service and vigil, along with Temple Israel member, Michael Greenwald.
"We are overwhelmed by the community outreach and support," Giglio said. "Religious leaders and dignitaries contacted us and asked, 'What can we do? How can we help? We want to be there for you, for us all.' The Miller section of Gary has always been a very inclusive community,with residents attending and supporting each religious institution's programs and events, be it a service, fundraiser, food pantry, community clean-up and more."
Giglio mentioned Temple Israel's 108-year history of involvement in social justice and its mission of standing up and speaking out for those who cannot.
"In the early 1960's, our then Rabbi Carl Miller marched with Dr. Martin Luther King, Jr. and stood up for integration and moral influence," Giglio said."Today, we maintain the same values.
"Last week, my heart ached when I learned of the killing of 11 congregants at the synagogue in Pittsburgh. Seeing a diverse crowd attend our Shabbat service and listening to the religious leaders speak has helped me heal with immense gratitude and hope. The majority of people are good in this world; we are survivors and we will prevail."
Temple Israel President Dr. Mark Sperling read a letter from the Temple's rabbi, Robin Damsky, who was not able to attend. Rabbi Damsky's cousin is a member of the Tree of Life Synagogue in Pittsburgh. Coincidentally, Rabbi Damsky applied to be Tree of Life's rabbi several years ago. "A shooting of any kind is an unfathomable tragedy," she wrote. "A shooting in a temple hits me, and all of us, in a particularly immediate way."
Dr. Sperling expressed his gratitude, as well.
"Our community-wide Sabbath and memorial service brought together the finest elements of the community," he said. "This was the very best way to stand up to hate. The support that the Temple Israel family felt from the clergy, the Mayor and Police Chief along with other first responders and the community was incredible."
After a candle-lighting tribute to each of the victims, Mayor Karen Freeman-Wilson spoke.
"As we lit the 11 candles and mentioned the names of each of victims, it seemed even more real to me than the actual coverage on the news," she said.
The mayor recalled her childhood, when her mother would admonish her if she misbehaved.
"She told me 'you know better'; but knowing better and doing better are two distinct things," she said. "How can those of us who know better have an impact on those who want to drag us into a different place and time? By doing better. Because actions speak louder than words. Though the Tree of Life Synagogue is 500 Miles away, we've come together as a community. We are better than the hatred and divisiveness currently happening in our country."
Bishop Dale Melczek of St. Mary of the Lake Catholic Church in Miller spoke next.
"We are here to stand in solidarity with those bearing the heavy burden of pain and sorrow," he said. "We also come together to pray for the six people maimed in shooting and for consolation for those in mourning. We stand in unity with our brothers and sisters in the Jewish community and condemn anti-Semitism and racism, which deeply permeates our society today. As a resident of Miller for 26 years, I rejoice in the diversity, love and respect in this community. We should be beacons of peace, justice and love for each other here in Miller and all over the world."
Pastor LuWanna Scott of Marquette Park United Methodist Church in Miller, Pastor Joy Heine of Bethel Lutheran Church in Miller and Reverend Joan Mier of Peace United Church of Christ in Merrillville also expressed their condolences and delivered sermons.
According to the Anti-Defamation League (ADL), the attack on the Tree of Life Synagogue in Pittsburg which occurred during the weekly Shabbat (Sabbath) prayer service, was believed to be "the deadliest attack on Jews in American history."
The increase in anti-Semitic crimes has ballooned. According to data it released earlier this year, the ADL recorded a 57 percent increase in anti-Semitic incidents in the U.S. in 2017, the highest total since 1994 and the largest single-year increase since the group began collecting the data in 1979.