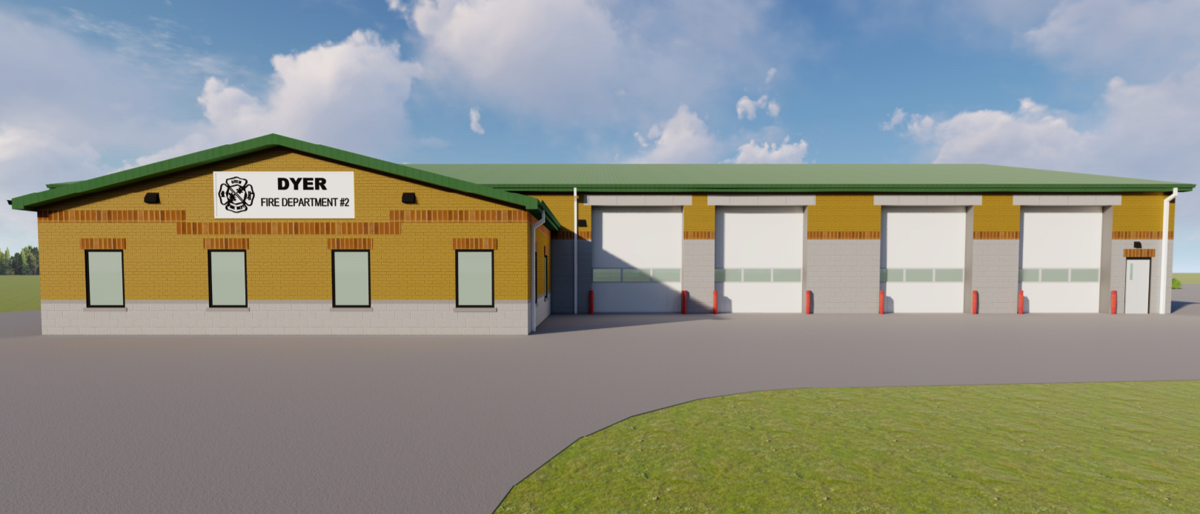 DYER — The town is one step closer to its new fire station. 
Earlier this week, the Redevelopment Commission saw renderings of Dyer Fire Station 2. The 10,500-square-foot facility has a similar look to Dyer's Fire Station 1, with similarly colored bricks and building material. 
"What we've tried to do is mimic or come close to what your existing fire station has on Hart Street," said Tom Kuhn, president of CSK Architects. 
The building will have six bays and will house the fire, police and parks departments. 
The police and parks department will have small offices inside the building and the fire station will have a dayroom, along with office space throughout. All three will have access to an upstairs mezzanine for storage.
There also will be a 6-foot tall fence, a rolling gate and a parking lot reserved for fire, police and parks personnel. 
Commission member Alan Brooks said he likes that the two buildings have a similar look, but said he would like to see all glass doors and green downspouts instead of white. 
Brooks also asked if the building will be energy efficient. 
Kuhn said yes, adding all of CSK's buildings are typically Leadership in Energy and Environmental Design (LEED) certified. 
"All of our public buildings are sustainable design," Kuhn said. 
Commission Vice President Eric Schultz asked if solar panels could be added to the building, since it has a large south-facing roof. 
"I feel like we see the financial benefit long term, but I think we would also be exhibiting leadership and environmental stewardship," he said. 
Kuhn said that is an option, but CSK just needs to know what to design the building for. 
The council agreed to design the building to be able to accommodate solar panels, in case they want to add them later. 
The new station came at the dismay of some Dyer residents, since it was originally located east along 213th Street in the park across form the Briar Ridge subdivision. 
In July, council members relocated the building farther west — where it is still across the street from a residential area and sits near one home — after residents raised concerns about the station's proximity to homes and drainage issues. 
"We hope that residents are happy with this decision," Dyer Fire Chief Thad Stutler previously said. "We are running out of options. It needed to stay in the area based on where our service is. Hopefully it will work out for everyone."
Stutler previously told The Times the new building has been needed for quite some time. 
"Our station now is an older building, almost 40 years old. We need this new station and extra space," Stutler said. "We are very excited."
Town Manager Tom DeGiulio said the town plans on breaking ground on the project in the spring, with the hope for a full build out by fall 2020. 
When the building is constructed, there will be an emergency signal installed near the station that will control traffic from 213th Street and the Briar Ridge entrance and exit. 
A similar signal is installed on West 93rd Avenue and Civic Drive in St. John. 
DeGiulio said the fire, police and parks department have been to all of the meetings and providing the direction for the new building, which is how CSK was able to come up with the configuration of the facility. 
"I think everybody's happy with what we have," DeGiulio said. 
Be the first to know
Get local news delivered to your inbox!