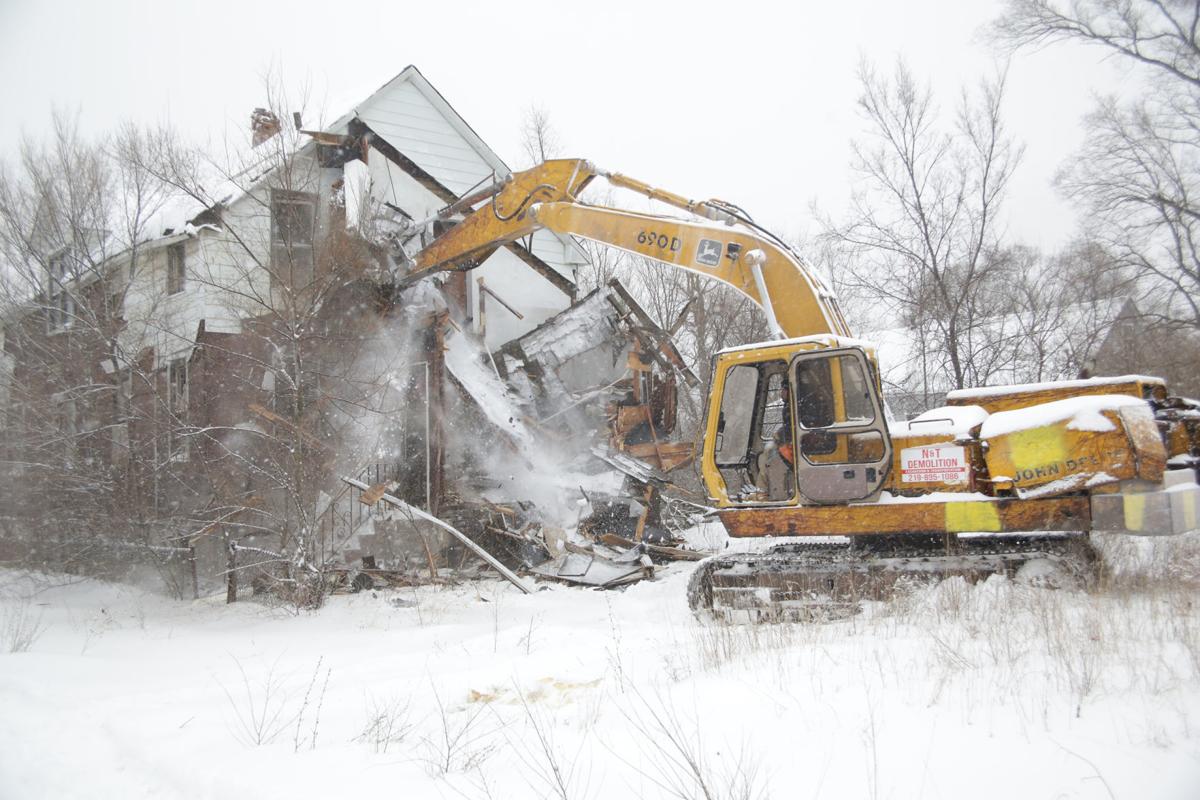 GARY — Even the most thriving neighborhoods and heavily trafficked corridors in the city are pockmarked with burned-out homes, failing structures and vacant businesses.
When walking or driving through Gary these days, the challenge of the city's thousands of blighted properties can be glaring. But it was worse at one time.
Mayor Karen Freeman-Wilson said she swiftly and aggressively set up a demolition plan when she was first elected in 2011, and under her leadership, nearly 1,500 structures have been razed using local, state and federal resources since then.
The recent discovery of another homicide victim in an abandoned Gary school building has put the city's own demolition efforts of homes and commercial structures back into the spotlight.
The mayor said her administration was the first to finally quantify the problem after years of guesswork by city staff as to how many vacant structures were on their hands. A 2015 parcel survey identified more than 6,500 vacant buildings — some of which need to be demolished. 
The nearly 1,500 structures razed since 2011 represents one-third of the vacant and abandoned structures in the city and about half that should be razed, according to city staff. Other buildings, such as the old ATCO-Gary Metal Technologies building at 2700 E. Fifth Ave., is being repurposed now by Alliance Steel, a Bedford Park, Illinois, company relocating to Gary. 
The numbers
Some of the buildings demolished since 2011 include the homes in which serial killer Darren Vann stashed or murdered his female victims, and the home where missing mother Diamond Lewis' lifeless body was found in 2016.
Freeman-Wilson said those were "monuments to heinous acts" — that should not remain standing. She hopes the teardowns help bring some closure to the mourning families.
Of the 1,500, more than 600 homes and commercial structures were razed with federal Hardest Hit dollars and nearly 500 using in-house demolition workers, Freeman-Wilson said.
Other demolitions have been funded through CDBG-funded contracted work, private dollars, the Gary Sanitary District, TIF dollars and through assistance from the National Guard or the Gary-based Rieth Riley construction.
The mayor said the demolitions cost about $13 million to $14 million.
City officials estimate it would cost $100 million to raze every blighted structure in Gary. 
C&D site would save big
The outgoing mayor says she wants to tee up Mayor-elect Jerome Prince so that he can carry that baton forward, while also saving big on construction and demolition debris transportation costs.
She said she hopes the Prince team considers a public/private partnership to host a C&D site in the city, saving $20 million in transportation costs and tipping fees for in-house demolition projects, as well as reaping financial benefits when the materials are recycled or reused.
She pursued the project, but the city never was able to settle on a location.
A local city-operated C&D site is needed because about one-third of all demolition project costs accounts for transportation and tipping fees, she said.
"Let's say I have $10 million to demolish a property. If I'm able to dispose of the debris at no cost, then that increases that $10 million by 30%. It stretches my dollars," she said.
Two years ago, Republic Services and Gary Material Supply each submitted a proposal for the C&D site when the project was put out for bid two years ago. But things since have stalled.
"We have to find the right site," she said.
Schools, more funds
She said her administration also worked on legislation last year with Sen. Eddie Melton, D-Gary, to put dollars in the state budget for school demolition.
"However, we were focused on the port and the casino," she added.
Melton told The Times he and Freeman-Wilson plan to sit down with the incoming administration to discuss approaches for demolitions of school buildings.
He said he also wants to pursue potential new matching grants for demolitions of homes and commercial structures in Gary and elsewhere in Northwest Indiana.
"We know the sooner we can expedite demolition and acquire these properties, the sooner we can make them more attractive and spur growth and development," he said.
Site assembly
Despite progress, site assembly remains the city's greatest obstacle to redevelopment, according to the city's 2020 long-term comprehensive plan. 
"While as much as a fifth of all parcels in Gary are vacant, ownership varies from property to property, creating few sites large enough to effect redevelopment. An average Gary city block is comprised of 48 separate parcels, each less than a tenth of an acre in size. With disinvestment and population loss, this makes land assembly difficult. More than 90 percent of publicly owned parcels ... are vacant single-family lots. Sites large enough to effect significant development will require the aggregation of dozens of individual parcels," the report states. 
Years of disinvestment also has led to thousands of consistently tax delinquent properties, with unpaid taxes dating back at least three years, the plan states. Over 11,000 properties, representing more than 1 in 5 properties in Gary, end up on the county treasurer's tax sale auction each year. About 94 percent never sell.
Freeman-Wilson said she has no qualms with real estate speculators who purchase Gary property off the county's tax sale for cheap; what she does have a problem with are investors who ignore overgrown weeds and code violations, which brings down the value of the neighborhood.
"People don't want to maintain the property, but they want to wait for the upside. And they don't pay taxes, they don't maintain," she said.
Be the first to know
Get local news delivered to your inbox!