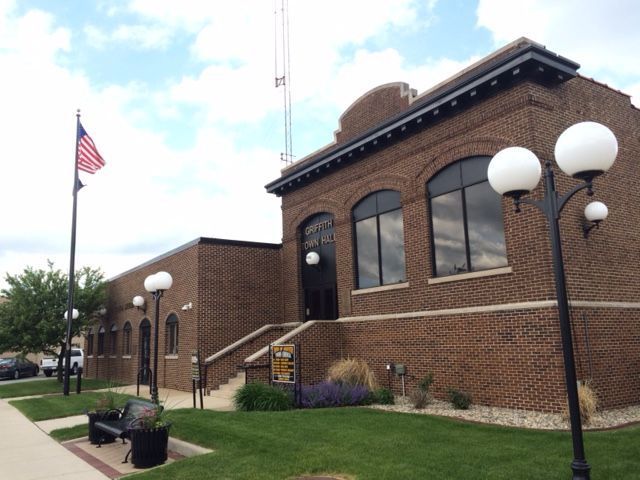 GRIFFITH — "We're still trying to find a home," Town Council President Rick Ryfa repeated to residents on Tuesday as Griffith continues its effort to leave Calumet Township.
To fortify the town's position, Ryfa, R-3rd, said the Reedy Financial Group was asked to crunch updated numbers to reassure it would be favorable to North Township or St. John Township if Griffith is granted membership.
Both townships rejected Griffith's requests to join them late last year, but the state has given the town until November 2020 to get the townships to reconsider.
Looming over each of the townships is the property tax circuit breaker that will kick in next year. When this happens, budgets across Lake County could suffer because the full state tax cap, which caps residential property taxes at 1%, takes effect, unless the local taxing authority has passed a voter approved referendum.
Currently, local governments and school districts can collect the 1% — and then take additional taxes beyond that percentage to pay for their exempt debt.
"Our schools have quite a bit of debt, probably $4.8 to $5.8 million in annual exempt debt payments for 2020, that will be coming under the cap," Ryfa said. "And it will have a really big effect on the town and the schools."
To illustrate, Ryfa gave an example of a pie chart with $100 that is split among all the taxing authorities.
"In 2020 the amount in the pie will be decreased to maybe $80 or $90 because $10 or $20 will be taken out to pay the (currently) exempt debt the schools have," Ryfa said.
He noted that exempt debt gets paid first and the rest of the taxing units split up the difference.
"There has been some concern that Griffith going to North Township will have a big impact on their circuit breaker," he said.
Ryfa said that North Township in 2020, with Griffith as a member, would gain about $510,728 in revenue after Griffith circuit breaker losses are included.
In similar fashion, St. John Township would get an extra $70,000 from Griffith, if it brought the town aboard.
"(Thus) our circuit breaker issues will not extend over into a new township, in any significant manner, should they accept us," Ryfa said.
Reedy shows that Griffith taxpayers would save about $1.9 million if it left Calumet Township and did not join another one, Ryfa said.
Griffith's township tab last year was about $2.2 million and this year is expected to be about $2.3 million.
"We hope to join another township before the final 2020 budgets are submitted by late summer or early fall," Ryfa noted. "If that fails, we will have no choice but to begin working on legislation allowing Griffith to provide township services itself."
Be the first to know
Get local news delivered to your inbox!