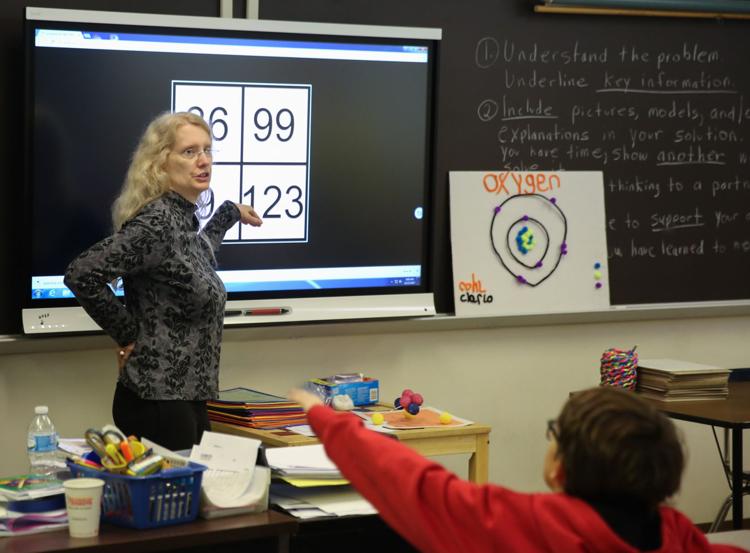 SCHERERVILLE — When you walk into Donna Spivak's fifth-grade classroom at Grimmer Middle School, it's obvious the children love her — and they're learning.
Spivak, who has been a teacher for 33 years, has taught English/language arts, and for the first time in many years is teaching math and science. She conveys her love of the subjects to the students in every activity they undertake.
During an afternoon at home, Spivak was busy on the internet researching new ways to keep her students excited about learning. For the first time this year, Spivak is going to have her students act as "math ambassadors" to first graders at Watson Elementary School, which is attached to Grimmer.
The fifth-graders won't just be making a presentation to the younger children, they're going to put together a skit, complete with puppets, to entertain and educate the first-graders on the concept of volume.
Fifth-grader Isabella Soria explained that volume is length times width times height.
Her classmate Allessandra Ellis said, "We're doing a presentation on volume. Each of us has a part in the skit, and we'll use the puppets to keep the kids' attention."
But they'll have to present it to Spivak first and get her approval before moving forward.
A group of four students, including James Herr, Riley Batson, Nolan Tieri and Kaylee' Phillips, went out into the hall to practice their skit. They needed to memorize it, they said, so it flows freely during the presentation to the first-graders.
Phillips said she loves fifth grade and her teacher. "She gives us so many things to do in her classroom," she said. "Last year, we didn't do any mentoring, but we did get a chance to do peer tutoring with our classmates. We tutored each other in math and that was fun."
Spivak's class moves seamlessly through each assignment. She has the youngsters take a break, and she plays the "Macarena" by Los del Río to give the children an opportunity to stretch their legs and move around.
It's organized chaos in the room as the students move directly into talking about Market Day. All of the fifth-grade classrooms at Grimmer work together to host Market Day with a different theme each Wednesday. On Oct. 26, it was all about crafts. 
The students are divided into groups, and they can make a craft to sell to each other, using something called "gladiator dollars." They earn the dollars by making good grades or doing a good deed.
Keep reading for FREE!
Enjoy more articles by signing up or logging in. No credit card required.
Fifth-grader Andjela Bukarica bought a kit and made four snow globes.
Once the students have been able to talk about their ideas and plans for Market Day, Spivak moves them to Chromebooks to work on iReady, an individualized math program.
Spivak said her students work on iReady on Mondays and computer coding on Wednesdays.
"They like coding a lot better than iReady," she said with a smile.
As Halloween approaches, Spivak has something extra special planned for the children. Science students will get a chance to blow up a pumpkin. Spivak is using a combination of hydrogen peroxide, yeast and food coloring to make the pumpkin go boom into the air.
Spivak, a three-plus decade teaching veteran, taught English/language arts before switching to math and science. She has also taught her fifth-graders about the Constitution as part of the We the People program for the last 25 years.
We the People: The Citizen and The Constitution is an instructional program for elementary, middle and high school students covering the principles of the U.S. Constitution and the Bill of Rights. In Indiana, it's administered by the Indiana Bar Foundation.
Spivak has turned the baton over to two other teachers at Grimmer — Susan Thomas and Allison Colgrove — who will oversee it.
She loves the program, Spivak said, and will continue to be involved as a teacher mentor.
This past summer, she led professional development training for other teachers around the state in the We the People program.
"Every year, I have been witness to the phenomenal growth my students go through due to the We the People program," she said. "Speaking, researching and writing skills go up, but it's the students' self confidence that amazes me. I was thrilled to serve as a mentor for other teachers. Seeing the enthusiasm and pride that the new instructors to the program experienced was truly uplifting."
Grimmer Principal John Alessia and Assistant Principal Mario Castaneda oversee a school with 875 students in fifth through eighth grades.
"Her class is high energy," Alessia said. "You walk in her room and it's busy. Kids are active and constantly moving. It works for the kids. It's very high order, very critical thinking."