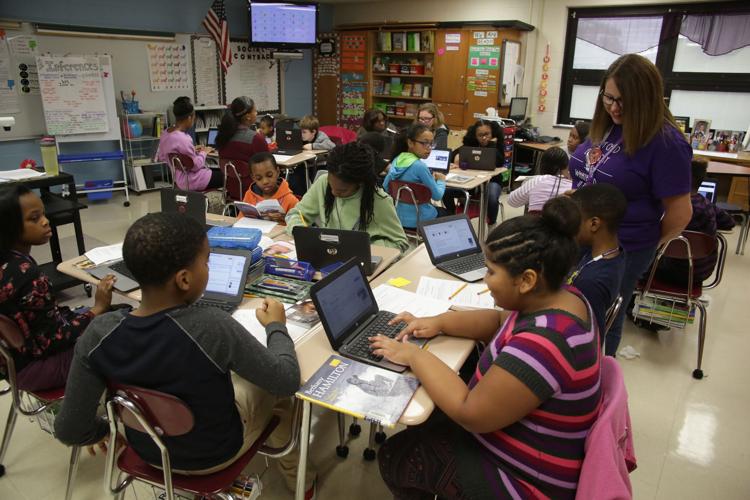 For the first time, the fifth-graders in Julie DiFiore's class at the Merrillville Intermediate School will take their place in history in a living wax museum.
Through research, the children have been transported out of their seats from the small town of Merrillville and into the world of Dolly Parton, Mae Jemison, Genghis Kahn, Bethany Hamilton, Anne Frank, Abraham Lincoln and J.K. Rowling to name a few.
The students will dress in costume to represent their subject, and will "perform" Dec. 8 for parents and members of the community, reciting some of the facts they've gathered.
DiFiore said the students also are responsible for a video blog (VLOG) of the book they are reading where they will make recommendations about the book. This is the first year the living wax museum was added to the project.
Right now, it's all about research. The students were busy on their Chromebooks last week as they began researching their historical figure and writing an outline of how they want to present their information.
DiFiore said research is just one of the fifth-grade standards that students must meet.
"They are learning about the people who came before them and what those people have done to impact the world. Some of them are famous, some are not, but I didn't want to discourage any of the students regarding who they wanted to research," she said.
"In addition, the students are working on presentation skills. But our primary focus for this project is based around writing an informational piece to couple with our writing standards. The research they are doing will be one piece of a research paper. They are also required to complete a VLOG based on their review of the book. The last piece is the living wax museum where they bring the entire project together for the visual presentation aspect of the lesson," DiFiore said.
Fifth-grader Mario Currier said he's learning all about Ghengis Khan, someone he had never heard of.
Keep reading for FREE!
Enjoy more articles by signing up or logging in. No credit card required.
"I've learned that he was the founder of the Mongol Empire, which became the largest contiguous empire in history after his death. He came to power by uniting many of the tribes of Northeast Asia. He was a powerful ruler of one of the biggest empires in history," Currier said.
"I don't really know what I'm going to wear. I'm thinking about something with foil but I don't really know," he said. "It's pretty interesting that I've been able to find out facts about different people."
Classmate Hailey Pospishil is researching the life of country singer Dolly Parton.
"I didn't know before that her family was poor. I didn't know she was born in Tennessee or that she had other siblings," Pospishil said, adding she's seen Parton on television and listened to her music.
"I'm going to try and find an outfit that looks like something she might wear. I want to curl my hair and dye it a little more. Her hair is lighter than mine," the fifth-grader said.
Makylah Frank is learning about the astronaut Mae Jemison. "She was the first African-American to fly into space," Frank said.
Jemison, an American engineer, physician and NASA astronaut, became the first African-American woman to travel in space when she went into orbit aboard the Space Shuttle Endeavour on Sept. 12, 1992. After medical school and a brief general practice, Jemison served in the Peace Corps from 1985 until 1987, when she was selected by NASA to join the astronaut corps.
Frank intends to dress in an orange suit and black boots, and add stickers to her ensemble to imitate Jemison.
MIS Principal Kara Bonin said she's proud of all her students and the work they're doing in class. She said in addition to honing their research skills, Bonin said the students are learning how to read and summarize information, and are integrating technology in their presentation.
Bonin said the school, which has nearly 1,000 fifth- and sixth-graders, was graded a B by the Indiana Department of Education, moving up from a D last year.