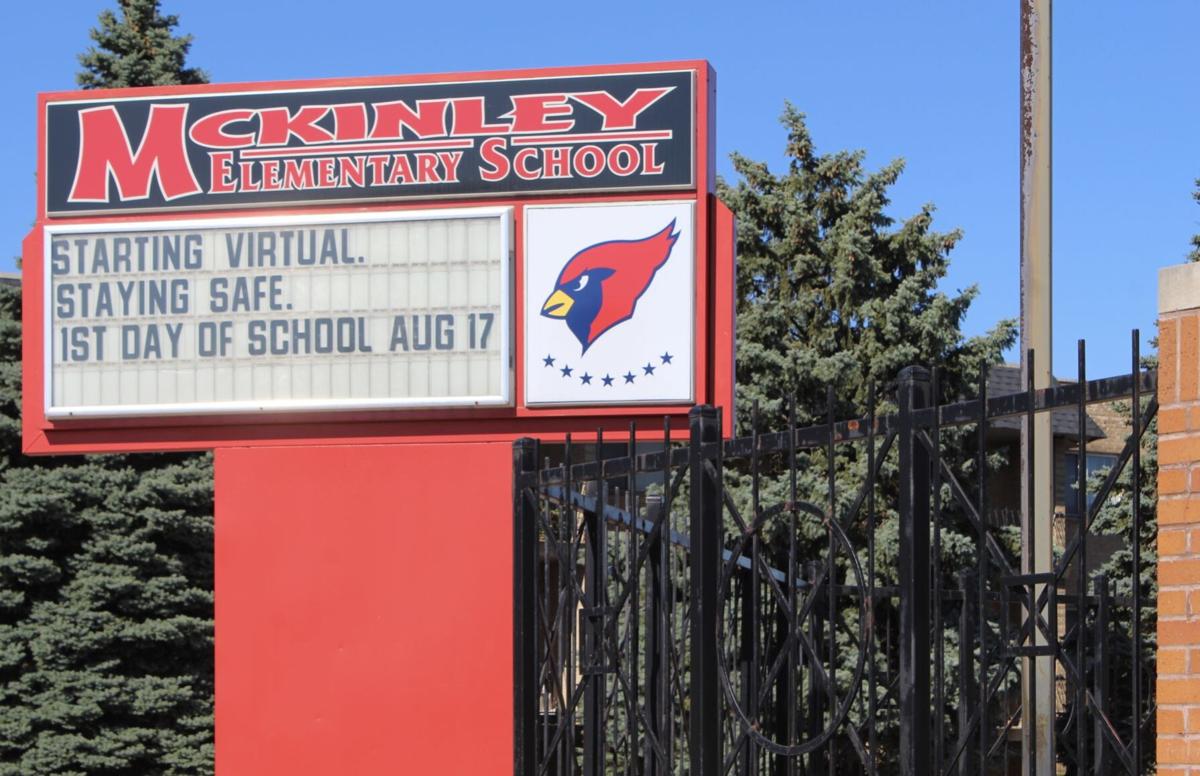 EAST CHICAGO — East Chicago educators are raising concerns for health safety and transparency as school leaders consider a return to in-person learning this October.
The School City of East Chicago reopened this August in a virtual learning model due to the coronavirus pandemic.
In the school city's current education plan, all teachers are required to lead instruction from their assigned classrooms while students follow classes and complete assignments from home.
Though students are not not present in school buildings, the school city saw the first positive coronavirus cases this summer in its boys soccer program and at McKinley Elementary School.
McKinley was closed for cleaning after multiple teachers reported testing positive. After those cases, the school city implemented temperature checks for all arriving staff and designated a COVID-19 coordinator to oversee district response.
However, some educators' concerns are now growing as administrators prepare for a new hybrid learning plan that could bring students back to the classroom later this month.
Work requirements
As many as 20 Harrison Elementary teachers called off work Monday to get COVID-19 tests after some say they received second-hand information that multiple staff in their building tested positive for COVID-19.
Multiple staff members, who requested anonymity for fear of retaliation, told The Times that East Chicago administrators have required staff, including high-risk educators and those identified as close contacts, to come into work, even while awaiting the results of coronavirus tests.
Superintendent Dee-Etta Wright, citing guidance from the East Chicago Health Department, confirmed that school city employees identified as close contacts have been required to return to classrooms while awaiting test results if they are not showing symptoms of the virus.
"They're essential workers," Wright said. "They're required to come in to work."
The superintendent did not respond to multiple requests from The Times seeking clarification of how many cases have been reported and how many teachers have called off work in the school city.
East Chicago staff say the administration's directive requiring close contacts to immediately return to work if asymptomatic has led to confusion, especially given conflicting guidance from the Indiana State Department of Health and the Centers for Disease Control and Prevention.
Both state close contacts should stay home while awaiting the results of a COVID-19 test regardless of whether symptoms are showing.
An attorney for the city of East Chicago did not respond to multiple requests seeking information on the city health department's guidance to the school district for quarantining close contacts.
Concerns for students' return
The administration's insistence that staff, including individuals at high risk for COVID-19, lead instruction from their classrooms while students are able to work from home has led to a culture of fear and frustration, staff said, so much so that community partners are taking notice.
"Since the start of the new school year, our program launches have been delayed due to the extreme uncertainty within the schools, health concerns and the inconsistency of communication from school leadership to partners and the community in general," said Cathleen Laporte, president of Athletes for Charity, an external partner that has brought STEM, literacy and mentorship programs to East Chicago students since 2014. "With COVID positive cases allegedly in nearly every building it is unfathomable that the district still plans to bring students into the buildings next week."
And, with some staff voicing concern for the lack of communication employees say they are receiving now, wariness is growing among some as the district plans students' return to the classroom.
In addition to communication, school city employees say they question whether the district will be able to provide adequate cleaning supplies and staffing upon students' return.
Students will visit their respective schools next week in a voluntary check-in day that some staff see as a test run for the school city's developing hybrid learning plan.
"Although I'm very anxious to see the children face-to-face again, just as all the other teachers are, and we know that they will learn better in person and their attendance will be better in person, we also have our own safety with pre-existing conditions that we are concerned about," East Chicago teacher Paulette Tapper said in a public school board meeting this week.
Considering hybrid
District administrators are expected to bring their vision for a hybrid learning model to the community on Monday.
School Board President Vanessa Hernandez-Orange pushed this week for a public work session to allow teachers and parents to bring their questions and concerns to the board before taking a vote on hybrid learning.
Hernandez-Orange said she has received mixed feedback on returning to school buildings, with some seeing value in a return to face-to-face engagement.
The president said she has also heard the concern from parents and teachers about whether the district can provide adequate cleaning supplies, health accommodations and communication.
She said the board and administration have discussed these topics this week in preparation to address the community's concerns on Monday.
"With COVID, there's no really right way to handle it, but being transparent is the best way to handle it at this time," the board president said.
The school board meets at 6 p.m. Monday night at the School City of East Chicago Administration Building to discuss the hybrid learning model and could meet again as soon as Wednesday to vote on the plan.
If hybrid learning passes, students could begin the new model within two weeks of the board's approval, Hernandez-Orange said.
"We understand the communication, there hasn't been enough communication," Hernandez-Orange said to concerned staff. "We hear you. We're here to support you."
Concerned about COVID-19?
Sign up now to get the most recent coronavirus headlines and other important local and national news sent to your email inbox daily.