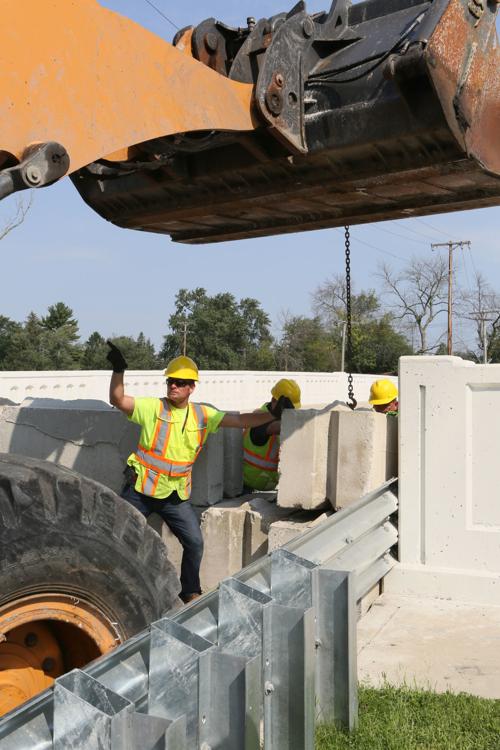 MUNSTER — On the 10th anniversary of the September 2008 flood, members of the Little Calumet River Basin Development Commission paid tribute to those who responded to the historic devastation and vowed to keep working to prevent that kind of situation in the future.
Pointing to photos from the flood displayed at every monthly meeting, LCRBDC Chairman Bill Baker said, "Those photos show what happens when maintenance on a $275 million man-made project isn't kept up. We are far better prepared than we were in 2008."
As part of that continuing effort, Baker said, "We meet every month with municipalities for preparedness … so events like that would be taken care of during our stewardship."
"Water knows no geo-political boundaries," he said, adding the commission hopes to put up memorials in various spots where floodwaters devastated homes, facilities and people's lives. Those locations could include Munster, Hammond, Indiana University Northwest in Gary and the Brickie Bowl in Hobart.
"If we don't take care of things, it will affect lives for generations to come," Baker said.
The regular monthly meeting Wednesday at Munster Town Hall also included good news for Hammond residents living along Forest Avenue, west of Hohman Avenue.
Natalie Mills, of the Army Corps of Engineers, told commissioners that FEMA has issued a Letter of Map Revision for more than 20 homes along Forest Avenue. This means those homeowners no longer will have to pay for mandatory flood insurance.
Mills said the effective date is Nov. 14. LCRBDC Executive Director Dan Repay explained residents will receive notification from Hammond and should make certain that information is sent to mortgage companies.
During February's snow melt, Repay said, some seepage was found in one area of the levee east of Calumet Avenue behind Munster Med-Inn extending about 600 feet through the 1100 block of River Drive. Commissioners asked Mills how that would be addressed.
She said the ACE would seal those areas free of charge and that the ACE would be responsible for any water damage that would result.
In addition, a presentation by Munster-based SEH Engineering indicated plans for a levee and dam improvements on Deep River between Liverpool Road and Interstate 94 in Lake Station would provide protection for neighborhoods in that community.
"Deep River fills up faster than the Little Cal," said Riley Mondloch of SEH Engineering. "2018 had more inundation than in the FEMA flood mapping. ... Everything looks good to go with the levee."
That presentation also verified that additional paving planned atop the Marshalltown levee in Gary will provide needed flood protection.
Be the first to know
Get local news delivered to your inbox!