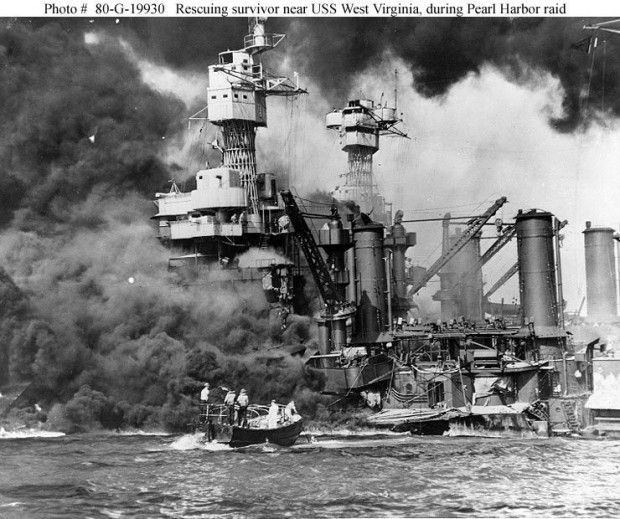 They were members of what one day would be called America's Greatest Generation. But on the day Japanese bombers launched a surprise attack on Pearl Harbor, they were just young men and boys caught in a pivotal moment in American history.
It's been 70 years since that date of infamy, and the number of survivors of the attack dwindles almost daily. During this year alone, three Northwest Indiana members of that special fraternity have died: Rock E. Flynn, of Dyer; Merle Berdine, of Valparaiso; and Bernard Tysen, of DeMotte. Only two local military members remain, along with one child survivor.
Berdine's recollections of the attack were gathered from past news stories and a letter he wrote to a local student. They are presented along with those of Ray Crane, of Crown Point; John Latko, of Hammond; and Wendy Masters, of Valparaiso.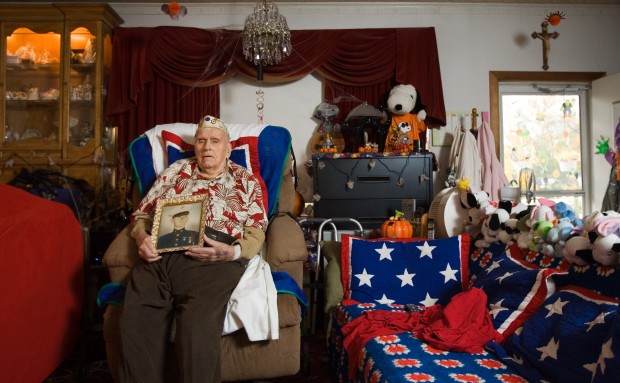 Merle Berdine, deceased, 92, Valparaiso
Berdine saw Japanese planes approaching as he sat drinking coffee on the steps of his barracks at Fort Kamehameha in Hawaii with fellow soldiers.
"They dropped a bomb across the way from our barracks," Berdine said in a newspaper interview a few years ago. "That sort of bothered me then. The barracks next door, a bomb dropped in the kitchen."
He said they were about 500 yards from Hickam Field, which was under attack. Mystified at first at what was going on, Berdine admitted "it was a little scary."
"The planes were very low, with red circles," he wrote the student. "When the planes came over, they were so low we could see the pilot's face. As they turned over Hickam Field and dropped their bombs and strafed the whole area, there wasn't any question what was going on. We could see the fire and smoke at Pearl Harbor.
"The (U.S.) planes and hangars were burning and blown up just as you have seen it in the films. Sure, we were scared and angry, too. They emptied their guns on our grounds and barracks on the way back to their ship. We were all sort of digging for cover. We had guns but no ammunition until later. We were not expecting anything like this."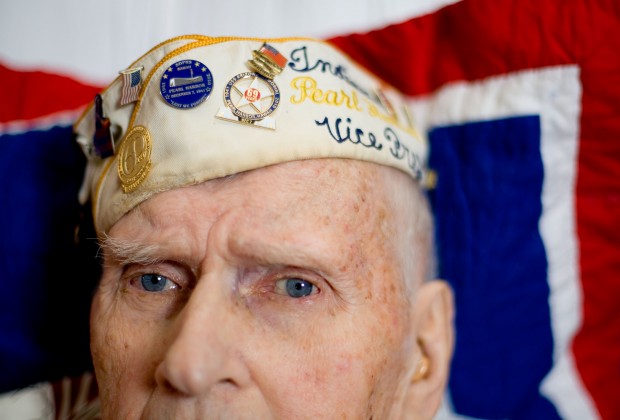 An Army staff sergeant at the time of the attack, Berdine and his barracks mates were talking about going home soon.
"We were draftees. We were told we were going home May 1. That didn't work."
Ray Crane, 86, Crown Point
Time almost stood still for Crane and a shipmate as they waited out the attack in their battle station in the engine room near the propeller of the USS Maryland.
Crane was underage, 16 instead of the required 17, and underweight, 129 instead of 130, when he went to the Navy recruiter and said he wanted to be assigned to the aircraft carrier USS Lexington because he had seen a newspaper photo of a beautiful blonde on the ship's flight deck. He lied about his age, and the Navy doctor said they'd fatten him up.
He arrived at Pearl Harbor in September 1941. On Dec. 7, Crane was getting off morning security watch at 7:45 a.m. when his relief man said a Japanese plane was overhead. The Maryland was tied up at the Ford Island base, and the USS Oklahoma was tied to the Maryland's starboard side.
"I stuck my head out of the portal to see what the dumb Jap plane was doing," he said. "About that time a bomb hit the runway. I pulled my head in just as the alarm sounded, and I had to go to my engine room station. Then it really started getting crazy."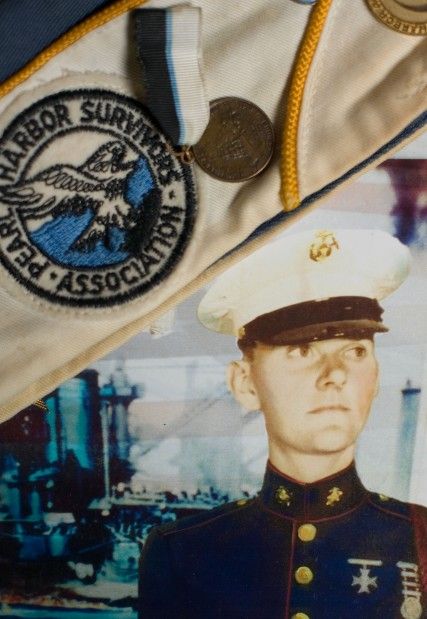 The Oklahoma took six torpedoes and went down in six minutes. A couple of bombs hit the Maryland. Crane said he and his shipmate sat there, sealed in a watertight compartment, listening to the explosions with no sense of time as they wondered why the ship didn't move. Finally, they heard a knock on the sealed hatch above them, so Crane got a wrench and hit the hatch.
"They opened it up, and an officer asked what we were doing down there," Crane said. "I told him we were at battle stations, and we had been there since the morning attack. He said, 'That was yesterday.' They took me and my buddy out, and we went up to the galley to get something to eat. That's when I saw all the damage.
"The Arizona was still burning, and there were still dead bodies in the water. At the time of the bombing I was not afraid because I couldn't comprehend why a Jap plane would come in and bomb us. I didn't know it was a couple hundred planes. After it was all over, I was scared because I didn't know if I would ever get back home."
It was going to be a day of picnicking and baseball at the naval ammunition dump for the portside crew of the USS West Virginia.
Latko, a Marine, was stationed on the West Virginia and wrote his experiences of that day for his children.
"No one went on liberty or to church until colors were played," he wrote. "So, we waited until colors were over (to set off for the ammo dump). Before colors were over, we saw planes flying overhead, first one plane, then we saw the red circle on the wing of a second plane and a ship burning on the other side of the harbor.
"Our ship sounded the alarm for fire and rescue, but, before we could respond, the loud speakers blared out 'belay that order' and the call went out for general quarters. I went to casemate 10, which was my regular 5-inch gun post. We were facing the USS Tennessee. We were tied up next to her, and we could not fire our gun without hitting her.
"The Japanese planes were dive-bombing us like hell, and their planes were also torpedoing our ship. After our ship took a few torpedoes, we began listing to the starboard side. To try to keep my balance, I was leaning on the nearby lockers and saying the Lord's Prayer and thinking about my mother, who did not want me to go into the Marines."
The West Virginia settled to the bottom, and Latko escaped temporarily to the USS Tennessee, returning to his ship later to fight fires and help the wounded. When the fires became too hot to help anyone, he had to leap from the deck into a motor launch waiting about 20 feet from the ship.
"I did land with my feet in the boat, but my hips hit the rim of the boat. I remember I thanked God for giving me the strength to make that long jump, but I felt pain in my legs and hips. But, I was alive."
As the launch passed the rear of the West Virginia, he saw heads in the water. He threw a rope to one man and pulled him aboard before the launch driver pulled away leaving the others. Latko didn't know the name of the man he rescued — Bill Moore — until 50 years later when they met by chance at a survivors' reunion at Pearl Harbor.
Wendy Minniear Masters, 73, Valparaiso
Just five months past her third birthday on Dec. 7, 1941, Masters recalls witnessing the destruction from atop her father's shoulders.
Her father, Carl Minniear, was an ensign aboard the USS Phoenix, one of the many ships in Pearl Harbor. The family rented part of a home in Kamehameha Heights from a Japanese family, who lived in the other half. The house had large windows facing the bay, which gave Masters' mother, Martha, her first glimpse of the attack.
"Carl, Carl, come quick," her mother years later recalled saying. "Something has happened. There's smoke."
"Oh, my God," she quoted her husband as saying. "We are at war."
Picking Wendy up and placing her on his shoulders, he walked to the end of the street where, Masters said, all she could see was smoke and fire. It obscured everything in the harbor. As they stood there, a Japanese plane flew past in what Masters described as like a scene from the movie "Pearl Harbor" with a pilot wearing "his Snoopy hat and scarf."
"I remember the pilot grinned, gave a quick wave and a thumbs up as he disappeared from sight," Masters said. "I won't repeat what my father said."
Before reporting to his ship, Carl and his wife took mattresses from the beds to make a shelter under the kitchen table in case of another attack. They also pushed a chest of drawers in front of the door leading to the Japanese family's quarters. Another memory of the aftermath was gas masks.
"Wherever we went we had to have the masks with us," Masters said. "Mom wrapped them around the baby buggy for our daily walk."
One was for her sister Wanda, who was only 9 weeks old. The mask almost could fit her sister's entire body, Masters said.