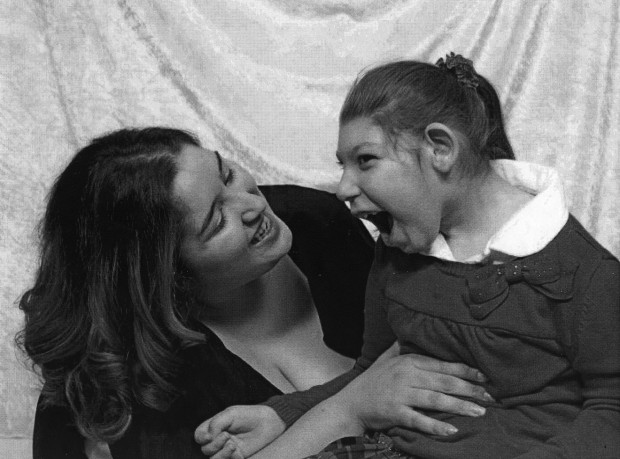 HOBART | Kari Cavanaugh didn't know there were any problems with her pregnancy until she went into labor. Then, she said, "It was just not right."
Cavanaugh, of Lowell, and her attorneys, Tim Schafer and Jamie Trapp, of Schafer & Schafer in Hobart, announced Friday a $12 million settlement with South Suburban Hospital and Dr. Monique Alford for brain damage suffered by Maria Cavanaugh.  
Maria, now 9, is unable to walk, talk, sit up or roll over without assistance. Her vision and hearing are impaired, she can't feed herself, is bowel-incontinent and spastic. She requires round-the-clock care and must use a wheelchair or bed most of the time. Despite that, one of her favorite activities is attending a special-needs class, where she is in the fourth grade.
"She likes music and the Disney Channel," Kari Cavanaugh said. "She can see a little, but we don't know how much. She doesn't have any toys. The kids at the school all say they love her."
Kari Cavanaugh was 19 when she went to South Suburban in Hazel Crest to give birth to Maria. A statement issued by Cavanaugh's lawyers said she had no indication of problems prior to labor, and the fetal monitoring strips indicated a healthy and reactive fetal pattern. Under the hospital policies, she was given Pitocin to increase contractions.
The lawyers said nurses stated that during delivery the Pitocin was continued even after Cavanaugh's contractions were fewer than two minutes apart, the resting tones were greater than 30 minutes and the baby experienced "nonreassuring fetal heart tones in the form of late decelerations." Hospital policies require Pitocin to be stopped under all three conditions, the lawyers said.
Cavanaugh remained in labor for six hours with Pitocin being administered, resulting in a lack of oxygen to Maria and causing permanent, irreversible brain damage. Schafer said if the nurses had halted the Pitocin when the baby showed signs of distress and done a cesarean section, Maria would have been fine.
A spokesman for the hospital could not be reached for comment Friday. Alford declined comment.
The settlement was reached Thursday, and Trapp said the money, minus the lawyers' fees, would be put into a restricted trust fund to provide for Maria's care for the rest of her life. She is expected to live 40 or 50 years. Schafer declined to say how much their legal fees are.
"I think this is a fair and reasonable settlement," Schafer said. "This is a family that needed help and the peace of mind that the child will be taken care of."
Cavanaugh has cared for Maria with the help of family. Cavanaugh also works and is going to school to be a nurse. Schafer said Cavanaugh went to two lawyers in Chicago, who told her she didn't have a case. She finally contacted him three years ago, and it took this long to research and document the case.
"(No amount of money) will make her life normal," Cavanaugh said. "She shows a lot of emotions. She smiles and laughs. She's a very loving child and always happy. Even though she's impaired, her loving characteristics show. We love her no matter what."