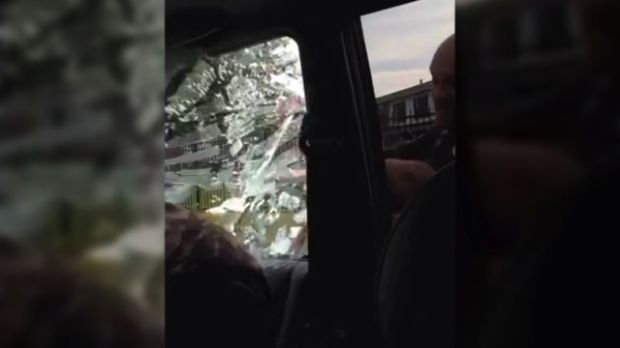 HAMMOND | Mayor Thomas McDermott Jr. said late Monday afternoon two officers will immediately return to street duty after the city was notified the FBI has closed its investigation into a Sept. 24 traffic stop where a Hammond family claimed excessive force was used.
McDermott said officers Patrick Vicari and Charles Turner were assigned to office duties after the FBI contacted the city shortly after the incident and said it wanted to look into the arrest.
Jamal Jones and Lisa Mahone, both of Hammond, filed a federal lawsuit in October against the city and the officers, alleging the police used excessive force during a Sept. 24 stop at the intersection of Cline Avenue and 169th Street. The lawsuit is still pending.
A video of the incident showed a police officers smashing the passenger's side window of a car and Tasing the passenger, Jones, before pulling him from the vehicle. Mahone's 14-year-old son, who was seated in the back with his 7-year-old sister, shot the video of the incident, according to the lawsuit.
Hammond police spokesman Lt. Richard Hoyda issued a statement after the incident that officers feared for their safety because one officer said he saw Jones drop his hands behind the center console of the vehicle. They reportedly removed him after repeated requests to exit the vehicle and after they say Mahone "shifted her car into drive and moved the vehicle in a forward motion."
McDermott said Hammond Police Chief John Doughty was contacted late Sunday night by a local agent on behalf of the Washington FBI office and told they were closing the investigation and that were no criminal or civil rights violations occurred.
The FBI did not immediately respond to a request for verification of McDermott's statements and Jones and Mahone's lawyer, Dana Kurtz, said it was not up to the FBI to make a determination whether civil rights violations occurred. She said she heard the FBI was looking around in Hammond, but had not heard anything that they had stopped any investigation.
Kurtz said what McDermott "needs to be doing is taking a stand against excessive force, which seems to be a pattern among his police officers."
She claimed he instead seems to be encouraging such action by his public support of the officers.
A statement issued by McDermott noted the Indiana State Police and Lake County Sheriff's Department earlier declined his invitation to investigate the matter. He added the office also has met with community and church leaders since the incident happened.
"We have held a community forum and discussion that was attended by hundreds of residents as well as law enforcement past and present, church leaders, the NAACP, and elected officials.
"Several issues have been brought to my attention that I am committed to continued discussion and finding solutions. Most importantly, this includes a review of the testing and hiring practices of the Hammond Police Department to ensure a more diversified workforce that better reflects our diverse city. Ideas such as a police advisory commission and additional sensitivity training are also being reviewed," McDermott said in the statement.
McDermott also said in a phone interview that he wants to improve the reporting procedure so reports of such incidents as happened on Sept. 24 move more quickly up the chain of command.
The federal court case against the two officers and the city has been stayed at the request of both sides while charges of resisting arrest and failure to assist a police officers are pending against Jones.