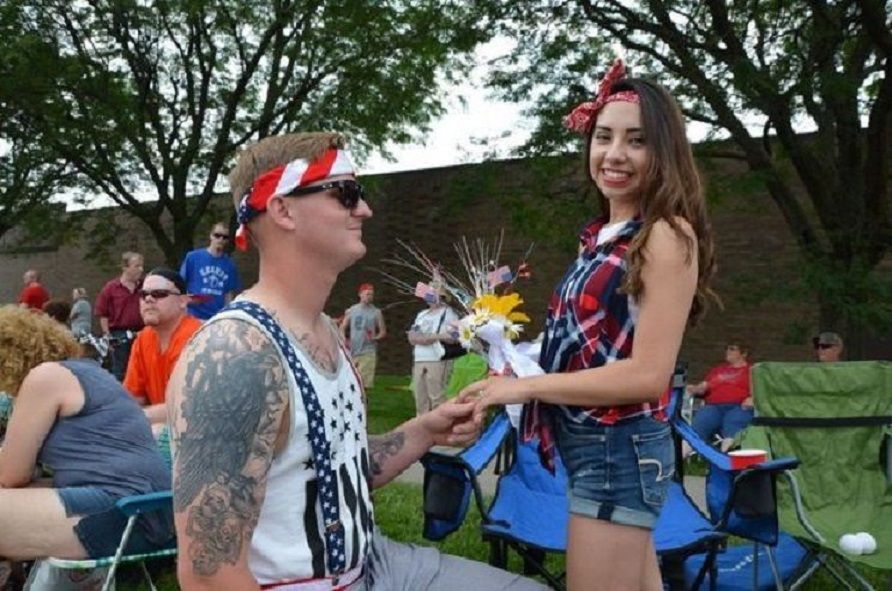 MUNSTER | For Jacqueline Reyes, of Munster, Independence Day 2015 will be one holiday she'll never forget - and not just because her boyfriend, Cpl. Logan Carey was home on leave from Camp Pendleton, the U.S. Marine Corps base in California where he is currently stationed. As the 4th of July parade was set to begin Saturday, Carey led Reyes out into the middle of Calumet Avenue with flowers, got down on one knee and asked her to be his wife. She said "yes."
"He went out there and proposed to her in the middle of the street," said Rob Roberston, of Schererville, who witnessed the proposal. "I've never seen anything like that before. It was really cute."
The couple have been dating for eight months, but have known each other since elementary school. They are both 2012 graduates of Munster High School. Carey has been in the military for almost three years.
"It was a total surprise," Reyes said of the proposal. "We've talked about it, but i didn't think it would happen here. I was shocked and speechless."
Along the parade route were spectators of all ages. Tim Van Cura, of Munster, was celebrating his birthday on  with his grandson, 8-month-old Lake Guilfoyle.
Many youngsters waited for siblings in the parade, including Addyson and Jackson Boshears, of Dyer, whose older brother, Jacob, is a drummer in the Lake Central High School Marching Band.
"It's the second parade of the day for him," said his mother, Amy Boshears. "He marched in Whiting's parade this morning, too. We're pretty experienced parade goers at this point."
Nathan Dooley, 1, and his family sat nearby also waiting to see Dooley's older sister, who also attends Lake Central High School and is in the school's marching band.
Corky and Connie Schmidt, of Munster, showed as much enthusiasm as the kids in the crowd. The couple, who said they haven't missed a parade in 54 years, stood and waved to police officers, firefighters and veterans who passed by. They also had their eyes out for their grandchildren, walking with the Munster Swim Club.
Another longtime Munster resident, JoAnn Sills, said she's been watching the parade for 41 years. "My favorite part is watching the school bands. I love to hear the music of these young people," she said. "That's our future."