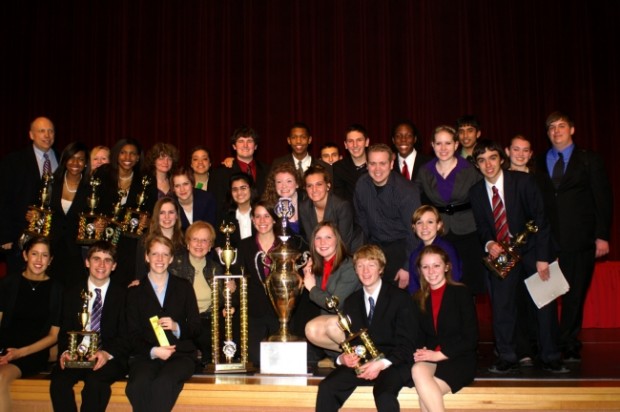 MUNSTER | London Borom's narrative crackled with energy as the 16-year-old unforgettably recounted in a charming, sugary-sweet voice the story of a hauntingly wise 80-year-old woman whose life was transformed by determination.
"It was unbelievable," said Munster High School speech coach Jordan Mayer. "The audience was bedazzled at how she could portray the character so realistically and bring out the nuances. They could not get enough of her, she was so full of life."
Since no props are allowed, she perfected her pantomime by walking around her house with a cane and mastered the mannerisms by working with her own grandmother.
Borom, a beginner on the speech team, went on to win first place in prose interpretation of Freddie Mae Baxter's "The 7th Child" at the Indiana High School Forensic Association State Speech Tournament on March 20.
Arika Jeter, also a newcomer, was the state champion in dramatic interpretation for "My Parent's Bedroom" by Uwem Akpan. Jeter and Borom together also won second place in the memorized duo event.
The teens were among 25 Munster students who competed at the state competition.
The entire team defeated 100 other schools in the Class AA division and received the Ralph Lawson Trophy for the overall team championship.
Over the years, Munster has won the prestigious trophy eight times but this is the first time since 1994. There are 14 different categories and it requires deep talent across the board since the scores of semifinalists are included in the points earned.
Other winning finalists included Ben Goldenberg, Kurt Alberson, Jonathan Wachala, Alex Parobek, Sheldon Suggs, Olivia Koufos, Emma Grdina, Colleen Majszak, Alison Reba and Alexandra Kattan.
Indiana has a long tradition in speech competitions and typically ranks in the top five nationally, Mayer said. Munster lost state last year by only a few points and on the bus ride home the team was already planning on how they were going to win this year.
"I've never seen a team with more spirit," Mayer said. "They have great attitudes, push each other along, help one another, spend countless nights working with each other at school, and do lots of peer coaching. It's a very unified group.
"Our coaches have been around for a long time and competing against good teams makes us better. And there's so much community support in Northwest Indiana. We get it without even blinking."