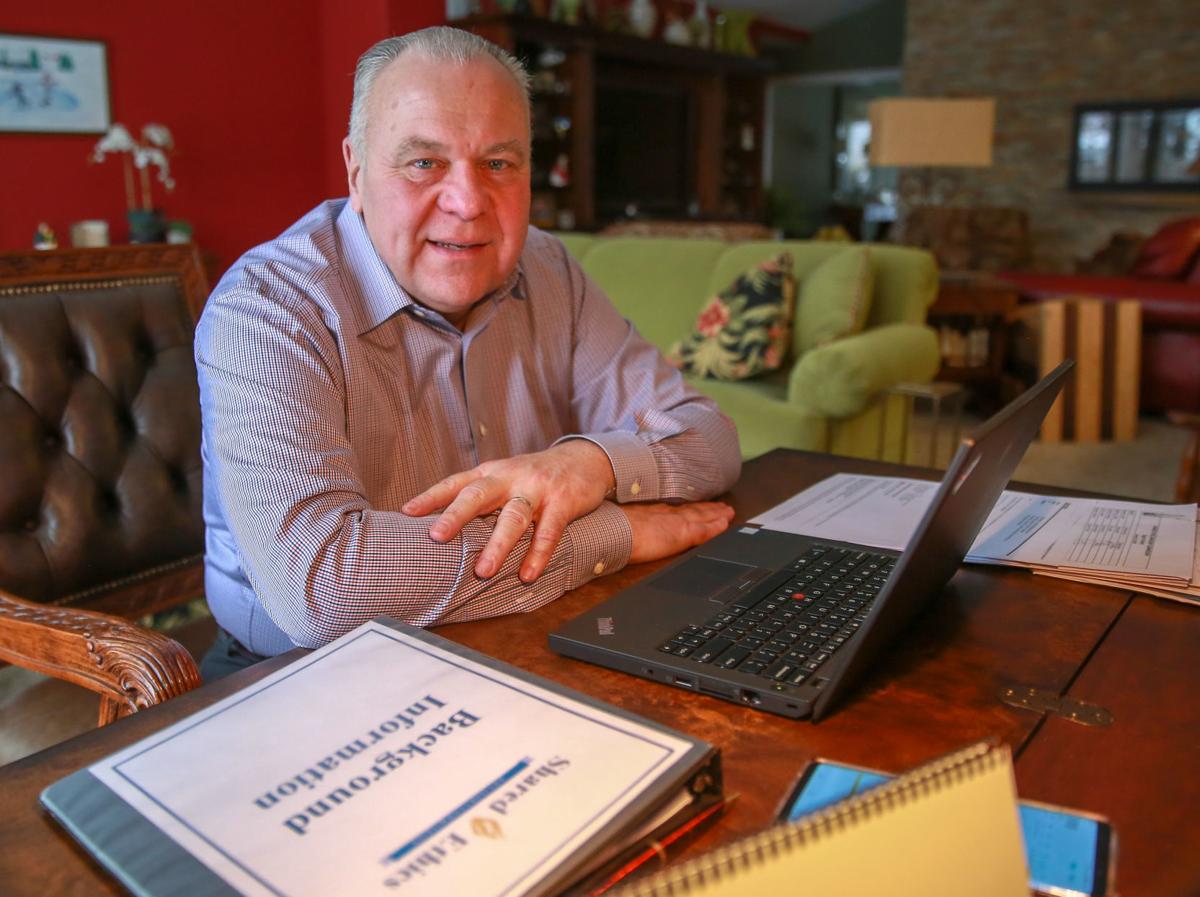 Dan Klein dedicated 22 years to AT&T before retiring as a service executive in 2000.
During that time, the now 63-year-old had to sign a code of conduct every year, promising to adhere to responsible legal and ethical behavior, because he had access to clients' personal information.
When he later got into municipal government, that practice didn't exist.
"I was shocked. There should be as much scrutiny at a public employee level as private," Klein said, who served as Crown Point's mayor from 2004 to 2007.
"I thought, how can we promote ethical behavior and raise the bar to let people know that they have a responsibility to the taxpayers?"
The answer was the Shared Ethics Advisory Commission (SEAC).
Founded in 2005 by Cal Bellamy, the commission is a volunteer organization that has advocated for demanding ethical standards for government entities in Northwest Indiana. Members, or SEAC commissioners,provide ethics training to local department heads and government employees.
"Ethical discussions are not always a simple black and white," Bellamy said. "If you do nothing, nothing happens. If you try and provide the right training and resources, it makes some difference."
Under Klein's tenure as mayor, Crown Point joined SEAC as one of the founding communities, along with Highland and Munster.
Today, SEAC provides services for Lake, LaPorte and Porter counties; the cities of Crown Point, East Chicago, Gary, Hobart, Lake Station, Portage, Valparaiso and Whiting; and the towns of Burns Harbor, Cedar Lake, Chesterton, Dyer, Hebron, Highland, Lowell, Merrillville, Munster, Ogden Dunes, Schererville, St. John and Westville.
"We have grown to 24 communities," Klein said. "People have felt an obligation to join. Municipal heads have realized that this is important and people are watching."
Klein retired as executive director of Habitat for Humanity Northwest Indiana in February. Shortly after, he got a call from Bellamy, who recommended Lake County government appoint Klein as the county's SEAC commissioner.
"Going into retirement, I want to have fun, but I don't want to be bored," Klein said. "This is something I initiated, so what better way to make sure it keeps on going than to be a part of it?"
Today, Klein is not only the county's appointee, but he's also leading as the new SEAC president.
Within his first year, Klein has transformed the structure of the organization in an effort to increase engagement of commission members with the communities they represent.
"He has really taken the bull by the horns this past year to engage everyone," Bellamy said. "He has made a profound change in the way we define our mission."
SEAC is now made up of an executive, membership, training, communications and summit committees.
Klein said he is most excited for the training and communications committees, both of which deal with ethics training and managing the employee survey and Ethics Action Pledge.
"There's been a re-energizing of commission members," Klein said. "We felt what was lacking before was us providing materials that the commission members could take back to their municipalities. We wanted them to be more involved."
Julie McElmurry is the commissioner for Dyer and the current chairperson for the communications committee. She said getting the commissioners and local municipalities involved in the SEAC mission isn't always an easy thing to do.
"We are a volunteer organization and the amount of time, money and people we have to get everything done can be limited. It is challenging, but worth it," McElmurry said. "We are working to help communities find commissioners. Some are open to that and some are not."
Currently there is not an appointed commissioner for LaPorte County; the cities of Hobart and Portage; and the towns of Lowell, St. John and Westville.
Chris Salatas, Lowell Town Council president, said the town is advertising for a citizen to appoint to the ethics commission. The town will have two representatives — one elected official from the council and one citizen.
"As an Eagle Scout I put a high value on ethics, especially in Lake County where so many of our elected officials are indicted on unethical behavior," Salatas said, using former Lake County Sheriff John Buncich as an example. Buncich is serving a 15-year sentence after being convicted Aug. 24, 2017, on five counts of wire fraud and one count of bribery on allegations he was paid bribes in exchange for lucrative towing vehicles.
"It is important that not only do our elected officials know what is ethical and what is not. It is equally important that our staff are trained in ethical decision-making," Salatas said.
It's no secret that Northwest Indiana has seen a number of local elected officials participate in criminal activities over the years.
While SEAC acknowledges these incidents — committed by some officials who have signed the Ethics Action Pledge — Klein stressed that it is not the job of the commission to "get involved."
"We are not the judge. We stay out of all of that," he said. "Our job is to heighten the awareness and provide all the information we can to communities to train their people so they are not reinventing the wheel."
SEAC Ethics Adviser Samuel Zinaich said without criminal justice involvement, there is not much to do in terms of accountability if an unethical situation arises.
But that's where the employee survey results, which are administered every three years, helps.
In 2015, SEAC quizzed nearly 1,500 local government employees about the impact of ethics training the commission offers them to recognize and report unethical public behavior. Public results showed unethical behaviors happening, including complaints of bullying, sexual harassment and drinking in the workplace.
Zinaich, who teaches philosophy as an associate professor at Purdue University Northwest, said the information gathered is used by the commission to adjust and improve training initiatives.
"I think a lot of people have a moral vision that they bring. A moral vision or an ethical wave looking at the world," Zinaich said. "This training is supposed to sharpen that vision. That's what's important.
"Most the time people aren't learning anything they didn't already know. They know lying is wrong. Sometimes they just don't know why it's wrong."
While SEAC is mainly for municipal employees and supervisors, Klein said the commission works to get the general public involved, too.
One way to do that is to attend the annual Ethics Summit, an interactive event where participants engage in case studies.
This year's summit is from 8 to 11 a.m. April 4 at Avalon Manor in Hobart. Thomas Kirsch, U.S. attorney for the Northern District of Indiana, will be the keynote speaker.
"I believe that every taxpayer has a right to expect their municipality to be ethical and transparent. One way for that to happen is to let their feelings be known to their leadership," Klein said. "To make this sustainable, we all need to step up."