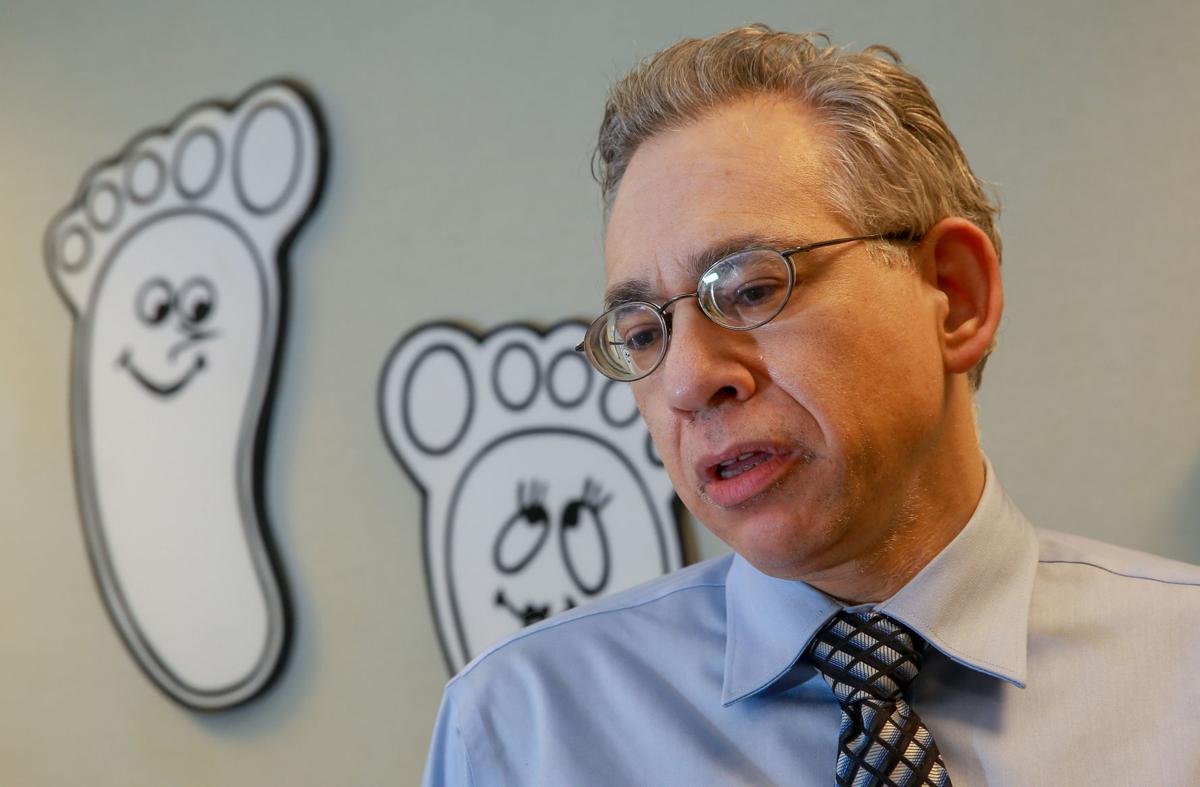 "Is there a doctor on board?"
With that, Dr. Michael Nirenberg jumped into action.
The Crown Point podiatrist, 30,000 feet over Wyoming, approached a man in his early 60s who had become unresponsive.
Nirenberg checked the man's pulse. There was none. He was barely breathing.
The doctor, assisted by a retired nurse, helped lay the man down in the aisle, started doing chest compressions on him, checked his blood pressure, had someone get an IV ready and borrowed another passenger's necktie to use as a tourniquet. The rest of the American Airlines passengers watched, mostly silent.
"Tell us what to do," a crew member said.
"You need to land the plane," Nirenberg said.
Shortly after, the pilot turned the airliner around — it had been flying from Reno, Nevada, to Chicago — heading toward Denver instead, 30 minutes away.
"It pretty quickly sunk in there was no cavalry coming," Nirenberg recalled. "It was all on us."
The CPR worked because moments later the man, while still out of it, came to. A retired nurse started an IV on him to replenish fluids.
Nirenberg gave the man oxygen. It was so cramped that the cord from the tank wrapped around the doctor's leg.
Nirenberg attempted to figure out what medications the man was on. He found some in the man's carry-on bag, and a list on his emergency medical card in his wallet.
A passenger commented afterward that the whole incident was "like a TV show."
As the plane landed, Nirenberg cradled the man's head while delivering the oxygen.
On the ground, paramedics and firefighters boarded the plane, taking the man to the hospital. Once he was gone, the passengers all gave a round of applause.
They were stuck in Denver for some time while the crew restocked the emergency medical supplies, but, as Nirenberg pointed out, no one complained.
"I really feel like it's some good news, when there's so much bad news in the world," he said. "It's great to do something good for a stranger, and to fight all that bad news out there."
Nirenberg has gotten recertified in CPR every two years for the past 30. This is the first time he put his skills to use. 
"I'm glad I was there. The whole crew was great. They were doing everything they could to help us. ... In no way was it just me," he said.
"The worse the world gets, the more we have to reach out to help our common man, to fight some of the negativity in the world. I'm glad I was there to do it. I'm glad I was able to help, and I'm glad it was a good ending."