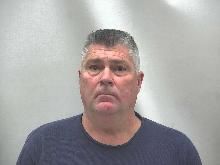 HAMMOND — The Hammond Police Department has released the jail mugshot for Michael Opinker and is seeking formal drunken driving charges against the city's chief fire inspector and former council president who was arrested Sunday night. 
Hammond police Lt. Steven Kellogg said the department sent case files for Opinker, 59, to the Lake County prosecutor's office Thursday for consideration of formal charges. Typically, they are sent on Wednesdays, but the holiday pushed it back a day. 
Rather than being booked at the Lake County Jail, Opinker was booked and bonded out at the jail in Hammond after his arrest. 
Hammond police were dispatched at 9:06 p.m. Sunday to the 2600 block of 163rd Place for a report of a crash, police have said.
When officers arrived, they discovered that a black sports utility vehicle, driven by Opinker, had struck a parked car, Kellogg said. 
No injuries were reported.
Opinker faces possible charges of operating while intoxicated with a blood alcohol level of 0.15 or higher, Kellogg said. 
Mayor Thomas McDermott Jr. confirmed Monday that Opinker was in his personal vehicle and not on the clock when the crash occurred. 
"He was booked, charged and arrested by Hammond PD like any other individual would have been handled in a similar type of situation," McDermott said. 
Opinker at City Hall
Opinker earned an annual salary of $95,187.34 as chief fire inspector in 2018, the latest figure available, according to the state's Gateway salary database. 
The 59-year-old served on the Hammond City Council from 2010 and 2016, when he resigned after he and other elected officials lost a court battle challenging the state's 2012 double-dipping law. 
That law forbids local government employees from holding public offices that give them financial and policy-making authority.
The law forced Opinker and three other municipal officials to leave elected office so they could retain their more lucrative jobs as city employees.
At the time, Opinker said he couldn't afford to give up the substantial salary he received as an assistant Hammond fire chief. His city council job paid $30,000 annually for part-time work.