Air and water quality in Northwest Indiana has improved over the past two decades, but a legacy of industrial pollution means those working to restore the Region's environment will need to continue to prioritize their efforts for many years to come, an official said.
Environmental activists play an important role, said Hala Kuss, director of the Indiana Department of Environmental Management's Northwest Regional Office.
"They do a very good job of No. 1, holding government and industry accountable," Kuss said, along with providing a broad-based representation of the community.
"They help us understand the most important environmental problems to focus on at any given time."
Other partnerships also have been key to environmental progress.
"Northwest Indiana has a really, really incredible working relationship among environmental activists, our local universities, our local environmental agencies like Hammond and Gary," Kuss said. "It's been an area with so many things to offer."
Those partnerships will be key as the Region addresses future environmental challenges, she said.
East Chicago-based environmental activist Thomas Frank agreed that air quality in the Region has improved over the past two decades. Water quality also has improved, but not as dramatically, he said.
"We need to reduce and deconcentrate the industries," Frank said.
State and federal laws do not allow regulators to consider the cumulative effects of allowing industry to concentrate, particularly in low-income communities of color, he said.
"That's something we're beginning to understand is a health risk," he said.
Frank said he'd like to see a more aggressive schedule for emissions reductions.
"One of the things that we have to be worried about is, quite often, the progress we're making is only on paper," he said.
He and other Indiana environmentalists have their sights set on Indianapolis.
They've been speaking with state legislators about enacting laws that would prevent the rollback of current regulations, provide more protections for residents and incorporate an environmental justice framework into the regulatory decision-making process.
Frank and other activists have said there are still so many environmental issues that need to be addressed in Northwest Indiana, they must prioritize their efforts.
Frank helped form the Community Strategy Group, which has advocated since 2016 for residents of the USS Lead Superfund site in East Chicago. The group also partnered with other organizations to win a commitment from state and federal environmental officials to study an off-site disposal option for the most highly contaminated dredged sediments from the Indiana Harbor and Ship Canal, and pushed for an aggressive compliance schedule to be imposed on a company that supplies coke for the blast furnaces at ArcelorMittal Indiana Harbor.
IDEM's Kuss said prioritization has been key to restoration work along the Grand Calumet River, a project IDEM holds up as an example of progress in the Region.
"The Grand Calumet — it's not the only environmental problem up there, but it's a big one," she said. "You have to prioritize or you're just going to get overwhelmed by it."
IDEM and its partners have had to work to maximize cleanup funding over the years, and the Remedial Action Plan developed for the river in the 1990s has proven to be a useful tool, she said.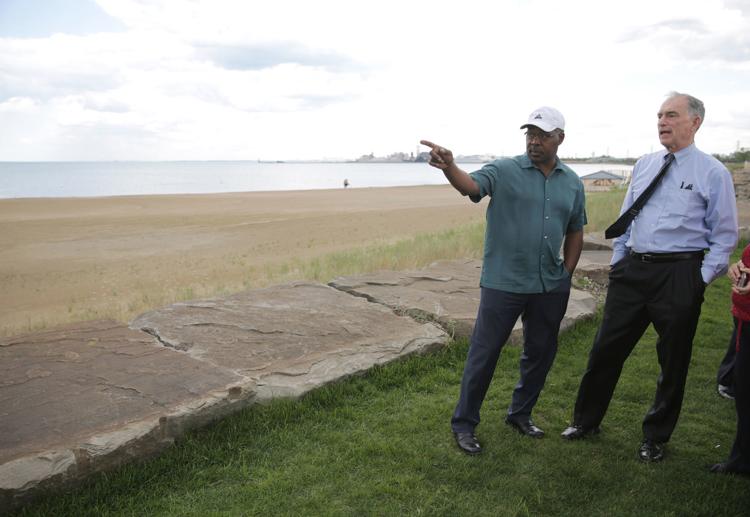 During presentations, Frank — who has taken students, lawyers and even the former acting administrator of the EPA's Region 5 office in Chicago on Toxic Tours of the Region — has pointed to data from the U.S. Environmental Protection Agency's Toxics Release Inventory Program.
The data show Indiana was ranked first among 56 states and territories for most toxic releases to the air, water and land in 2016. Lake County was ranked ninth of of 2,423 counties nationwide, while Porter County was ranked 101st and LaPorte County was 459th.
EPA created the TRI Program in the 1980s, after Congress enacted a law mandating the agency offer people a better understanding of possible sources of pollution in their communities.
Larger facilities involved in manufacturing, metal mining, electric power generation, chemical manufacturing and hazardous waste treatment self-report the data to EPA.
IDEM said residents should not put too much stock in TRI data, because it reflects a range of releases and other waste management activities — some of which are permitted — but not whether or to what degree the public has been exposed to chemicals.
IDEM said 87 percent of the wastes reported in Indiana's 2016 TRI data were managed through the use of preferred practices, such as recycling.
Frank said the proposed consent decree for Indiana Harbor Coke Co. and two associated corporations that supply coke for the blast furnaces at ArcelorMittal shows some industries have been able to operate off the radar in recent years.
Too often industries are permitted to upgrade their emissions-control systems and increase production, resulting in no net reduction in overall emissions, he said.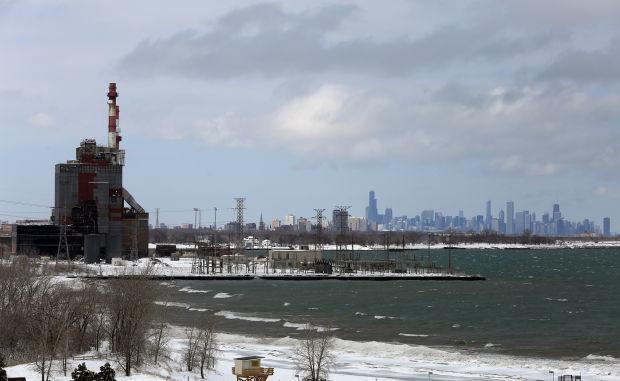 State evaluated air toxics
Indiana's air quality standards were mandated by the Clean Air Act, and state regulators are prohibited from permitting any activity that would threaten those standards, said Scott Deloney, chief of IDEM's Air Programs Branch.
IDEM is required to ensure permitted activities will not threaten public health or hinder the department's ability to continue meeting an air quality standard, he said.
Deloney declined to say whether industries have been doing a good job of installing the latest technology to reduce air emissions.
"It's safe to say all industries are doing an effective job of fulfilling their obligations" to comply with their permits, he said.
Lake and Porter counties have not been in violation of air emissions standards since 2009. However, the Region is part of the larger Chicago airshed, which is in noncompliance for ozone because of violations in other counties.
Based on the noncompliance provision, any new sources are required to offset emissions by 10 percent of total emissions. For example, a company that wants to emit 100 tons of nitrogen dioxide would have to reduce other emissions by 110 tons, Deloney said.
All 50 states establish standards specific to individual pollutants rather than a cumulative effect of contaminents, he said.
"The interlying assumption is that public health risk should be below the health risk associated with each one of those standards," he said.
Residents should not rely on TRI data, partly because the data have not gone through a quality-control process, he said. Every four years, EPA prepares a National Air Toxics Assessment, which is reviewed for quality and is presented from a public health perspective.
Indiana has studied air toxics data for years and in 2013 released its own report for northern lakeshore in Lake and Porter counties, Deloney said.
"We found the impact associated with the industrial sector was dwarfed by that associated with the mobile source sector," he said.
Mobile sources include the cars and heavy diesel trucks that travel the Region's interstates.
According to the 2013 Lakeshore Air Toxics Study Report, Lake and Porter counties were among the top 10 Indiana counties for cancer and noncancer risks.
While mobile sources posed the greatest cancer and noncancer risks, the study also found "off-property risk from some industrial permitted sources is above the typical additional cancer risk values in the area."
The permitted sources that contributed most to average additional cancer risk included BP North America, ArcelorMittal Burns Harbor, U.S. Steel Gary Works and NLMK Indiana, a Portage facility that supplies steel and hot-rolled steel products.
Pollutants of concern with the highest additional lifetime cancer risk included formaldehyde, benzene and chromium compounds. The report identified acrolein as a pollutant with an elevated noncancer risk. The chemical is attributable to wildfires in the Great Plains and Western states, Deloney said.
Northwest Indiana's air quality was among the worst when the Clean Air Act went into effect in the 1990s. As a result, some of the most stringent standards in the state were imposed in the Region.
Those stringent standards and nationwide efforts to increase fuel standards reduce emissions from coal-fired power plants have significant improved the Region's air quality, he said.
Region waters remain impaired
All 59 miles of Indiana's Lake Michigan shoreline was assessed in 2001 and found to be impaired for recreational use and fish consumption, according to the 2016 Indiana's Integrated Water Monitoring and Assessment Report to the U.S. EPA.
Just 7 percent of shoreline waters support full-body contact recreational use.
However, the lakeshore was assessed to be fully supporting of aquatic life use and of use as a public water supply.
IDEM often points to restoration work on the Grand Calumet River as an example of the progress that has been made.
The International Joint Commission in 1978 designated the Grand Calumet and Indiana Harbor Ship Canal as one of 43 Areas of Concern in the Great Lakes region and the only one with all 14 "beneficial uses" impaired.
Once known as one of the nation's most polluted rivers, the Grand Calumet now can support fish in some sections as dredging and capping continues in some areas, said Beth Admire, state of Indiana natural resource co-trustee.
Restoration along the river's west branch has been mostly completed, and a project near the state line was finished last year. Staff recently observed fish in the river that had not been seen in years.
"The fish that we would find, if any, had tumors. These are healthy fish, and we're finding younger fish, too," she said. "It looks like the fish are actually spawning."
EPA in 2011 and 2012 approved removing "added costs to agriculture and industry" and "restrictions on drinking water consumption" from the list of impaired beneficial uses.
Work on the east branch and in the Indiana Harbor and Ship Canal still must be completed, but eagles have been spotted nesting near the former DuPont property in East Chicago, Admire said.
"From everything that we have seen visually, from the beginning of this project until now, it's starting to look pretty good out there," she said.
The Hammond Sanitary District recently completed a portion of its combined sewer overflow plan, which has improved water quality in the river's west branch, Admire said.
There's also been a significant reduction in beach closures and advisories because of E. coli, Kuss said.
Jerose Beach had an exceedance rate of 70 percent in 2012. Last season, the rate was just 12 percent, Kuss said.
Part of that success can be attributed to a team of trained border collies, which was brought in to prevent birds such as gulls and geese from sullying beaches from Jeorse Park to Buffington Harbor between May 1 to Aug. 31 each year.
Still, there's more work to be done, officials said.
"There's a lot of focus on restoration of the parcels of property that we still have," Admire said. "Things that we can bring back. Things that weren't destroyed by practices in the past, when people didn't realize what they had and what they were affecting."