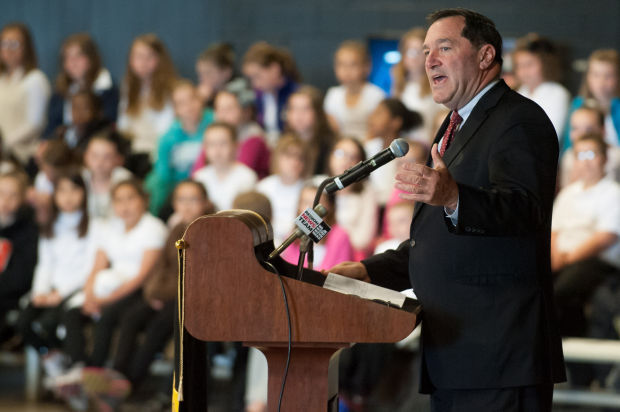 U.S. Sen. Joe Donnelly, D-Ind., has called on the government contractor operating the Veterans Choice program in Northwest Indiana to fix the delays that have left many Region veterans waiting long periods of time for health care appointments.
In December, The Times reported that several Northwest Indiana vets were having trouble accessing the Veterans Choice program, which is supposed to allow veterans to seek care from local providers when the Veterans Affairs office can't see them within 30 days or 40 miles. The vets reported being put on hold for excessive amounts time and not having their calls returned by the contractor, Health Net Federal Services.
"I am concerned by reports indicating Hoosier veterans are having trouble accessing services through phone lines administered by your company," Donnelly wrote Wednesday to Health Net President Billy Maynard, citing the recent Times article. 
"I understand Health Net Federal Services is working to overcome these issues. We share the goal of implementing an effective Choice Program, and I am committed to working with you to ensure that Hoosier veterans receive the timely and quality assistance they deserve."
Donnelly asked the Arlington, Va.-based company for the average hold time for Hoosier veterans trying to schedule appointments, the average total call time and what it is doing to reduce the waits and ensure that calls aren't disconnected. The managed care provider in 2013 signed a five-year, $5.1 billion contract with the federal government to coordinate community-based care for veterans.
"To serve veterans utilizing Veterans Choice, we are adding resources, including a new customer service center and customer service agents, and we continually refine both our operations and our training," said Brad Kieffer, a spokesman for Health Net Federal Services. "We appreciate Congressman Donnelly's support for the Veterans Choice program and the veterans who have so honorably and selflessly served our country, and we will promptly respond to his request."
Donnelly was among those who supported the 2014 Choice Act, which was designed to alleviate the long waiting lists for veterans seeking care at VA facilities. But the number of veterans waiting more than 30 days for an appointment has actually grown since the law was implemented. Northwest Indiana vets have to go to the outpatient VA facility in Crown Point for routine care and the Jesse Brown VA Medical Center on Chicago's West Side for anything beyond that. 
"The Choice Act, as I've seen it, is almost a complete failure," said Dan Orlich, a disabled Vietnam veteran who lives in Portage.
"When you call in there, they take your information and they tell you they're going to call you back. Most people don't hear back in 30 days. A lot of money's being spent, and nothing's getting done."
"It's a shame we veterans are being treated as second-class citizens," he said.
Carlos Villarreal, an Iraq War vet from Hobart who told The Times of waiting months for an MRI to assess his nerve damage from a mortar attack, said he received calls from VA officials after the article ran. He subsequently got approved for 15 physical therapy sessions near his home in Hobart. He's still waiting on the MRI, however.
"It's overdue," Tom Pappas, a Portage veteran and activist on veterans' issues, said of the potential fixes to the Choice program. "These problems have been here since this whole thing started."