HAMMOND — Iris Mendoza held her cellphone camera steady Thursday as her smiling 4-year-old grandson Anthony Ruiz zoomed around the bright green synthetic turf soccer stadium at the city's new Sportsplex.
"I'm practicing!" Anthony exclaimed after kicking a soccer ball square into a netted goal and raising his arms in celebration.
"He wondered how they were going to get the grass inside," Mendoza said.
Mendoza and her grandson were among the 150-plus citizens, city officials, and project leaders who attended Thursday's ribbon-cutting ceremony at the Hammond Sportsplex — a $17 million sports hub/community center built on the site of the former Woodmar Mall on Indianapolis Boulevard. 
The addition of a new sports complex has many speculating about how it will bolster development on neighboring properties, including Carson's department store at 6600 Indianapolis Blvd., which will be razed soon.
Hundreds of children, including Anthony, already are signed up for youth sports leagues offered at the Sportsplex, and weekend sports tournaments are booked through mid-June, according to Sportsplex General Manager Jim Taillon.
"This is a place where people train, compete and play," he said.
The popularity of the Sportsplex before the facility even opened its doors is testament to the project's brilliance, Hammond Mayor Thomas McDermott said.
"It's a state-of-the-art building," he said.
Rob Ferrino, of Madison Construction, said he is honored to have worked on such a "meaningful" project for the city of Hammond, one that will provide a safe haven for youths to play sports.
"It has community impact. And it doesn't really have much to do with the sticks and bricks but what's going to go on at this facility and how it's going to affect the entire area," Ferrino said.
"This isn't a pebble in the pond. This is a boulder," Ferrino added. "The developments around here are just going to be extraordinary."
McDermott said the city is being extremely selective when approached by potential developers — including hotels — that have shown interested in the Carson's property.  
"I'm not taking the first offer that comes along," McDermott said.
He said he would like to see the city issue a request for proposals for Carson's so officials can gauge interest and determine the best use for the property.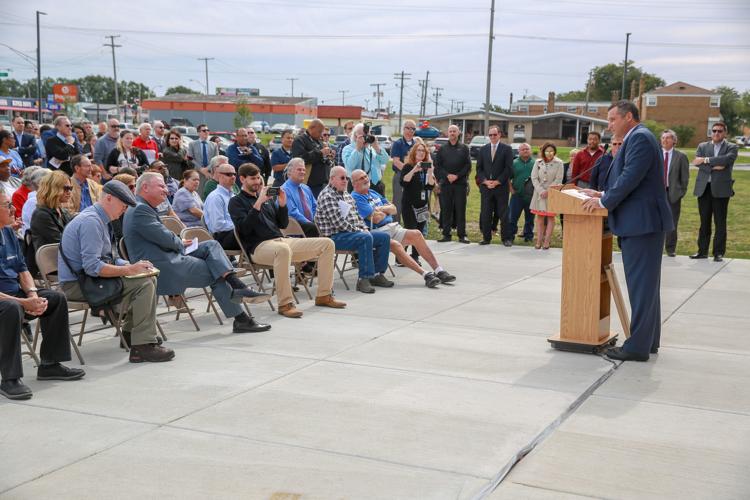 As droves of people walked through the Sportsplex main entrance for the first time, many appeared amazed by the magnitude of the building. The 135,000-square-foot complex features two regulation-size indoor soccer fields, six batting cages, six basketball courts and 10 volleyball courts. Immediately to the right of the main entrance is a community room that can host city events, along with a concession area, general offices and restrooms/changing rooms.
"I kept thinking, 'This can't be in Hammond,'" said Mendoza, a former longtime Hammond resident who now lives in Highland.
The upper level quarter-mile running/walking track will be free to the general public. The upper level also can be used to watch sporting events taking place on the lower level.
McDermott said the public will have use of the facility Monday through Thursday. On the weekends, the complex will draw people from the Chicago and Northwest Indiana area for amateur and traveling sports league competitions, boosting revenue at the city's restaurants, shopping centers and hotels.
"When they're here on Friday night, Saturday night, they're going to need a place to stay and they're going to stay in our hotels. They're going to need a place to eat and they're going to eat in our restaurants," McDermott said.  
The city used a roughly $9 million loan from the U.S. Department of Housing and Urban Development to fund more than half the project. Proceeds from a TIF, or tax increment financing, district covered the remaining $8 million, McDermott said.
McDermott said the complex will draw amateur and traveling sports teams. Taillon said he will have some exciting upcoming announcements about a number of national events coming up. 
Taillon said an undisclosed shoe company is hosting a NCAA Division 1 high school basketball recruiting event in May. There, coaches will get a first look at prospective college players, he said.
"It's a big deal. They signed before our doors even opened," he said.
Among many upcoming events, the Sportsplex is hosting a free kids' volleyball camp next month, soccer tennis tournament, and one-day basketball shootouts from November through July. A walking club is being offered for the public. 
Be the first to know
Get local news delivered to your inbox!