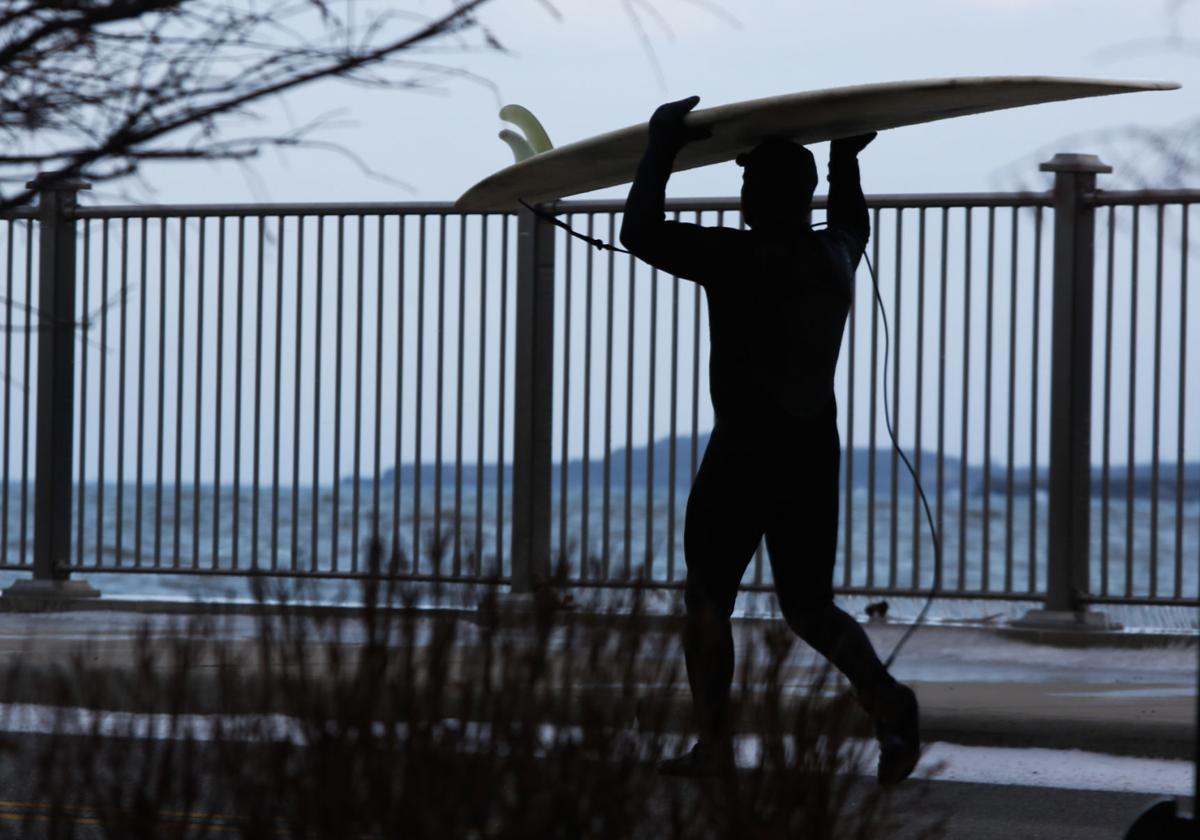 HAMMOND — U.S. Steel says "nothing significant or unforeseen" has happened since the Surfrider Foundation and Chicago agreed four months ago to put their lawsuit against the company on hold while its settlement with the government for Clean Water Act violations remains under review.
Attorneys for Surfrider Foundation and Chicago say that's "factually incorrect."
Surfrider and Chicago on Monday asked a U.S. District Court magistrate judge in Hammond to reject U.S. Steel's opposition and grant their motion to lift a stay in their case.
The foundation and Chicago say in the past four months they have fully assessed a proposed consent decree and additional technical documents, which U.S. Steel submitted about a week after the proposed consent decree was announced and later revised because of an initial rejection by the Environmental Protection Agency and Indiana Department of Environmental Management.
Maintaining the stay is not in the public interest, attorneys for the foundation and city wrote.
Surfrider and Chicago sued U.S. Steel in January for an April 2017 spill of nearly 300 pounds of hexavalent chromium — or 584 times the daily maximum limit allowed under state permitting laws — into the Burns Waterway and numerous other Clean Water Act violations. The two lawsuits were consolidated in March.
The Department of Justice in April proposed a consent decree requiring U.S. Steel to pay more than $600,000 in civil penalties and more than $630,000 to reimburse several agencies for response costs and damages caused by the spill into the Burns Waterway. The steelmaker submitted wastewater plans required by the proposed consent decree a short time later.
Gov't analyzing public comments
Surfrider and Chicago say U.S. Steel informed them the day the proposed consent decree was published it intended to file a motion to stay their cases. They agreed to the stay to focus on assessing the proposed consent decree and explore a possible settlement with U.S. Steel, attorneys wrote.
Less than a week before an extended public comment period ended June 6, EPA and IDEM issued a partial disapproval of U.S. Steel's wastewater plans. The government gave Surfrider and Chicago an additional extension through July 6 to submit comments. 
The Department of Justice reportedly received more than 2,700 comments on the proposed settlement. 
U.S. Steel said in legal filings that Surfrider and Chicago can withdraw their support for the motion they filed jointly with the steelmaker to stay their case, but "the legal criteria for imposing the stay nevertheless remain satisfied."
"Plaintiffs took full advantage of their opportunity to meaningfully participate in the consent decree process, and now, seek to litigate rather than let the consent decree process play out and potentially resolve all claims at issue in both the governments' complaint and this consolidated matter," attorneys for U.S. Steel wrote.
Continuing the stay will promote judicial economy, because the outcome of the Justice Department's case could resolve many of the claims in civil lawsuit filed by the foundation and Chicago, U.S. Steel says.
The government is actively reviewing comments and initiated a teleconference with U.S. Steel representatives July 31 to discuss them, according to a legal filing. EPA and IDEM have not disclosed when they might reach a decision on whether to approve U.S. Steel's revised wastewater plans or ask the court to move to finalize the consent decree.
Attorneys: Public still in harm's way
Surfrider and Chicago say much has happened in four months. The revised wastewater documents U.S. Steel submitted are reason for concern, attorneys wrote.
"Those technical submissions indicate that the proposed consent decree will not adequately remedy U.S. Steel's (Clean Water Act) violations, does not correctly calculate the penalty given the actual levels of hexavalent chromium U.S. Steel illegally discharged, and will not require U.S. Steel to correct all problems that caused its illegal discharges," the legal filing says.
U.S. Steel also "unilaterally frustrated settlement discussions at every turn," leading Surfrider Foundation and Chicago to conclude "U.S. Steel's conduct has foreclosed the prospect that a stay could facilitate negotiations aimed at resolving plaintiffs' allegations amicably."
A continued stay won't simplify issues or promote judicial economy, because there are issues to be decided now and fact discovery that must be done to either litigate to judgment or fully assess any consent decree ultimately entered in the government's case, the parties said.
"Perhaps most importantly, maintaining the stay is not in the public interest: although U.S. Steel has admitted to numerous and persistent violations of the (Clean Water Act), there is no judgment in place that requires them to undertake specific actions to remedy these dangerous problems and prevent future threats to the drinking water of millions of people and popular recreational beaches."