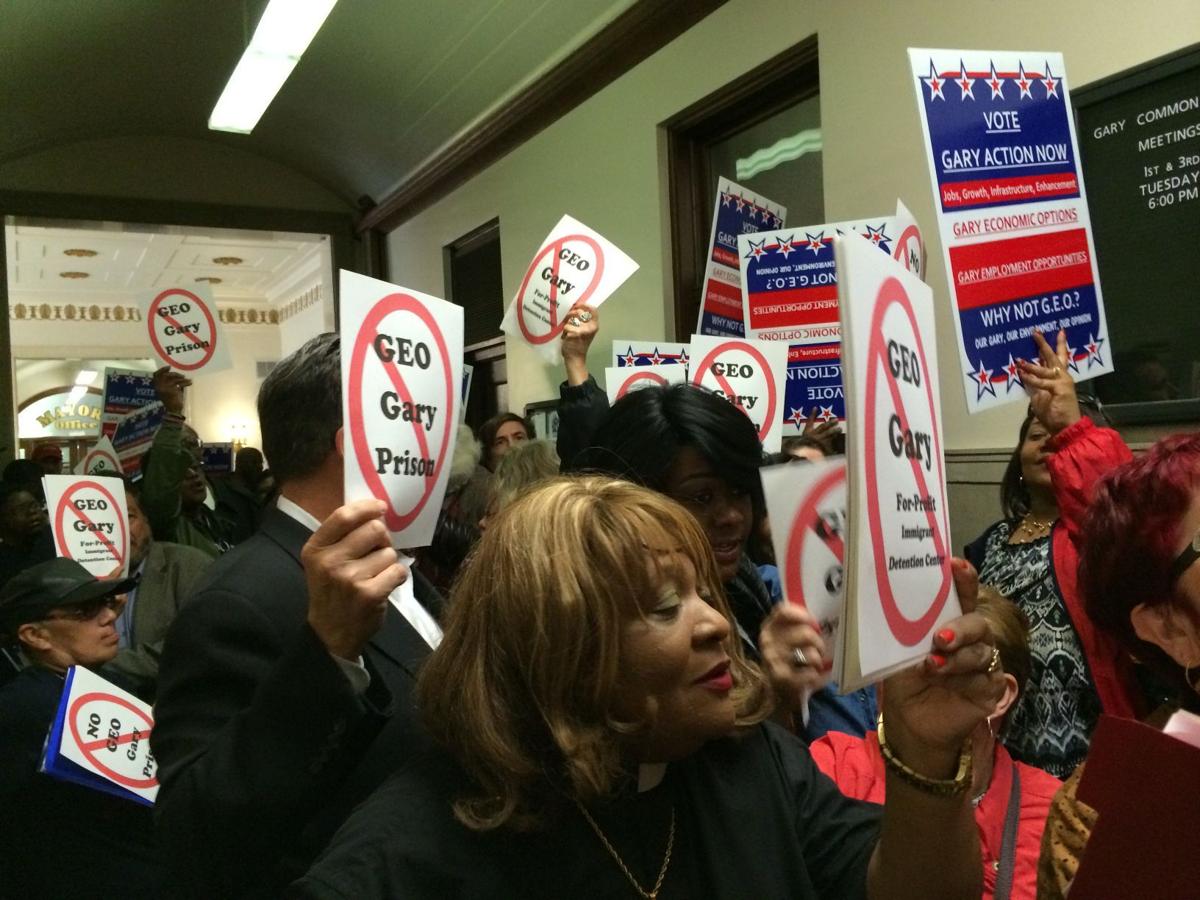 GARY — Groups for and against a proposed immigrant detention center squared off prior to the Gary City Council meeting Tuesday.
Yells of "We got to fight" and "No prison" from opponents competed with yells of "Gary action now" from supporters of the center. The two groups were packed into the hall outside the council chamber.
The opponents may have the upper hand based on council action Tuesday. The council ultimately declined to refer a variance request for land at the airport to be used for the detention center to committee for a second reading. Instead, the request is expected to come back before the council on May 4 when it will reportedly need to have 6 of the 9 council members vote in favor of the variance if it is to be approved.
The Gary Board of Zoning Appeals last week voted against recommended granting the zoning variances for the parcels of land.
The GEO Group Inc., a large multinational operator of prisons and detention facilities, is seeking the City Council's support for the variance in order to operate a a 788-bed immigrant processing facility on land across from the airport.
Opponents of the detention center charged supporters were being paid by The GEO Group.
"Those are folks being paid for by GEO," said the Rev. Cheryl Rivera, executive director of the Northwest Indiana Federation of Interfaith Organizations. She contended one of the supporters admitted as much to her earlier.
Armando Saleh, a spokesman for the company, denied the allegation as did some of the group members.
He said members of the group, however, "reached out to us and said they were supporters of the project."
Supporters held signs indicating the center would mean jobs and infrastructure improvements. Opponents contend less than a quarter of the 200 jobs or more GEO says the center will provide will go to Gary residents. They also contend such a center would take advantage of the suffering of others and its presence would deter other businesses from locating near the airport.
The Rev. Dwight Gardner, with the Northwest Indiana Federation of Interfaith Organizations, gave a speech listing different reasons to oppose the detention center. As he ended each point with the phrase, "this is not in our best interest," the supporters of the prison yelled out "Gary Action."
There were several police present at the meeting and people were funneled through a metal detector as they crowded into the council chamber, although for the most part no one was stopped prior to entering the chamber which had people lining both walls.