HAMMOND — Attorneys for the Surfrider Foundation on Wednesday filed a lawsuit asking a U.S. District Court judge to declare U.S. Steel violated a wastewater permit for its Portage facility, and order the company to stop all illegal discharges, come into compliance and pay a penalty.
The lawsuit alleges violations at the plant are ongoing, and that state and federal environmental regulators have not initiated any civil or criminal actions against U.S. Steel in the 60 days since the Surfrider Foundation served the company with a notice of intent to sue in November.
Violations at the U.S. Steel Midwest Plant in Portage since 2013 include "at least 90 days of self-reported pollutant discharge exceedances, more than 30 monitoring and reporting failures, and at least six maintenance violations," according to a Surfrider Foundation news release.
"These harmful and illegal acts include, but are not limited to, multiple excessive discharges of toxic chemicals into a body of water that serves as a major source of water for recreation, drinking, and aquatic life; these illegal discharges occur next to a city park and near the Indiana Dunes National Lakeshore," the lawsuit states.
"U.S. Steel has repeatedly evaded responsibility for violating the (Clean Water Act), and state and federal regulators have failed to enforce the law adequately."
U.S. Steel said in a statement it has worked to "swiftly remediate the issues at our Midwest Plant" and the lawsuit is unnecessary.
"We acknowledge and regret the incidents and have consistently worked to identify, report, investigate, and correct each issue," the company said, adding U.S. Steel has taken several steps to "meet or exceed all safety and environmental standards moving forward."
"We installed a new wastewater piping system, eliminating the need for expansion joints like the ones that failed in April; we are redeveloping our comprehensive wastewater operations and maintenance plan; and we are evaluating the installation of an enhanced wastewater monitoring system to alert us of any potential incidents," the company said. "Each of these items are being completed in consultation with government and regulatory agencies." 
Foundation seeks accountability
The Clean Water Act allows community groups to sue companies that violate the act, following a 60-day notice period to the alleged polluter and government. Attorneys at the University of Chicago Law School's Abrams Environmental Law Clinic are representing the Surfrider Foundation's Chicago Chapter, which has more than 125 members.
"It is the primary responsibility of state and federal regulators to protect the environment and public health," Mark Templeton, director of the Abrams Environmental Law Clinic, said in a statement. "But until and unless they are prepared to act, it falls to citizens, surfers, and students to hold companies such as U.S. Steel accountable for their violations of environmental laws."
Violations at the plant include an April spill in which nearly 300 pounds of hexavalent chromium — or 584 times the daily maximum limit allowed under state permitting laws — leaked into the Burns Waterway, a Lake Michigan tributary.
Hexavalent chromium, a highly toxic chemical, was at issue in the 2000 biographical film, "Erin Brockovich," and can cause reversible and irreversible skin lesions on direct contact.
Templeton said Wednesday he was aware of a letter the U.S. Environmental Protection Agency sent Friday to the city of Chicago, which had threatened its own lawsuit. The letter says EPA and U.S. Steel have reached an agreement in principle, he said.
The Times on Wednesday filed a public records request with the city of Chicago seeking a copy of the letter. 
The Abrams Environmental Law Clinic has been working with the Surfrider Foundation since the April leak. Templeton said they proceeded with the lawsuit because the government has had nine months and has not brought a case against U.S. Steel.
"They can talk all they want, but until there's actually some action here, Surfrider feels it is important to hold the company accountable," he said. 
Keep reading for FREE!
Enjoy more articles by signing up or logging in. No credit card required.
In response to a request from The Times about the lawsuit and a possible consent decree, the EPA said it "cannot comment on an ongoing enforcement matter." 
In a statement Wednesday afternoon, IDEM spokesman Ryan Clem said the department is seeking penalties against U.S. Steel. IDEM is working with its federal partners in negotiating an agreement in principle with U.S. Steel that will be contained in a federal consent decree addressing the Clean Water Act violations.
"We expect this to happen in the near future," Clem said.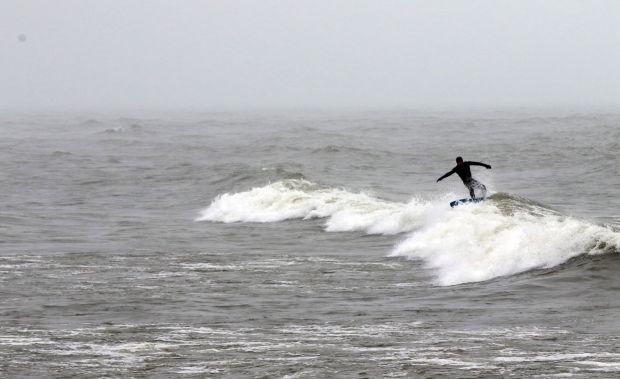 Surfers experience host of ailments
Mitch McNeil, a surfer and chair of the Surfrider Foundation Chicago Chapter, said Wednesday the foundation filed the suit "when it was clear that (EPA) was not taking action."
One of the plant's three outfalls on the Burns Waterway is within feet of Lake Michigan, the lawsuit says.
"From their boards in the water off the Portage Lakefront, surfers can see U.S. Steel's discharges flowing out of its outfalls," the lawsuit states.
"Surfers often enter the water in Burns Waterway and paddle out into the lake. Other times, they paddle their boards from west to east across the mouth of Burns Waterway, taking them directly through the stream of U.S. Steel's discharges."
Surfrider members have noticed dark-brown discoloration and strong odors in the water, which they say smell of metal, sewage, petroleum or a "used ashtray," the suit states.
Some Surfrider members have suffered bloodshot, itchy or infected eyes; a choked-up feeling in their throats; sore throats; nausea; blocked nasal passages; ear infections; and flu symptoms. A surfer in his 30s had shingles in his eye, and two surfers suffered urinary tract infections — one of whom later had a second urinary tract infection that became septic, the suit states.
Some surfers also have experienced skin itchiness and irritation if they don't shower soon after leaving the waters near the Portage Lakefront.
"The harms that Surfrider members experience are directly traceable to the failures of U.S. Steel to comply with the terms" of its permit, the lawsuit states.
The foundation has an interest in U.S. Steel's notifying them and the public of any illegal discharges, the suit states. The company initially sought "confidential treatment" following a chromium spill in October, records show.
Ken Elwood, attorney for the Portage Utility Services Board, said Wednesday the board will continue to monitor Surfrider's lawsuit and remain in contact with the University of Chicago attorneys as the suit progresses in the courts.
They will also continue to monitor whether IDEM or the EPA join in the lawsuit or file one on their own for enforcement, Elwood said. 
Times staff writers Lauren Cross and Joyce Russell contributed to this report.