EAST CHICAGO — As many as 1,200 residents — about two-thirds of them children — have been told it would be safer if they temporarily relocated from the city's West Calumet Housing Complex because of health risks posed by lead in the soil around their homes, city officials said.
In a letter residents began receiving this week, Mayor Anthony Copeland said the city and East Chicago Housing Authority "recently were informed" by the Environmental Protection Agency that the ground within the public housing complex was "highly contaminated with lead and arsenic."
As a result, the mayor ordered the East Chicago Health Department to offer lead testing to residents and their children. A U.S. Environmental Protection Agency webpage says West Calumet residents should call the East Chicago Health Department to have children tested.
"Now that we know the levels of lead in the ground in the West Calumet Housing Complex, we feel it is in your best interest to temporarily relocate your household to safer conditions," the mayor's letter said.
"ECHA is asking HUD to provide vouchers for safe, sanitary housing as soon as possible. Even though this may be a great inconvenience to you, it's necessary to protect you and your children from possible harm."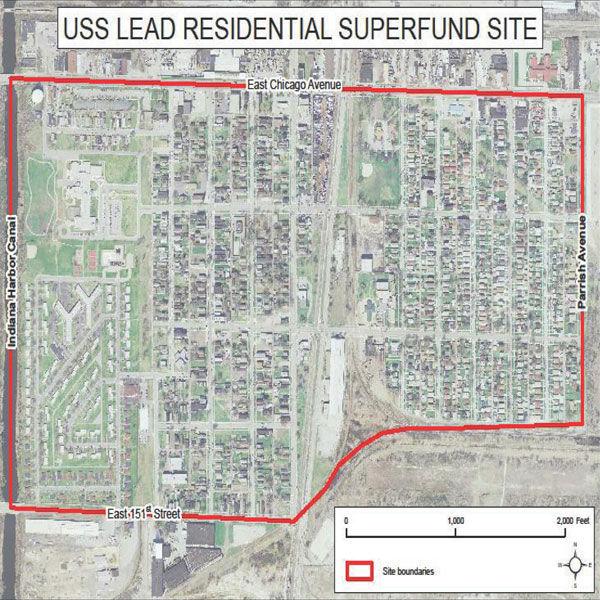 EPA Region 5 spokeswoman Rachel Bassler said lead levels in the top 6 inches of the soil triggered the need for cleanup, and residents have been notified about their results. She said the EPA would provide data on lead levels found in the soil, but could not do so Wednesday because identifying information needed to be redacted.
It's long been known the soil at West Calumet Complex and other areas of the city's Calumet neighborhood are contaminated, but residents were not expecting to be told they should leave their homes during remediation.
The neighborhood is part of a 79-acre U.S. Environmental Protection Agency Superfund site that once was home to the USS Lead facility. A copper smelter, lead refinery and secondary lead smelter operated there from 1906 to 1985, according to the EPA. The housing complex was built in the late 1960s and early 1970s.
EPA remediation goes back to 2012
EPA officials in 2012 proposed a cleanup plan that called for removing up to 2 feet of contaminated top soil and replacing it with clean soil, including up to 6 inches of top soil. The EPA said at the time the plan was chosen from several alternatives, because it would achieve cleanup goals in a reasonable amount of time at a lower cost.
In fall 2014, federal officials said they reached a settlement with Atlantic Richfield and DuPont for a $26 million cleanup of two of three zones within the neighborhood. One of those zones includes the West Calumet Complex and Carrie Gosch Elementary School, and the other is bounded by the Elgin & Joliet Railway Line and Parrish Avenue to the east and west, and East Chicago Avenue and East 149th Place to the north and south.
Remediation began in June, when the EPA issued a news release saying it would be placing mulch on bare ground in yards and a playground area in Goodman Park.
Residents were advised to prevent their children from playing in the dirt, not dig in yards or gardens, wash children's toys regularly and wash children's hands after outdoor play.
The EPA has not yet set a date for removing contaminated soil, and the agency will conduct community outreach before any excavation takes place, Bassler said.
Neighbors concerned about where, when to move
West Calumet resident Marina Barajas said after the mulch was spread, residents thought conditions were safe and began letting their children play outside again. She has six children, including five younger than age 9.
After receiving the mayor's letter, Barajas has gone back to not allowing her kids outside.
"We don't even open the windows," she said. "We just leave the air on."
Barajas, who moved to the complex 11 months ago, said she went to the East Chicago Housing Authority and was told the staff was attempting to get everyone housing vouchers so they can move.
"I'm waiting to see what they're going to do, and then I guess I have to go from there," she said. "I'm going to see what happens before I start really flipping out."
The EPA's Region 5 office in Chicago has not made a determination about temporary relocation, according to a statement issued Wednesday by the EPA's Bassler.
The agency is collecting samples and will evaluate them with the Agency for Toxic Substances and Disease Registry and the state, she said.
East Chicago Housing Authority staff referred questions to the U.S. Department of Housing and Urban Development. A spokeswoman at HUD's Washington, D.C., office said she would try to gather information but did not return a call by press time.
East Chicago City Attorney Carla Morgan declined to comment.
The EPA's statement said it has been going door to door in the West Calumet Complex since July 5 to tell families how to reduce their contact with lead-contaminated soil and dust.
The greatest risk to Calumet residents comes from inhaling or eating contaminated soil, including inhaling dust particles, eating produce from home gardens and not washing hands after gardening and before eating.
In addition to covering bare spots with mulch, the agency has posted warning signs, according to the EPA statement.
The EPA is working with the federal Centers for Disease Control and Prevention on a pilot study to begin next week evaluating lead levels in 50 homes in West Calumet identified as likely affected.
The CDC also is working with state and local health departments to expand lead testing for children younger than 18 who live in the West Calumet Complex, the EPA said.
Between 1,000 and 1,200 people live in the complex. Of those, 670 children have been targeted by the city health department for lead testing, according to a city official who was not authorized to speak to the media and asked to remain anonymous.
Be the first to know
Get local news delivered to your inbox!