CALUMET TWP. — A Region high school was in shock after a 14-year-old boy pulled from the school's pool died early Thursday.
Flags at Calumet High School remained at half staff following the student's death. 
"It's been a very chaotic morning. ...We're in shock and are putting all our skills into making sure students and staff are supported," Lake Ridge Schools Superintendent Sharon Johnson-Shirley said Thursday. "But it's been nice to know that we aren't alone in this. Lake and Porter counties really came together."
On-site athletic trainers immediately performed CPR on Walton and administered an automatic electronic defibrillator while waiting for first responders to arrive, Johnson-Shirley said. Walton was then taken to Community Hospital in Munster for treatment.
Johnson-Shirley said the 14-year-old freshman, who was No. 19 on the school's football team, was later airlifted to the University of Chicago Medical Center. He died there early Thursday, officials confirmed.
"It's been very traumatic for the family, staff and students," Johnson-Shirley said. "We're just trying to make sense of what happened. There will be an investigation underway."
A police investigation is ongoing, said Pam Jones, a spokeswoman for the Lake County Sheriff's Department. An autopsy is being performed by the the Cook County Medical Examiner's Office. No further information was available as of Thursday evening.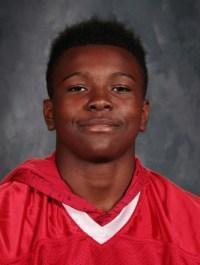 Johnson-Shirley said the pool was open to the school's football players following Wednesday's practice, with coaches and other adults overseeing the students while they used the facility. 
Surveillance cameras in the pool area apparently weren't working at the time of the incident, officials said.
Lake County sheriff's deputies were dispatched to the Calumet Township high school about 6 p.m. and reportedly found the teen unresponsive.
Johnson-Shirley said the school's grief counselors were available Thursday to help students and staff cope with Walton's death. Neighboring schools in Lake and Porter counties also sent their counselors to provide aid. Various religious officials from local churches were on-site as well. 
Johnson-Shirley said the school's flag — previously lowered for 9/11 — remains at half staff to honor Walton's memory.
"I thought it was appropriate," Johnson-Shirley said. "He was a student in good standing and an athlete. There was just nothing but positive vibes from this child."
The Calumet Warrior Twitter account also posted a message Thursday in the wake of the tragedy. 
"There are no words. Please keep the Walton family in your prayers during this difficult time. Warrior Nation is here for you. @WarriorsCalumet" 
Staff writer Anna Ortiz contributed to this report. 
Check back at nwi.com for updates as this story develops.