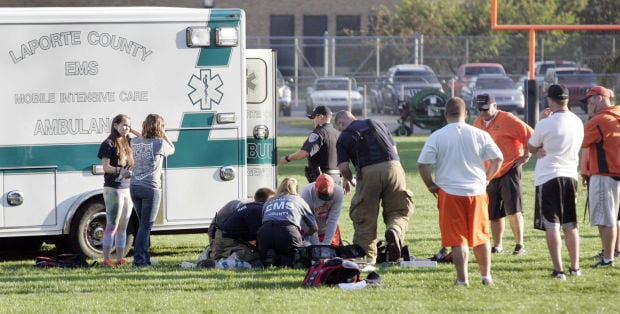 LAPORTE | A LaPorte High School football player died after collapsing Wednesday during practice.
Jake West, 17, was pronounced dead at IU Health LaPorte Hospital just after 6 p.m., said LaPorte County Deputy Coroner Mark Baker.
Baker said West was running laps with his gear on when he collapsed at Kiwanis Field.
"He was doing normal practice routines," Baker said.
He would not speculate on cause of death, preferring to await the findings of an autopsy.
West was a linebacker on the varsity squad.
Brandon Sickmiller, a sophomore quarterback on the team, said West was the nicest football player on the team.
"He was a really good kid. He was nice to pretty much anybody," said Sickmiller, who recalled running into West at times in the school hallways.
"He'd always ask me how my day was going. He was always a positive kid," Sickmiller said.
According to the LaPorte Fire Department, West initially was found without a pulse and not breathing just after 5 p.m.
While CPR was being performed, he regained a pulse and started breathing, but he was having difficulty breathing.
He was transported to IU Health LaPorte Hospital, where he died.
Numerous postings on Facebook pay tribute to West with comments such as, "You were the kind of guy I wanted to be. Always full of enthusiasm, with a presence of joy wherever you went" and "You were such a sweet and funny guy."