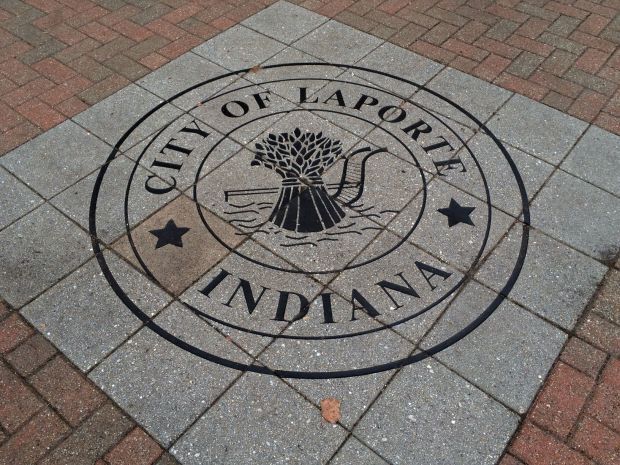 LAPORTE — Plans are moving forward on building a two-lane railroad overpass to improve the safety of motor vehicle travel and traffic flow to and from downtown.
Property acquisition is scheduled to begin once all of the engineering and other preliminary work finishes on the proposed Tipton Street overpass.
The project, financed primarily with a $6.5 million state grant, is set to go out for bids in April of 2023, said Greg Wendling, project manager for Indianapolis-based engineering firm Butler, Fairman and Seufert.
City Engineer Nick Minich said the overpass will run above the Norfolk Southern Railroad tracks from the north side of State Street to the south side of Furnace Street.
The 130-foot-long bridge with several hundred feet of approaches on both sides will put an end to travelers on Tipton Street waiting for freight trains to pass on the busy rail line.
Minich said that will make traveling to and from downtown more convenient on a corridor that essentially runs from U.S 20 across Lincolnway to Ind. 4.
"We're trying to create a better connecting transportation network," he said.
Plans also call for a realignment of Washington Street and Clear Lake Boulevard to further help traffic flow and provide better access to NewPorte Landing, where 200 apartments are being constructed.
Minich said safer travel is another reason for the overpass.
The seven crossings along the rail line in the city will be reduced to four.
Crossings at Detroit Street and Pulaski Street will be closed.
Minich said travelers at those locations can use the overpass to venture over the tracks, he said.
According to project consultants, land acquisition within the footprint of the project is required and fair market value offers will be made to impacted property owners.
Spectrum Recycling, for example, will have to be moved. Minich said the building will be in the way of a grass covered dirt embankment that will slope down from one side of the overpass.
He said semi trucks hauling material will also not be able to reach the scale because of turns into the scrap yard becoming too narrow.
Minich emphasized the span in what's still a mostly residential area will not be close in size to a typical four-lane overpass.
He said it'll be just high enough to clear the trains passing underneath.
"We're looking at a fairly simple overpass," Minich said.
He said the city will contribute about $1 million toward the cost of the work.