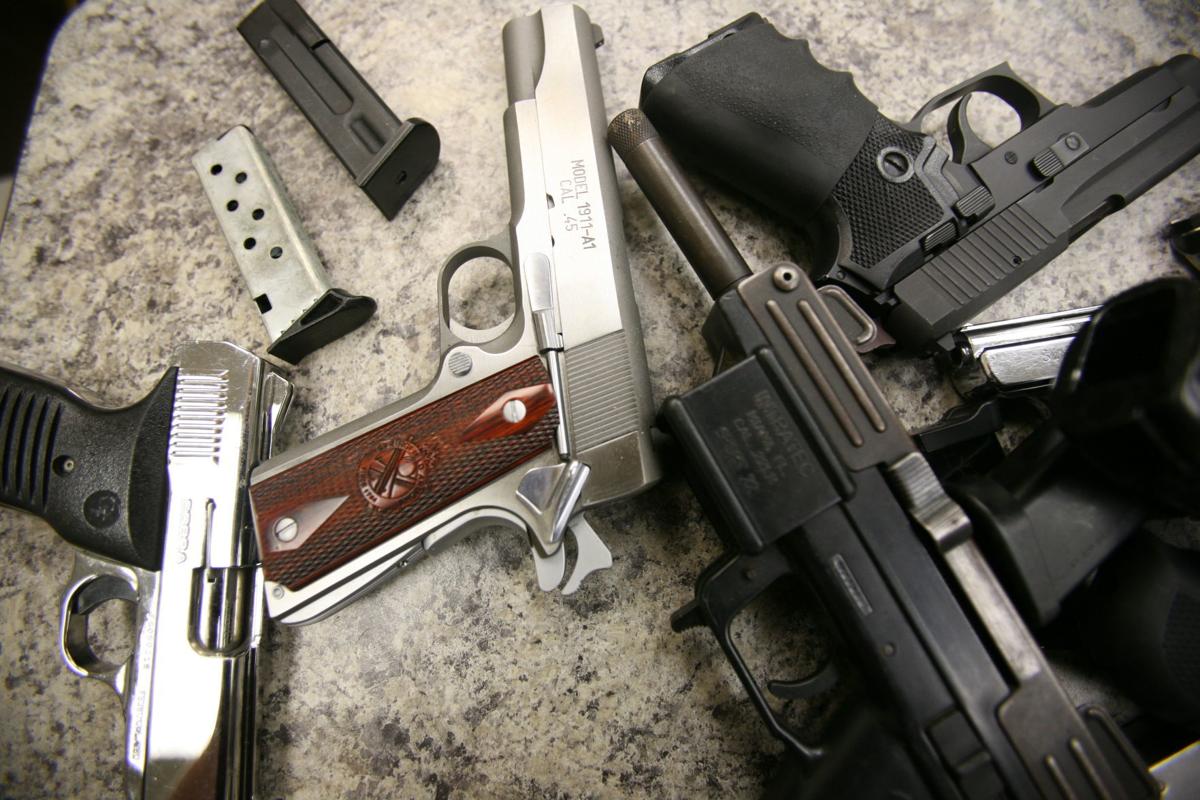 LAPORTE — More than 50 guns were seized by the LaPorte County Drug Task Force in 2019, in response to an outbreak in gun violence and killings in late 2018, particularly in the Michigan City area, the task force has announced.
Many of the shootings were a direct result of illegal gun possession, the task force said.
Administrators from the involved departments and agencies met and agreed that illegal gun possession in LaPorte County would be extremely high on the force's priority list. Lt. Tim Richardson, the task force's commander, said after conferring with the area department heads, a gun eradication effort began.
Over the consecutive 52-week period, beginning Dec. 12, 2018, task force detectives and agents pursued numerous illegal weapon possession cases.
"These efforts were in conjunction with the normal LCDTF duties, as investigators continued to focus on illegal drugs and the dangerous opiate crisis plaguing our streets and nation," the task force said in a release. 
On average, one illegally possessed firearm was seized per week in 2019. 
"Fifty-two illegally possessed firearms seized in 52 weeks is an impressive accomplishment for 2019," Richardson said. 
Richardson said some of these firearms were seized during the execution of search warrants. Others were seized during planned and focused street level initiatives in which the firearms were seized from the person, or vehicle, of convicted felons, who are prohibited from possessing firearms. The remainder were recovered from individuals who possessed firearms without a valid Indiana gun permit.
The LaPorte County Prosecuting Attorney's Office and the U.S. Attorney's office in South Bend assisted in many of these cases.
Richardson applauded efforts of investigators and agents involved in year-long initiative. But much work is left to be done, he said.
"Many of the youth in our communities seem to have developed a fascination for possessing firearms. He asks the community to speak with their children and encourage an open dialogue regarding these dangerous firearms," he said.  
The task force is made up of investigators from the LaPorte County Sheriffs Office, the LaPorte Police Department, and the Michigan City Police Department, along with the Bureau of Alcohol, Tobacco, Firearm and Explosives and the Drug Enforcement Administration. 
Anyone with information about criminal activity, including illegal gun possession and gun violence, should contact the task force at 219-873-1488 or via social media. Tips about firearms, or planned gun violence, can be left anonymously on the LCDTF Tip Hotline.
Anonymous tips can also be made to the WeTip Hotline at 800-78 Crime or 800-47 Drugs. Crimes in progress should be immediately reported to 911.
Be the first to know
Get local news delivered to your inbox!