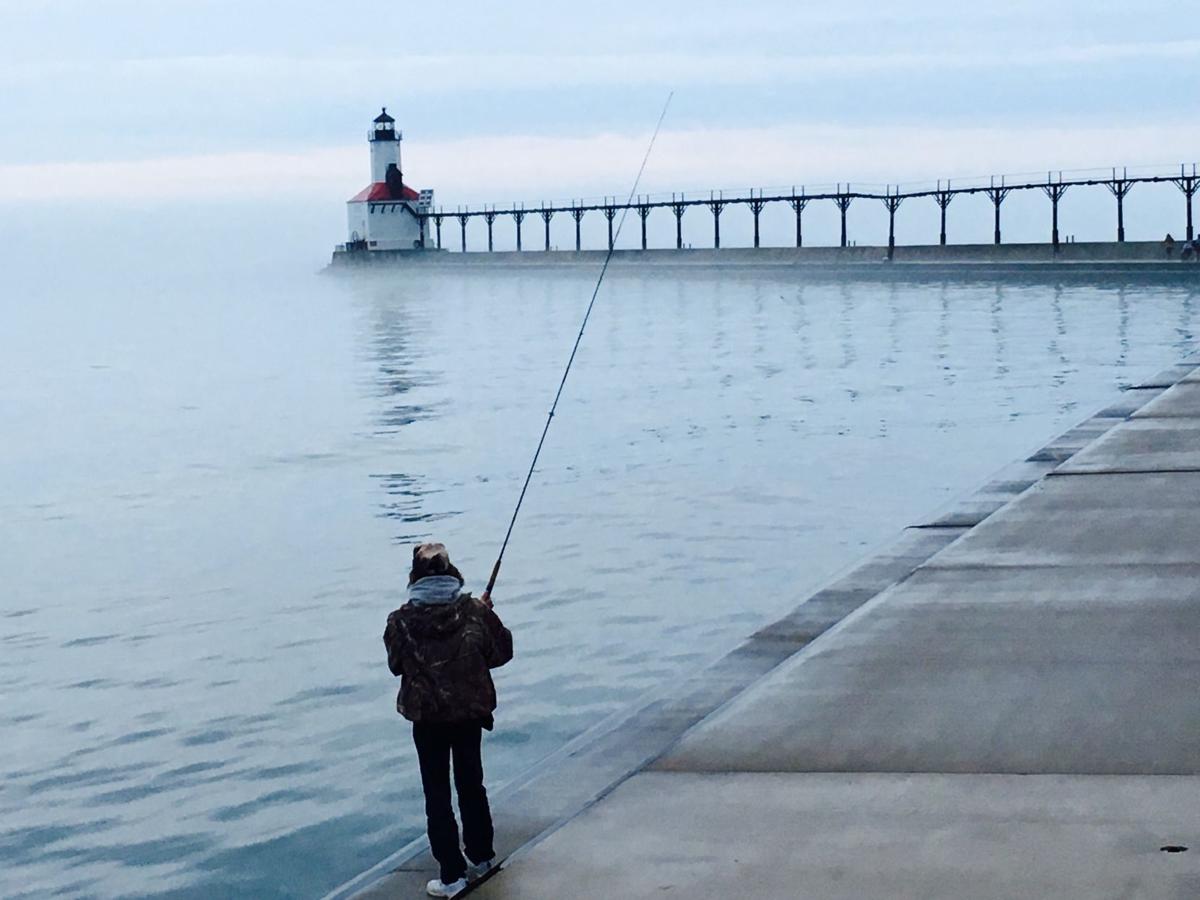 MICHIGAN CITY — Many Northwest Indiana residents remember the days when yellow lake perch teemed in Lake Michigan waters.
Thought by many to be best served boned and sautéed in butter, perch are considered the jewels of the lake.
Since the early 1990s, their numbers have declined significantly. Yet that trend may be reversing, said Ben Dickinson, an Indiana Department of Natural Resources fish biologist, at the Northwest Indiana Green Drinks gathering Thursday evening.
Dickinson gave anglers and Lake Michigan lovers a reason to be hopeful for the comeback of the perch and other species.
Dickinson said that before the construction in 1825 of the Erie Canal, which connected the Great Lakes to the Atlantic Ocean for the first time, Lake Michigan was dominated by herring, ciscoes, lake whitefish, lake trout, lake sturgeon and smallmouth bass.
Once oceangoing ships brought in nonnative species, including mussels and alewives, on their hulls and in their ballast water, the biology of the lakes and the fish "food chain" changed.
Phytoplankton — microscopic marine algae — are at the bottom of the food chain, and are eaten by slightly larger organisms called zooplankton, Dickinson said. Eating the zooplankton are alewives, smelt and crayfish, which in turn are eaten by fish like yellow perch, smallmouth bass and salmon.
"A pound of salmon needs 10 pounds of crayfish," Dickinson said.
Nonnative zebra and quagga mussels brought in from the oceans "filter" the lakes by eating the phytoplankton, the base of the food chain, and cause the decline of prey fish, like alewives.
Additionally, young larval fish eat phytoplankton and zooplankton in the spring, Dickinson said.
"If they don't have that when they hatch, they starve," Dickinson said.
Dickinson said the notorious zebra mussels, once prevalent, were "almost gone" by 2010, and now quagga mussels "outcompete them on almost any level," Dickinson said. Quagga mussels can live in water 500 feet deep, have metabolisms suited for colder water and have colonized nearly the entire lake.
"The whole cascading effects of this are hard to measure and predict," said Dickinson. "There has been a drastic shift because of quagga mussels."
The perch population, which boomed in the 1980s, is now very sporadic and cyclical, Dickson said. While he admitted biologists aren't certain of the reasons, they cite a number of causes, including shifting zooplankton levels, "microplastic" ingestion and prescription drugs that humans flush down the toilet — a worldwide issue.
"One study showed that eels in Europe are getting affected by cocaine," Dickinson said.
While the "perch spawning index" has been up and down since the 1990s, 2015 saw the biggest spawn ever recorded in Indiana.
"The future looks bright for them," he said.
Dickinson said that biologists are also seeing signs the expansion of the quagga mussels has stopped, but they're not sure at what levels they will stabilize.
"And hopefully it won't be because they ate everything and there's no food left."