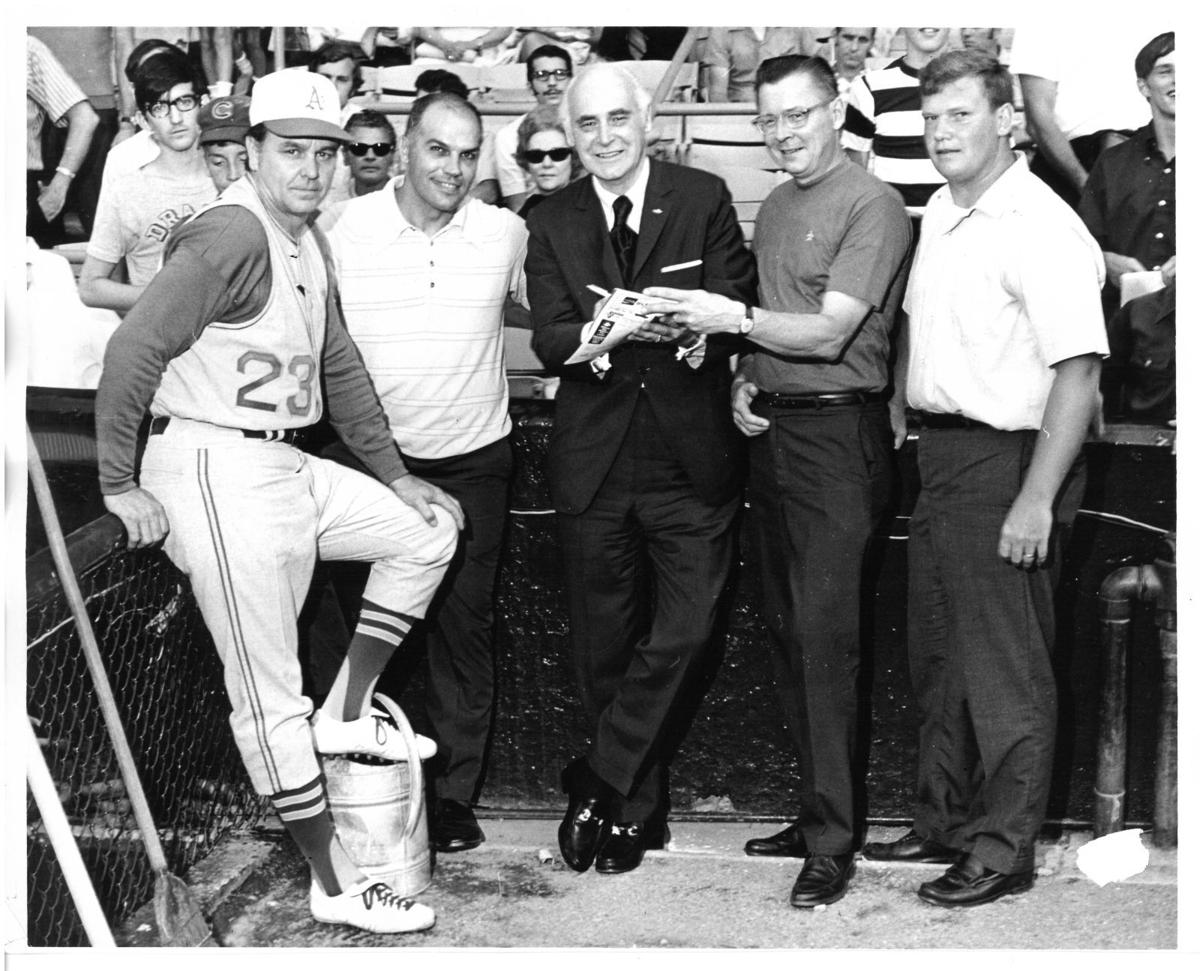 LAPORTE — He died 25 years ago, and it's been close to a half century since his high-profile Oakland A's teams won three consecutive World Series.
But Charlie Finley is back in spirit, with a bridge named after him close to where he lived outside LaPorte.
Finley, who grew up in Gary, is in the first class of six LaPorte County residents chosen to have their names go up on bridges under a new program honoring local citizens for their accomplishments.
The Charles O. Finley Memorial Bridge is on Johnson Road above the Indiana Toll Road.
Jim Arnold, a former Indiana state senator and LaPorte County sheriff, lived just down the road from Finley, whom he got to know on a first-name basis.
Arnold said the honor is much deserved for a larger-than-life, blue-collar figure who brought recognition to the city and gave back to the community.
"He put LaPorte on the map," Arnold said.
Finley was also famous for the A's trademark green, gold and white uniforms, along with the white shoes he introduced after moving the team from Kansas City in 1968.
He later stepped into the spotlight again by creating an orange baseball. Believing orange was more visible under the lights, Finley pushed Major League Baseball to use the ball during night games, but was unsuccessful.
Finley, a former steelworker, and LaPorte seemed like the perfect marriage.
The city was built on manufacturing, and their beloved Slicers were a powerhouse in high school baseball under legendary head coach Ken Schreiber.
Mark Schreiber remembered trips his late father took to visit Finley in the Oakland A's dugout when the team was in Chicago to play the White Sox.
Schreiber said white shoes worn by his father's players became a tradition after Finley donated white shoes to the Slicers program. Finley also donated balls and other equipment.
"He had a lot of impact on the community and the community was really proud to have him as a resident, especially in the years when the Oakland A's were winning World Series championships," Schreiber said.
LaPorte Mayor Tom Dermody was growing up on baseball cards and watching the Oakland A's teams with superstars like Reggie Jackson and Jim "Catfish" Hunter on TV when his father took him to see Finley at different functions locally.
Dermody said it was also neat to drive by Finley's home and see the A's logo carved into his shrubbery.
Finley later moved to a nearby farm on U.S. 35, where he annually staged huge live nativity scenes at Christmas. People in cars lined up for about a mile sometimes waited to turn into his property to see the exhibit.
Dermody said Finley's presence here was a source of pride for the community and living here during those days was "very cool."
LaPorte County Commissioner Rich Mrozinski said he saw Finley just one time but it couldn't have been more special. Mrozinski said he and several other Vietnam War veterans stepped into a bar together near Michigan City, and there was Finley, having a drink.
Finley was quick to express his gratitude for their service to the country
"He bought us all a beer. I thought it was pretty nice that he did that," Mrozinski said.
The outspoken Finley later made headlines by blaming free agency for causing him to lose many of his superstar players, and later to sell the team in 1980.
Also well documented were his nasty legal battles with Major League Baseball Commissioner Bowie Kuhn.
In his opinion, Arnold said only George Steinbrenner, the late owner of the New York Yankees, compared to Finley in terms of stature as a professional sports team owner.
Arnold said Finley, during his visits with him, never acted like a celebrity, and seemed to put his pants on one leg at a time.
"He would talk to anybody, but there was never any doubt where he stood on anything," Arnold said.
5 stories to know from the weekend
Here's a look at some of The Times' most-read stories from the weekend.