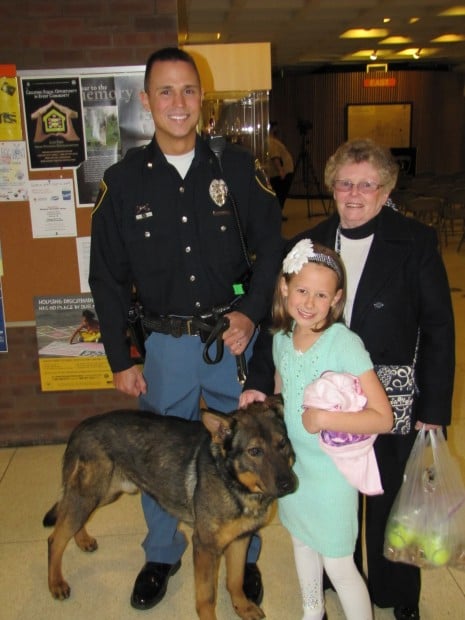 MICHIGAN CITY | Former college and pro football referee Dave Parry is no longer with us, but his role in blowing the whistle on violators is being carried on by a police dog.
His wife, Patricia, donated a new dog to the Michigan City Police Department.
She heard about one of the K-9s on the police force dying and immediately thought of her late husband's love for dogs and dedication to giving back.
"I just thought it was the right thing to do," said Parry, who didn't flinch at the $11,500 cost.
She received a plaque and countless expressions of gratitude during a Monday afternoon ceremony at City Hall.
To carry on her husband's legacy, Parry has donated before to the Michigan City Fire Department to help burn victims and purchase equipment.
Dave Parry, who died of Parkinson's disease in 2011, was athletic director at the former Rogers High School in Michigan City.
He also was a college football referee for 20 years and worked in the NFL from 1975 to 1990.
He was the head of football officiating in the Big Ten for 19 years and the NCAA's first national coordinator of officials.
Parry also is credited with helping the Big Ten become the first NCAA conference to use instant replay.
Ironically, the dog, Apollo, also has football connections.
He is a 3-year-old German shepherd, who came from a kennel in Pennsylvania owned and operated by Joe Brockington, a former linebacker for the University of Notre Dame.
Officer Gregory Radiger will be Apollo's handler after he finishes five more weeks of training.
Radiger said Apollo will specialize in detecting the presence of explosives and guns.
Apollo will join two other dogs on the force.
Michigan City Police Chief Mark Swistek said about half of the money for Apollo had already been pledged by the LaPorte County Prosecutor's office.
Those funds were directed to other law enforcement needs because of the donation from Parry.
Radiger's aspirations to become a dog handler in law enforcement almost ended seven years ago when he nearly died from complications of a bite from a spider as a military police officer in the Navy.
"I kind of take everything in life as a blessing from God. I look forward to serving the community and the city and, along with Apollo, doing some good work on the streets," Radiger said.