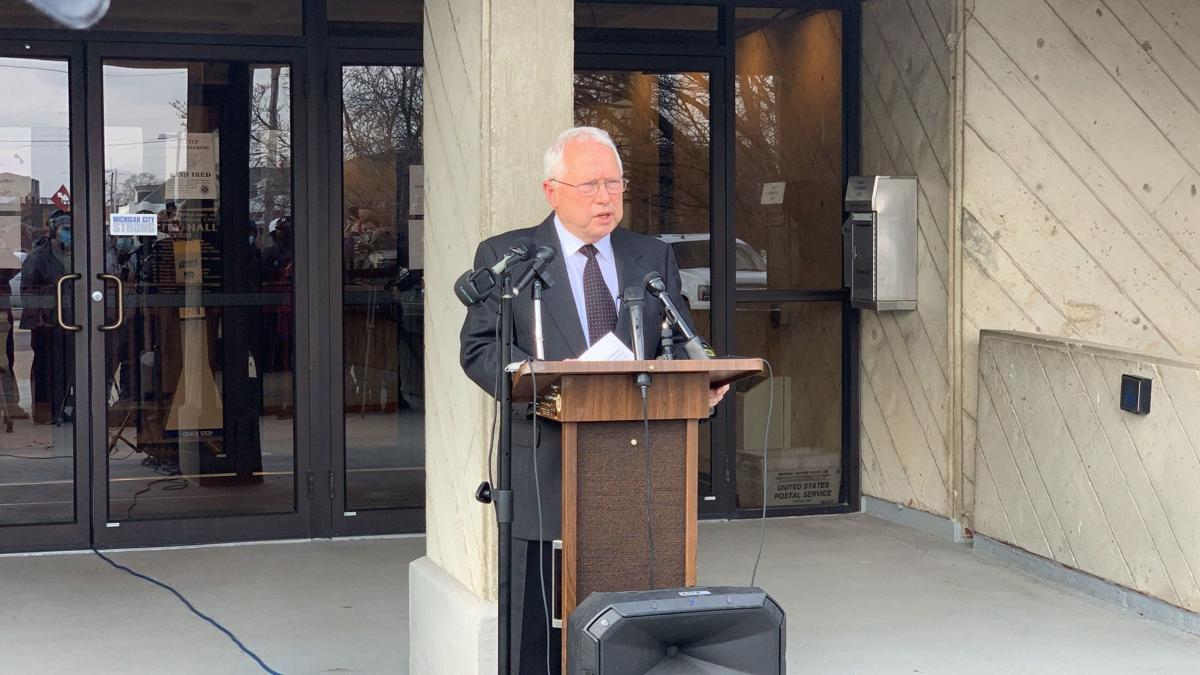 MICHIGAN CITY — The City Council gave Mayor Duane Parry a raise for 2022, but far less than he requested.
Parry's initial budget proposal called for a 48.7% pay raise, to $118,120.14. He later suggested all raises for elected officials be used to give bigger raises to hourly employees.
The mayor's current salary is $79,409.72. The council boosted it to $80,000, saying they were focusing on the position rather than the current occupant throughout the budget process.
Parry requested pay raises of 76 percent for council members, to $25,671.54, but the council kept salaries at their current level, $14,553.09, with several council members saying they knew what the pay was when they ran for office.
City Clerk Gale Neulieb was given a 7.35% raise, to $70,526.48, the same as Parry's original proposal.
The Parry administration's salary proposals included large raises, in many cases, to bring salaries up to what similar municipalities pay. The recommendations came from a 2019 study commissioned by previous mayor Ron Meer's administration.
The council approved salaries for hourly and salaried employees, too.
"Some people are going to be happy with what happens, some people will be upset," Finance Committee Chairman Sean Fitzpatrick, D-4th, said.
The Finance Committee had a budget session that lasted about 3.5 hours, Councilman Paul Przybylinski, D-2nd, said. "We diligently went over these salaries, and we agreed that they were in relative proportion and not overly proportioned to the position."
"We did a fair and equitable job in aligning these salaries," he said.
Assistant Controller Mary-Lynn Wall disagreed. "The street department director is now the lowest paid of all the executive class," she said, but supervises more employees than some other executives.
Fire Chief Doug Legault said the mayor's department heads always stress working together as a team. "There's no question that our jobs are different. The question that has now been put in our minds is who is more important."
"All the department heads are way under the salaries of similar cities they looked at" in the study, Legault said. "These numbers came from the study, not the department heads or mayor."
Director of Parks and Recreation Ed Shinn said it's unfair for one of his assistants to be paid more than the others.
It takes time to resolve inequity issues, Councilwoman Angie Deuitch, D-At-Large, said. She blamed the Parry administration for not bringing the study results to the council earlier. "We should have had a lot of workshops discussing these differences," she said. "We could have had some really good dialogue for two months."
Parry said Controller Yvonne Hoffmaster assured him the city has the money needed to grant the raises recommended in the study in one fell swoop. "You start out with a fresh baseline where everybody's making what they should," he said.