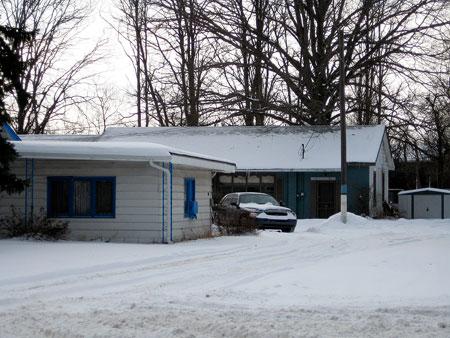 A murder charge was filed Tuesday against the woman accused of shooting and killing an elderly South Haven-area man with his own gun, stealing from him and then attempting to make it appear as a suicide.
Jennifer Cook, 35, of Portage, faces up to 65 years in prison if convicted.
Porter County authorities said Cook acted alone in killing 82-year-old Andrew Katzelis inside his home on U.S. 6, just west of Ind. 149, on Jan. 8.
Police said Cook, who was involved in a romantic relationship with the much-older Katzelis, was arrested the day before the murder when Portage police determined she stole a vehicle belonging to a Michigan City resident. Portage police arrested her at 12:23 a.m. on Jan. 7 and took her to Porter County Jail.
Cook called Katzelis and convinced him to bond her out of jail, which he did on Jan. 8. Cook told police she and Katzelis went to his home that same day and "snuggled" in the bedroom.
Cook told police she noticed a gun lying on Katzelis' bed. Police believe Katzelis put the gun there because some people had tried to break into his home a few days earlier. Katzelis didn't know at the time it was apparently Cook and a friend who tried to break in.
Police allege Cook grabbed Katzelis' gun and fired a single shot at Katzelis' head, killing him. Police said she then stole from him and left. The next day she wrote a suicide note and made it look like he killed himself in his own bed, police said.
Police believe Cook was getting money from Katzelis, so it isn't known why she would kill him. However, a friend of Katzelis told police Katzelis believed Cook was stealing from him, and police believe she committed the murder to quickly obtain money for drugs. Porter County Sheriff's Department Major Steve Lawrence said police were told Cook did buy drugs after the killing, but it's unknown if she used her money or Katzelis' money.
Cook has been in jail since Thursday, when she was arrested in connection with the attempted burglary that occurred at Katzelis' home two days before his murder. Cook and William D. Thomason, 26, of Portage, have been charged with attempted burglary.
A third person, Lindsay Ling, 19, of Kouts, was arrested in connection with the attempted burglary, but was released without being charged.
Although several people were apparently involved in the attempted break-in, Porter County Prosecutor Brian Gensel said the information investigators have at this point shows only Cook was involved in the murder.
The investigation continues, but Gensel said it doesn't appear his office will be able to seek the death penalty against Cook.
The Katzelis killing is the first homicide of the year in Porter County.
Get local news delivered to your inbox!
Subscribe to our Daily Headlines newsletter.