FAIR OAKS — The Newton County Sheriff's Department has requested the names of former Fair Oaks Farms employees shown abusing young calves in a video released by an animal rights organization Tuesday, according to a department news release.
Police also are seeking the name of an individual who may have witnessed the alleged crimes and failed to report the activity, the sheriff's department said Wednesday.
"We acknowledge the need for humane treatment of animals and the need to hold individuals that have gone beyond an acceptable farm management practice accountable for their actions," says a release from the department. "We will work with the Newton County prosecutor's office to file charges for any criminal activity the independent investigation revealed. We anticipate cooperation from both parties in this matter during this investigation." 
On Wednesday, the company issued a new statement on its Facebook page taking "full responsibility" for the matter. 
Off the shelves
Since the video's widespread release showing young calves being abused by Fair Oaks Farms employees, Strack & Van Til, Jewel-Osco and Family Express announced they are pulling Fairlife products from its shelves.
Strack's CEO, Jeff Strack, said the Highland-based company would no longer carry Fairlife products like Core Power protein shakes at its 20 supermarkets in Northwest Indiana.
"With recent events involving Fair Oaks Farms, Strack & Van Til will be removing all Fair Oaks and related products until further notice," he said. "We apologize to our customers for any inconvenience."
Jewel-Osco is also dropping Fairlife from its more than 180 stores, including in Dyer, Chesterton and Munster.
"At Jewel-Osco we strive to maintain high animal welfare standards across all areas of business, and work in partnership with our vendors to ensure those standards are upheld," the company stated in a news release Wednesday.
Tony's Fresh Market, which has 15 stores across the Chicago area, said it would no longer carry Fairlife "in light of the devastating news story that broke about Fairlife and Fair Oaks Dairy Farm" and after customers voiced concerns.
Pending orders of Fairlife products were suspended at Family Express, according to a news release issued by the company.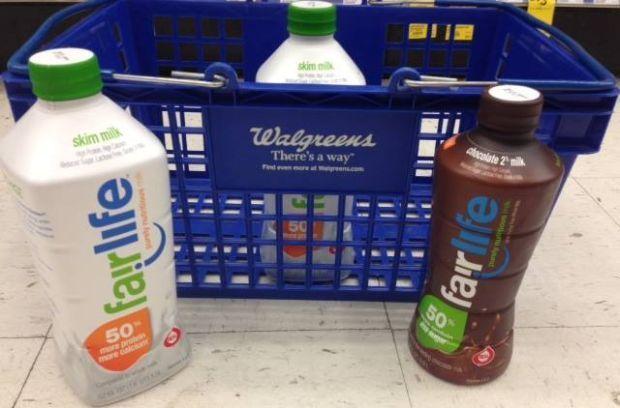 "The exposé of animal abuse in the Fair Oaks Farm network is chilling. A factor in our decision was the public response by Fair Oaks, asserting the notion that this was an isolated incident," the company said in a release. "This is hardly the response you would expect from an organization that gets it. The minimizing of the graphic animal cruelty offers little assurance of change in a culture that is likely in need of fundamental retooling."
Valparaiso-based Family Express, which operates convenience stores across the state, will replace Fairlife products with milk products from Organic Valley, which has 143 family farms in Indiana.
Fair Oaks Farms is the flagship farm for Fairlife, a national brand of higher protein, higher calcium and lower fat milk that's produced at a network of dairy farms and distributed by Coca-Cola. Fairlife's sales were fast-growing at a time when milk sales have been falling for decades in the United States, and the company just announced in April it planned to build a new $200 million processing plant in Arizona.
Coca-Cola said in a statement that it takes animal welfare seriously and expects "suppliers to operate with the highest degree of integrity and comply with all laws, including animal welfare laws." But unlike the retailers, it plans to stick with Fairlife.
"We have been in contact with Fairlife about this situation and have full confidence in their management team to urgently address this issue with Fair Oaks Farms, which is a third-party supplier to Fairlife," Coca-Cola said in a statement. "They recognize the seriousness of this situation as their founding principles are grounded in a strong commitment to sustainability, transparency and the highest standards of animal welfare. Fair Oaks Farms notified Fairlife that they immediately isolated dairy supply from the dairy identified in the video to suspend all sourcing from that location ... We fully support and respect the proactive approach that Fairlife and Fair Oaks Farms have taken and we continue to stay in contact with them to lend any support they need."
State and federal agencies 
The video was brought to the attention of The Indiana State Board of Animal Health on Tuesday through social media, news stories and concerned citizens, according to Denise Derrer, the board's public information director.
After watching the video, the board reviewed compliance records and logs for Fair Oaks Farms and has since been directed to cooperate with authorities.
"No reports of animal abuse or neglect have been filed with the agency since the farms' founding in the mid-1990s," Derrer said in an email. "Indiana State Veterinarian Bret D. Marsh, DVM, has directed BOAH staff to collaborate with local law enforcement regarding any appropriate next steps they may take."
The U.S. Department of Agriculture regulates the treatment of animals under the authority of the Humane Methods of Slaughter Act and the Animal Welfare Act. The cows shown in the video were not in federally inspected slaughter facilities and therefore not under USDA's authority, a spokesperson said. However, the spokesperson said the USDA is aware of the video and allegations of animal cruelty must be taken seriously.
"The actions depicted on the Animal Recovery Mission video are unacceptable," a USDA spokesperson said. "USDA has full confidence that Indiana state and local authorities will investigate this particular case and take appropriate action. … When animals fall within our authorities, USDA acts to prevent animal cruelty such as this. The animals depicted in this video do not fall within our authority."
Fairlife and Fair Oaks Farms respond
Fairlife said the company is "taking this incident very seriously." In a statement, the company said the dairy production seen in the video makes up less than 5% of Fairlife's milk supply, however in light of the footage's findings, the company will be putting its other dairy sources under a magnifying glass.
"Approximately 30 dairies support Fairlife; therefore, we are visiting all supplying dairies in person and conducting independent third-party audits within the next 30 days to verify all animal husbandry practices at the farms, including all training, management and auditing practices," Fairlife said in a statement. "We will also continue to work with Fair Oaks Farms to ensure specific actions are taken to address this situation and uphold our high standards for animal care."
In addition, Fairlife said they are immediately suspending milk deliveries from the dairy identified in the video.
The company cited Fair Oaks Farms' actions in light of the ARM investigation as well, saying Fair Oaks Farms has commissioned an independent auditor to audit practices at the farm and has also committed to conduct independent, random audits. They also announced the farm's plans to install video surveillance on the property.
Until these things are in place, Fairlife said no dairy from the video will be used in its products.
In the initial statement issued Tuesday on social media, Fair Oaks founder Mike McCloskey said four of the people shown committing alleged abuses were Fair Oaks Farms employees and each had been or were being fired. One person seen in the Animal Recovery Mission video was a third-party truck driver who was transporting calves, he said. 
Those wishing to report any suspected animal cruelty can call 219-474-5661 or 219-234-7014, the department's tip line.
In the new statement issued Wednesday on the Fair Oaks Farms Facebook feed, the company acknowledged the brutal nature of some of the video captured on its property.
Video taken and posted by an animal rights group shows, among other things, dairy calves being body slammed and hit with various objects, including steel rods and branding irons.
The video posts also appear to show drug possession and use by farm employees.
"Many of you have reached out to express your disappointment, heartbreak and anger regarding the videos released yesterday, and we want you to know that we share those same feelings and take full responsibility," the company's post stated. "We are currently putting actions into place to ensure that this never happens again."
'There's more to this'
Richard Couto, founder of Animal Recovery Mission, said the footage released on Tuesday was the tip of the iceberg. He said on Friday, ARM will release another video he described as an hour and a half "of consistent abuse."
Couto said the next video will allegedly show conversations the undercover investigator had with management acknowledging animal abuse.
"This is a much greater investigation and it's still ongoing," Couto said. "I can't get into the details at this time for the safety of our investigators, but I will say there's more to this than what was released (Tuesday)."
Times staff writers Joseph S. Pete and Anna Ortiz contributed to this report.