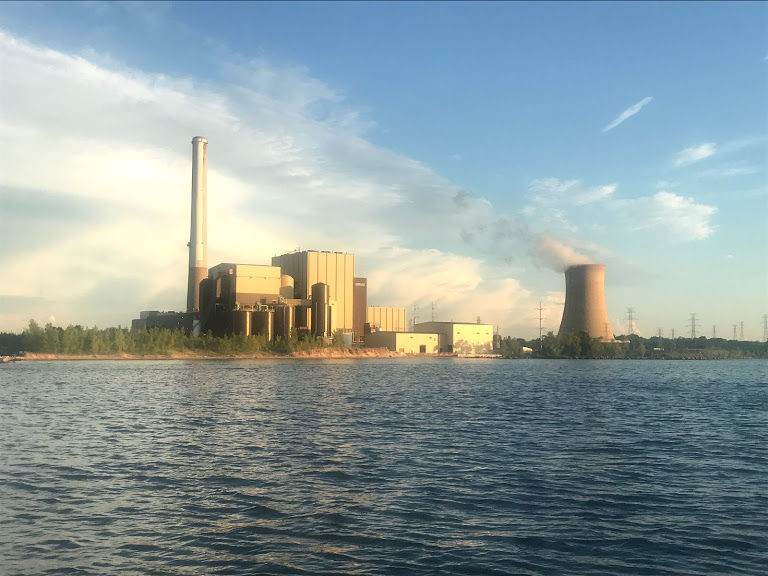 MICHIGAN CITY — NIPSCO said Friday it will delay work to close five coal ash ponds at its lakeshore generating station until spring 2021.
Several organizations had requested the delay because of concerns that excavation and transportation of the coal ash from the Michigan City Generating Station to a landfill at the company's R.M. Schahfer Generating Station in Wheatfield could contribute to an increase in air pollution, which in turn could lead to a higher COVID-19 mortality rate in affected communities.
The LaPorte County Branch of the NAACP and Just Transition NWI said in a news release that NIPSCO's willingness to address community concerns was important and the delay "has been acknowledged as a necessary step within the closure process."
The community and environmental groups said NIPSCO delayed its plans to remove 170,600 cubic yards of coal ash from five ponds at the Michigan City plant days after the NAACP and Just Transition NWI submitted a petition to the Indiana Department of Environmental Management urging NIPSCO to delay the removal until after the pandemic is over. 
The groups said they, along with Hoosier Environmental Council, Save the Dunes and Earthjustice, have demanded NIPSCO implement much stronger public safety measures than currently proposed when the time is appropriate for the removal process to move forward.
NIPSCO spokesman Nick Meyer said community input is an important part of the process, but the company's decision to shift the timing for the removal process was not related to the coronavirus pandemic.
"As part of our normal operations today, we safely transport 50,000 tons of ash material each year from Michigan City to our Schahfer facility," Meyer said. "This work is very similar and the material will be transported to the same location. Constant oversight, inspections and dust-control measures will be in place to ensure the work is being conducted safely."
NIPSCO said it will remain on track to complete the proposed ash pond work ahead of a 2023 deadline while also advancing other goals, including electric and gas modernization projects.
NIPSCO plans to close the Michigan City Generating Station by 2028 as it shifts to lower-cost, reliable and cleaner energy sources such as wind, solar and battery storage technology.
Coal ash is the material left over after coal is burned to generate electricity. NIPSCO reuses about 14,500 tons a year from its Michigan City facility and transports an estimated 50,000 tons to its regulated landfill in Wheatfield, the company said.
NIPSCO plans to remove coal ash from five ponds at the Michigan City site and replace it with clean fill as it prepares to shutter the facility.
In addition to stronger safety measures during transport, the community and environmental groups have demanded immediate testing of sediment and aquatic life in Trail Creek and Lake Michigan.
"Bioaccumulative toxins in coal ash, such as arsenic, may be accumulating in fish that are consumed by local residents. Consumption of heavy metals in fish tissue can pose grave health hazards," the groups said in a news release. "While NIPSCO maintains that there is no risk to Lake Michigan and Trail Creek from the leaking coal ash ponds, the company has never tested the sediment or the aquatic life near the plant."
NIPSCO said data collected to date as part of its closure plan indicates "no risk to human health or the environment, no impacts to drinking water supplied by neighboring communities and nothing to indicate that the state's waters are adversely affected."
"NIPSCO will continue to work with IDEM to ensure that closure plans comply with all state and federal requirements, coordinate future work with local Michigan City and LaPorte County officials, and work to keep the community informed," a company statement said.
Concerned about COVID-19?
Sign up now to get the most recent coronavirus headlines and other important local and national news sent to your email inbox daily.