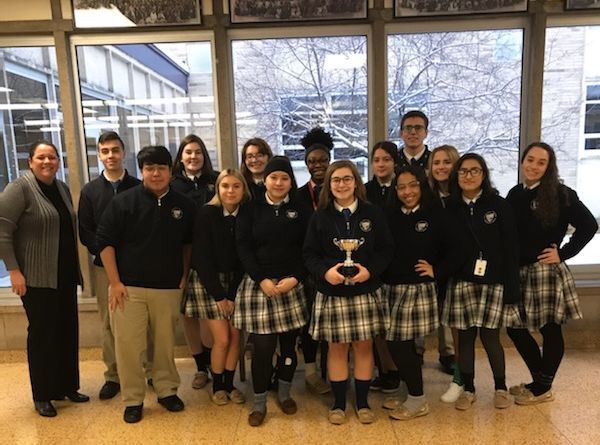 HAMMOND — Bishop Noll's Speech Team has recently captured the Calumet Forensics League series championship.
The Calumet Forensic League, which encourages speech competition in Lake County schools, was resurrected this year after a long hiatus.
"In the 20th century, Lake County was a multi-school powerhouse in speech. This league is meant to start building back to that," said Bishop Noll speech coach Kevin Burgun.
This year's competition included four tournaments with a running total. Any student who competed outside of Indiana was not eligible for the league, providing competition for teams that are not nationally ranked.
"It's important that our team can meet expectations and not buckle under the pressure," Burgun said. "For a few years, we were the new team on the block, so any success we had was like icing on the cake. We were all still learning the activity. Now, with the team we have, we should be doing well. And we are."
Junior co-captains are Jacqueline Vazquez, of Hammond, and Abigail Kawalec, of Hammond. Both have been on the team since their freshman year.
"After being on the team for so long, it was amazing to see us win the championship," said Vazquez, a St. Casimir School alumna. "I really want us to succeed as a whole team this year and this made me feel like it was a step in the right direction for us when it comes to achieving that goal. A lot of hard work was put in first semester and I'm excited to see what we do this semester."
Winning the competition, especially against some difficult schools like Crown Point, in December felt great, said Kawalac, a St. Thomas More School alumna.
"It felt fantastic for us to get recognition for all our hard work … I am very happy with the speech team this year. We have been doing well at competitions and have been becoming closer as a team this year," Kawalac said.
Having a speech team at Noll provides an outlet for students to improve their public speaking skills and socialize with competitors.
"The speech community is very supportive and uplifting. Socializing with the other competitors allows me to become better," Kawalac said.
In addition to speech, Vazquez is a member of the Bishop Noll golf team. Kawalac is on the golf team and is a member of Academic Super Bowl, Academic Spell Bowl, Science Olympiad, and Biology Club.
Bishop Noll also had five students named to the "all-county" first team in speech. They are Kawalec, Ruby Meza, of East Chicago; Emma Short, of Griffith; Skylar Davis, of Hammond; and Jackie Milkowski, of Hammond. There were 10 total students from Noll, Munster, Highland, Crown Point, and Calumet New Tech named to the first team.
Get local news delivered to your inbox!
Subscribe to our Daily Headlines newsletter.