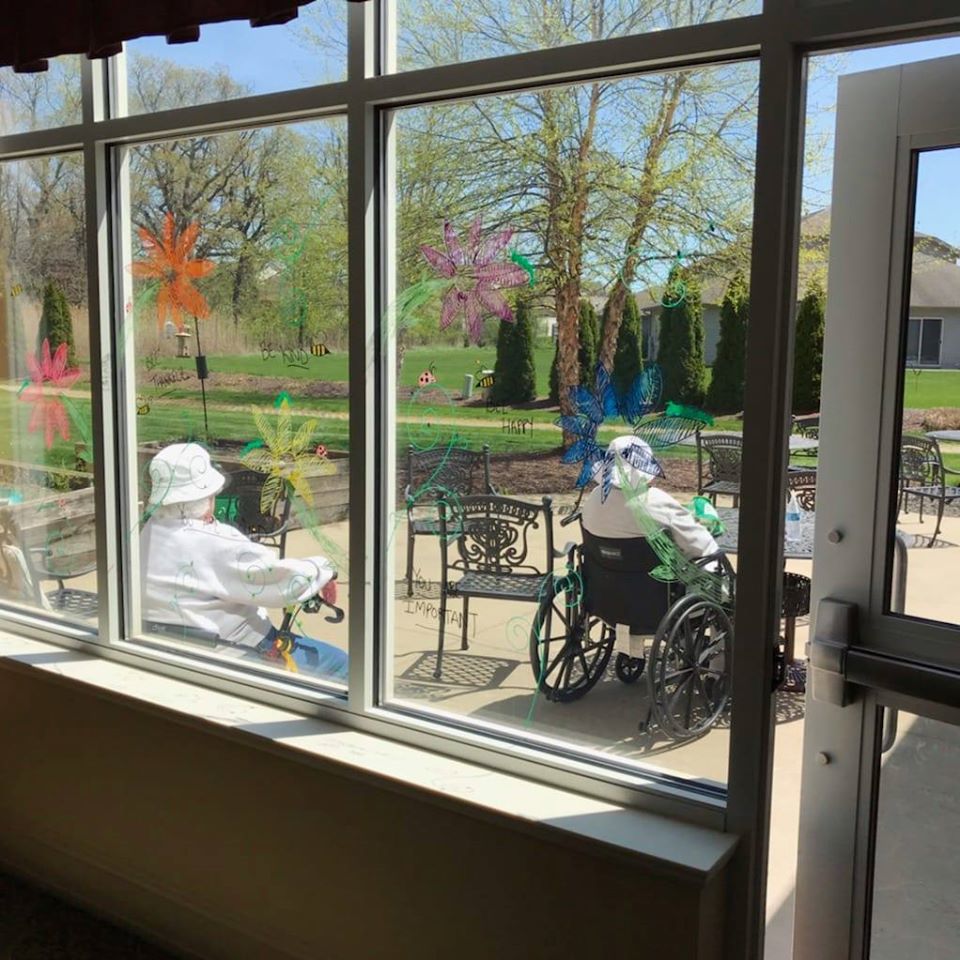 Car parades, window waves and video calls have been a staple for families during the COVID-19 pandemic.
Regionites have celebrated birthdays and anniversaries, honored health care workers and toasted newlyweds from afar.
Though these virtual, or socially distanced, celebrations bring a sense of normalcy during the COVID-19 pandemic, it doesn't change the roller coaster of emotions some are facing, said Melissa Huffman. 
Huffman, who oversees marketing for Residences at Deer Creek in Schererville and Residences at Coffee Creek in Chesterton, said trying to find that new normal for her residents has been challenging — especially around holidays like Easter and Mother's Day.
She's not alone in her quest. Assisted living facilities across the Region are trying to find ways to celebrate Mother's Day while socially distant.
A new reality 
Though residents at Deer and Coffee Creek are not being forced to quarantine, they are wearing masks and have to obey social distancing guidelines.
"I think the up and down roller coaster is you get up and you start your day and it's smiles and good morning to everybody," Huffman said. "Then there's that realization, 'Oh, it's only 10 o'clock in the morning,' and we can't go do a bus trip. We can't go do some of these things that were kind of routine and something for them to look forward to."
Dinner tables that once seated four to six are now the home of meals for one; each table with 6 feet in between one another. 
Activities are limited, with the salon closed and bingo held at two separate times and limited to a small group of residents.
"It's incredible how far away 6 feet seems," Huffman said. 
When Huffman began looking at how the pandemic might affect holidays like Mother's Day, a sad reality set in: mothers and maternal figures alike wouldn't be able to enjoy their day with the ones they love.
Usually, both facilities host a Mother's Day brunch, where residents can invite guests to enjoy the meal. While brunch is still happening, guests aren't allowed.
"We are creating a beautiful Mother's Day brunch at each community to make it as normal as possible. It's just they're not going to see those family members in the normal capacity," Huffman said. "I think that's the same for a lot of us. A lot of us are going to be social distancing from our own mothers and grandmothers, and for good reason."
Family members also are encouraged to send mom a special message online that will be printed out and given to her and later shown in a video collage, Huffman said.
Though there will be virtual or window visits, Huffman said not seeing loved ones has been one of the hardest things for residents at Deer Creek and Coffee Creek.
Celebrations from afar
Nanette Mata, recreation and transportation director at Hartsfield Village in Munster, said residents have been celebrating Ladies Day (Mother's Day) all week with special crafts. 
On Sunday, residents can partake in ladies bingo from their apartment, a special meal and cupcake and a Ladies Day Tea gift bag to honor the tea time Hartsfield usually hosts around Mother's Day. Hartsfield is encouraging residents to pour a cup at 2 p.m. and enjoy together — in spirit — from their apartments, "touching hearts and souls," Mata said.  
Residents at Journey Senior Living in Merrillville also will have a tea party for Mother's Day today, and flowers and a small gift on Sunday, said Life Enrichment Director Bekah Thomason. 
Video calls are planned and window visits are allowed, Thomason added. 
At Bickford of Crown Point, residents will receive a special treat that will be handed out from apartment to apartment, said Slavica Schieb, Bickford's life enrichment coordinator. 
Bickford also is making cards for all of its female residents, and loved ones have been asked to fill out an "all about mom" questionnaire that will be given to their mothers. Video calls are planned and window visits are allowed.
"It's a big change for them, but we just try to be as supportive as we can," Schieb said. 
Julie Herbst, marketing director at Oak Woods Manor in LaPorte, said there will be a special meal, cards and flowers for all the mothers. 
There also will be a silent auction for residents using "funny money," which is given out during activities, Herbst said.
Herbst said video visits are planned and Oak Woods is encouraging families to drive by and put signs in the yard. 
"It's hard for everybody, but we've been trying our best to make sure that everybody is taken care of how they need to be. We try to coordinate with the family what's best for their loved one," she said. 
Jackie Calarie, resident life director at Wittenberg Village, said the main focus is finding a way to connect families and residents — whether that be through a phone call, Skype or window visits.  
"You can just see the joy in their eyes that they're still able to connect in some way even though they can't physically hug or touch or be with them," Calarie said.