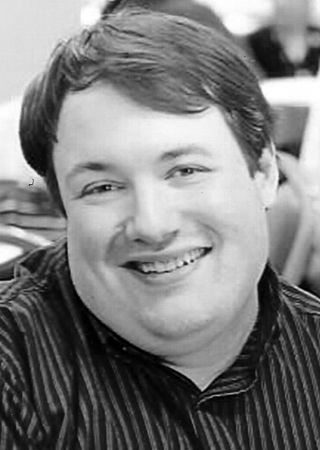 HAMMOND, IN - Christopher George Follett age 37, of Hammond, IN, passed away Thursday, March 1, 2018. Chris is survived by his loving wife Megan (nee Kikalos); mother, Patricia Follett of Watertown MA; father, Joseph Follett of Providence RI; sister, Mary (Joseph) Moylan and nieces Hannah, Olivia and Aine of Watertown MA; brother, Andrew of Providence RI; brother-in-law and sister-in-law, Nick and Lindsey Kikalos and niece Evangeline of Griffith, IN; sister-in-law, Katie Kikalos of Indianapolis IN and brother-in-law, Rob Wente of Munster, IN; in laws, Guy Kikalos of Dana, IN and Patricia (Moe) Wente of Munster; grandparents, May (late Bert) Shepard, Helen (late Nick) Kikalos, Bill (late Peg) Hoffmann; and numerous aunts, uncles, and cousins.
A visitation will be held on Wednesday, March 7, 2018 at SOLAN PRUZIN FUNERAL HOME, 14 Kennedy Ave., Schererville, IN 46375 (corner of Main St. and Kennedy Ave.) from 2:00 PM until 8:00 PM. A Funeral Service will be held at 11:00 AM Thursday, March 8, 2018 at St. Paul's Lutheran Church, 8601 Harrison Ave., Munster, IN 46321 with Rev. Donald E. Stock officiating. Chris will lie in state at the church from 10:00 AM until time of service and be laid to rest directly after at Concordia Cemetery, Hammond, IN.
Chris graduated from Boston College High School in 1998 and received his Bachelor of Arts in Communication from Fordham University in 2002. He married the love of his life, Megan, at St. Paul's Lutheran Church on August 31, 2013. Chris worked as a lab technician for Quest Diagnostics in Wood Dale, IL. Chris had enormous love for his four nieces. Chris was a devout Roman Catholic but often worshipped with his wife at St. Paul's. Chris loved his wife, his family, the New England Patriots, the Boston Red Sox and the Boston Bruins. He was an avid reader and loved to cook.
In lieu of flowers, donations to the family would be appreciated.