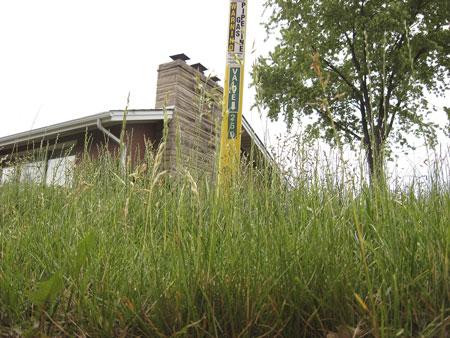 MERRILLVILLE | Unkempt, weed-filled lawns scattered throughout Merrillville have some town councilmen stressing it's not going to be tolerated.
Town Council President Ron Widing said officials have had a problem getting residents to maintain their properties, and many times the town is dealing with repeat offenders.
On some occasions, it's homeowners who are neglecting their lawns. Other times, it's bank-owned property that's not being maintained.
Town Councilman Richard Hardaway said it doesn't matter who is responsible for not mowing the grass and that there will be consequences for not obeying the town ordinance.
"All we're asking is people be more responsible and maintain their property," Hardaway said.
According to the ordinance, grass must not exceed 8 inches tall. Anyone violating the law will receive a warning and have three days to cut the grass.
Widing said residents often wait until the last minute to cut their lawns.
If the grass isn't cut in three days, a $50 fine will apply for each day the lawn is not mowed. The town also has the right to come in and cut the grass, but the property owner will pay the cost of mowing the yard in addition to a $25 administrative fee.
Town councilmen have discussed revising the ordinance to reduce the maximum height of grass and include an escalating fine so repeat offenders would pay more each time they don't maintain their property.
If the town made those changes, it wouldn't be as stiff as a new law recently passed in Canton, Ohio. It punishes a second-time high-grass offender with a fine of up to $250 and up to 30 days in jail.
Hardaway said the town won't be able to make jail time a possible sentence for property owners who don't maintain their lawns.
Hardaway said several properties in his Ward 2 violate the town's ordinance, some of which are on the same street, he said.
Town Councilman Lance Huish said he doesn't have as much trouble making sure residents in Ward 3 cut their grass regularly, but agrees residents should be held more accountable for maintaining their property.
"If you don't want to cut grass, then move into an apartment," Huish said.