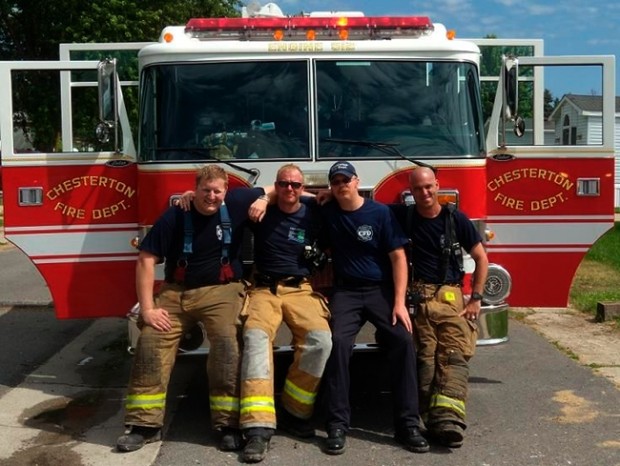 Patrick Dau was one of the first firefighters to arrive at the scene of a Liberty Township fire Monday even after traveling 8,000 miles across the Atlantic Ocean.
"It's his first fire here in America," Chesterton Fire Department engineer Steve Himan said. "He's here riding with us."
Originally a firefighter from Monheim am Rhein, Germany, Dau is spending four weeks following fire squads in Chesterton, Portage and Beverly Shores to learn the differences between how Americans and Germans fight fires. So far, he's helped put out one fire in Liberty Township and has gone along on several emergency calls in Porter County.
"It's very different here," Dau said. "Here, most of the houses are wood. In Germany, 98 percent are made of stone and we have to fight with other kinds of problems."
The idea for the exchange came last year after Himan took a week-long trip to Germany, visiting the Monheim am Rhein Fire Department and meeting Dau on a tour of the firehouse. After forming a fast friendship, plans were made for Dau to come overseas to experience how Americans approached emergency situations. In turn, he would share Germany techniques with his American counterparts.
"We thought it would be a good way to see how firefighters treat things in different parts of the world," Himan said.
Dau said he simply had to provide certification of his training in order to respond to emergency calls around the county with Chesterton and Portage fire departments. He also spent some time with emergency medical service teams in Beverly Shores. So far, he said the on-scene experience has been informative.
"(Americans) don't use as much water as we do," Dau said. "Here, you have to worry about putting too much water on houses."
Himan said having Dau along has given him a different view of what it means to be a firefighter, both in a small town and global community.
"It's a brotherhood -- a brotherhood that goes beyond the states," he said.