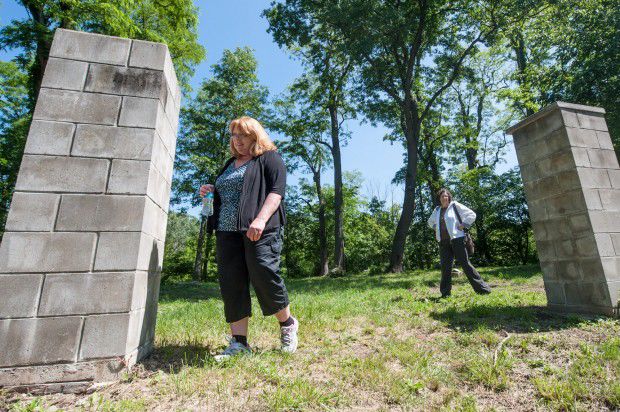 PORTAGE TOWNSHIP — The last burial at the James/Schrock Cemetery was in 1884, but someone was back just recently doing some digging, according to caretakers of the historic site.
The activity was reported Tuesday afternoon to the director of the nearby Pleasant Valley mobile park, and several holes were discovered at the isolated cemetery, said Debbie Clem, who cares for the three cemeteries under the care of the Portage Township trustee's office.
There was one large hole measuring about 4 feet in width and depth, she said, and about 10 others that were smaller. The larger hole was located where a headstone once sat.
While it appears the smaller holes could be from someone searching for items using a metal detector, the larger one raised greater concerns for Clem.
"When you go 4 feet deep ... " she said.
None of the holes disturbed any of the graves, Clem said.
The cemetery, which is reached by going through the Pleasant Valley mobile home park, across a NIPSCO easement and up a hill alongside the Indiana Toll Road, is the burial place of some of Portage Township's earliest pioneers.
"I don't think they were actually trying to dig up a body," Portage Township Trustee Brendan Clancy said.
But all unauthorized digging is against the law at cemeteries and amounts to vandalism and trespassing, he said.
The old cemetery has long been the target of vandals and forced the township a few years ago to recover what headstones were left and relocate them to a memorial at the township's McCool Cemetery at McCool Road and Central Avenue in Portage.
Clem said most of the headstones at the James/Schrock Cemetery were broken, with the remains tossed in a ditch alongside the nearby Indiana Toll Road.
Clem said she had to receive permission from the state to probe down to recover the headstones that had sunken into the ground.
"I could only go six inches with my probe," she said.
Vandals have also torn up the site with a motorcycle and continue to paint graffiti on the two pillars, which are the last remaining monuments, Clem said.
"There is no sign that says it is a cemetery because anything out there will just get destroyed," Clem said.
Porter County police said they were contacted in response to Tuesday's discovery of vandalism and were asked to increase patrols in the area.
"It's very disturbing when you see something like that," said Clem, who is particularly bothered as caretaker of the site.