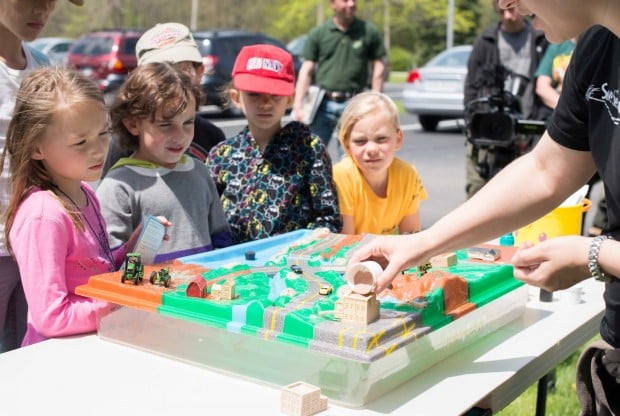 CHESTERTON | Protecting the watershed was the lesson Saturday at the Shirley Heinze Land Trust Wetlands Preserve, where Save the Dunes hosted a learning event for adults and children.
The event was a "celebration" of a recent Indiana Department of Environmental Management grant awarded to Save the Dunes to develop a watershed management plan for the Little Calumet East Branch, said Jennifer Birchfield, Save the Dunes water program director.
"Today we want to get the public involved and excited about the river," said Birchfield. "We want to educate them about the river and how to keep it clean, and we hope to have fun and learn something at the same time."
The event included a guided hike through the Heinze Land Trust wetlands, a fun float down a portion of the river, a demonstration of a model watershed and a hunt for "benthic macroinvertebrates."
"That's a fancy name for bugs that live at the bottom of the river," said Birchfield.
Sky, Serenity, and William Arcuri were ready for the hunt with mud boots on their feet and nets in hand.
"Nature is very important to me because I like to take pictures of nature with my camera," said Sky Arcuri, 7.
Sky's brother, William, who wore a camouflage "tree hat," had experience netting fish with his dad at Disney World.
"It was a catch and release kind of thing," said William, 8.
Serenity Arcuri joined the other kids in sprinkling "rain" from squirt bottles on the plastic tabletop watershed model and watched "pollutants" wash through the model's fields and streams into Lake Michigan, turning it green.
"Would you want to swim in it if it looked like that?" Birchfield asked the kids. "If you were a fish would you like to live in a stream like that?"
"I would run away," said Jocelyn Govert, 7, of Porter.
When Birchfield asked how to prevent pollution, Jocelyn demonstrated she had received the environmental message loud and clear.
"Don't put any garbage or litter in the river," said Jocelyn.
Other suggestions from the children included picking up after pets and throwing away wrappers after eating food.
Robin Schadle, the Arcuri children's mom, said the family is active in environmental causes, and she tries to teach her children the importance of preserving the Earth.
"They are our future," said Schadle, of Chesterton. "The more informed they are about conservation and protecting the environment, the better citizens they're going to make."